'Clash of Clans' Town Hall 14 Sneak Peek 3 Reveals New Battle Builder Defense
Clash of Clans' Town Hall 14 update Sneak Peeks keep on coming, with the third installment promising major changes for the Builder. Not only can the Builder actively repair defenses during attacks, but the Builder Hut can also be upgraded and outfitted with a turret to act as a defense on its own. The Builder has played a quiet but important role in Clash of Clans over the years, but now he's finally getting into the action. The new feature was shown off in a brief trailer published by Clash of Clans' developers at Supercell on Friday morning.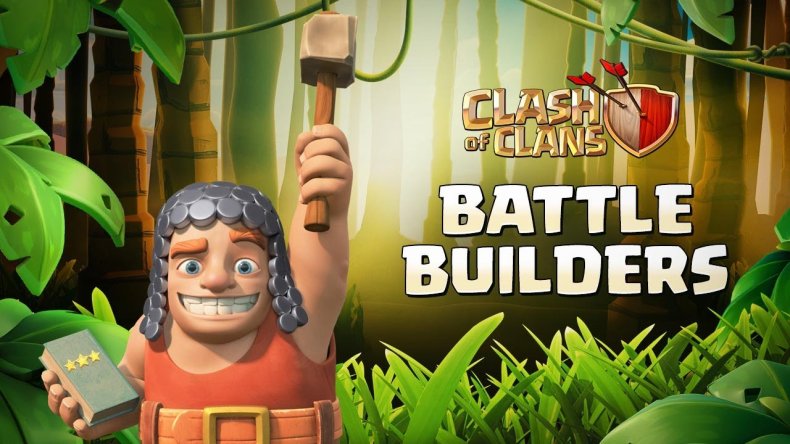 While the trailer only offers a taste of what the Battle Builder is capable of, Supercell partner Galadon Gaming once again has the nitty-gritty stats hardcore clashers may want to know about. In order to take full advantage of the Battle Builder, players on Town Hall 14 must upgrade a standard Builder's Hunt to level 4. It has the following stats:
DPS 120
Repair per second: 60
HP: 600
Range: Six tiles
Damage type: Single Target
Targets: Ground and Air
Favorite target: Any
Once upgraded, the new Builder Hut has a few unique properties not previously seen in Clash before. Chief among those changed mechanics is the fact that the Builder is able to repair any defense, and he only perishes when his Builder Hut is destroyed. While he can be slowed down by Spells in battle, the only way to totally stop your opponent's never-ending cycle of repairs is to wreck a Builder's home. Like other troops, Battle Builders can also be chained to work faster together. Typically, all Builders will rush toward the nearest defense, fix it and then move on to the next harmed defense within their six-tile radius.
As for the X-Bow turret sitting on top of the upgraded Builder's Hut, that looks to be pretty potent, too. It's able to take down a fleet of Archers with minimal fuss, only for the Builder to come out and repair that damage a few seconds later. Strategically speaking, then, those mounting attacks against Town Hall 14 will need to enter battle with a truly overwhelming amount of force to stop that healing at its source.
Today's Town Hall 14 Sneak Peek arrives as the third installment in a series that has featured the reveal of the poisonous Town Hall proper and a massive list of cost decreases designed to reduce grind for new players. Today's premiere shifts the focus back to the hardcore folks who will be upgrading to Town Hall 14 in the coming days or weeks, but the advantages being showcased are likely interesting to anyone with a passing interest in the game.
Clash of Clans is available now on Android and iOS. A release date for the Town Hall 14 update has not been announced, but in-game events suggest it may go live on or around April 12.
What are your thoughts on this massive upgrade to the Builder Hut? Has it enticed you to upgrade to Town Hall 14? Tell us in the comments section!