'Clash of Clans' Town Hall 14 Sneak Peek 4 Reveals Hero Pets
Clash of Clans Town Hall 14 Sneak Peeks keep on coming, courtesy of the app's developers at Supercell.
Following its Builder-centric reveal on Friday, Saturday's feature includes the debut of Hero Pets. With four new creatures to choose from, the game's most powerful troops will soon be getting some much-needed support at high levels. The news was revealed via a short trailer published Saturday morning.
As indicated by the minute-long clip, Hero Pets spawn from a new Town Hall 14 building called the Pet House that can be upgraded to level 4. Once there, players have the opportunity to assign up to four possible pets to their Barbarian King, Archer Queen, Grand Warden or Royal Champion. And much like the super-powered troops these pets support, each pet has its own level progression and unique abilities. Each pet has 10 levels that increase its effectiveness, totaling 40 possible levels for pets inside a maxed-out Pet House. Here's a brief recap of what each Hero Pet does.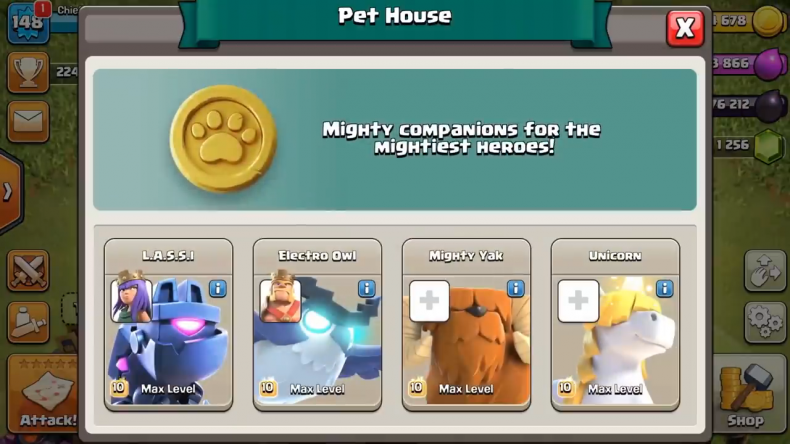 L.A.S.S.I. [Unlocks at level 1]: This is a dog-like Hero Pet with high jumping capabilities. It's most helpful for mounting a strong ground assault while your Archer Queen or Grand Warden works its magic from a distance.
Electro Owl [Unlocks at level 2]: The Electro Owl offers high-voltage electricity support from the air, much like its cousin, the Electro Dragon. This winged beast specializes in chaining lightning. As a Barbarian King deals massive damage on the ground, the Electro Owl can cause problems from above.
Mighty Yak [Unlocks at level 3]: If jumping over defenses with L.A.S.S.I. isn't your style, Mighty Yak is designed for busting down walls instead. This ability seems to best compliment ranged Heroes like the Archer Queen and Grand Warden.
Unicorn [Unlocks at level 4]: The fourth Hero Pet on the list is the Unicorn, which is tailored to healing your Heroes. It shoots beams from its horn that restore HP.
While we've offered a few example scenarios in which these Hero Pets might be most helpful, it's worth clarifying that any Hero Pet can be attached to any Hero depending on your strategy. And, because Hero Pets are a Town Hall 14 exclusive, it goes without saying that most players probably won't be able to use them too freely at the start. For each individual level upgrade per pet, you'll need millions of Dark Elixir in your storage.
As those who might have seen the initial Town Hall 14 reveal earlier in the week may recall, many Heroes will be getting new levels when the highly anticipated update finally goes live. The Royal Champion is expected to hit level 30, the Grand Warden gets bumped to level 55 and the Barbarian King and Archer Queen will be pushed all the way to level 80. In other words, those who dedicate copious resources to their Heroes at Town Hall 14 will be rewarded with some very powerful results. In combination with these pets, the game's strongest troops just might be unstoppable.
Following a full week of Sneak Peeks, Saturday's Hero Pet reveal is expected to be the last announcement before the Town Hall 14 update makes its way to millions of eager fans. While an exact release date for the patch has not been officially announced by Supercell, most fans have their eyes set on April 12, when the current Hammer Jam promotion is planned to expire. Hammer Jams preceded major Town Hall updates in the past, so it's expected the same will be true for Town Hall 14.
For those who need them, these links recap all the Town Hall 14 Sneak Peeks Supercell has released:
Clash of Clans is available now on Android and iOS.
What are your thoughts on Hero Pets coming to Clash of Clans? Does this feature make you more excited for Town Hall 14? Tell us in the comments section!