'Clash of Clans' Town Hall Wrecking Event Explained - Rewards & What It Is
Clash of Clans has a new crop of events coming soon, and there's one in particular that has fans asking questions. The Town Hall Wrecking event begins at 3 a.m. EST January 12 and is expected to last for at least two days. You may, however, be wondering about its requirements and rewards. While we can't guarantee exactly how the proceedings will take shape, past versions of the event offer concrete clues for what fans should expect.
What is Clash of Clans Town Hall Wrecking Event?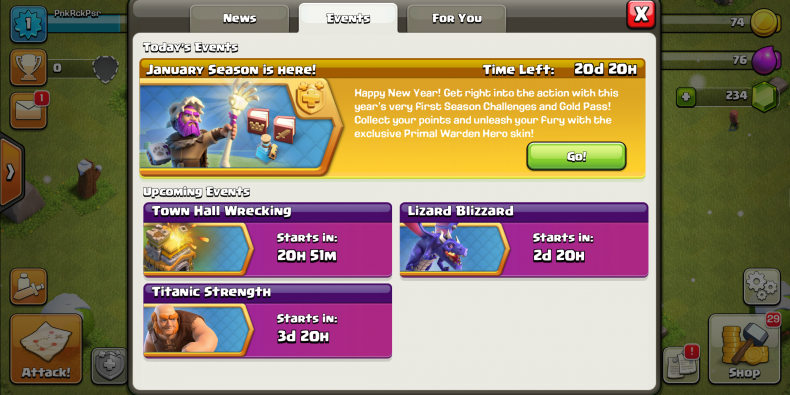 True to its name, Clash of Clans' Town Hall Wrecking event rewards players for destroying Town Halls. In other words, for many skilled players, this is just a reward for playing the game as they normally would. In the past the Town Hall Wrecking event has required players to destroy as many as 10 Town Halls during the event period, with rewards that include a Book of Building and 500 XP. This event took place at the end of January last year and will likely retain a similar form in 2020.
As for the potential reward, the Book of Building is a pretty solid offering for a task that should be pretty easy for players of all skill levels to accomplish. This Magic Item lets players instantly complete any building upgrade in the Home Village or Builder Base. In other words, instead of waiting hours or days to build up that new defense, you'll be able to enjoy those perks immediately. Outside of being used as rewards during limited-time events or Clan Games, books are exclusively sold for a real-world cost. As such, clashers should take advantage of the opportunity to get one for free.
With regard to strategy, Witches still do lots of damage in the modern Clash of Clans meta, as do Electro Dragons. All you essentially want to do is mass together swarming damage troops as much as possible to deal the most damage and overwhelm your opponent's forces. Especially if you're a new player, this task shouldn't be too difficult to complete. Just walk your way in and take control. Have an air troop sustain your attack from outside the walls and swarm with your best troop on the inside. In no time, most basic Town Halls will crumble.
Clash of Clans is available now on Android and iOS. The Town Hall Wrecking event begins January 12 at 3 a.m. EST.
What are your thoughts on Clash of Clans Town Hall Wrecking event? Do you have a good strategy to get the task done quickly? Tell us in the comments section!
'Clash of Clans' Town Hall Wrecking Event Explained - Rewards & What It Is | Newsgeek