'Clash of Clans' December Update Sneak Peeks Show Bat Spell & New Magic Items
Clash of Clans ' December update is almost here, and that means sneak peek season is upon us. The next additions to the game include a Bat Spell, new Magic Items and more. Details arrive via the game's official forums and social media accounts.
The Bat Spell
This brand-new offensive spell is for those on Town Hall 10, 11 and 12. It only attacks defenses, which means it won't lure Clan Castle troops. It also won't trigger any traps beyond the Tesla. It's most effective against point defenses like Archer Towers, Teslas and the Queen used as a defense. It's greatest weakness is a Multi-Inferno, with a Wizard Tower being slightly more susceptible to damage.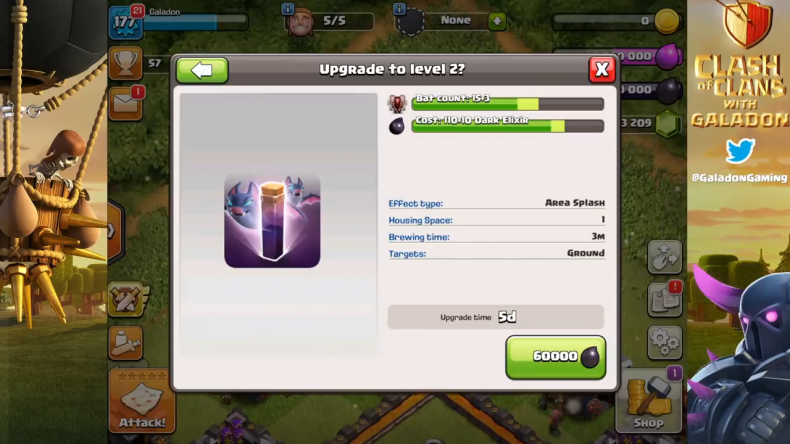 Requires a Level 5 Dark Spell Factory at minimum.
Effect Type: Area Splash
Housing Space: One
Brewing Time: Three Minutes
Targets: Ground
Leveling only impacts how many bats you get. The levels are 15, 18, 21, 24 and 27 respectively.
These numbers may change slightly once the final update goes live.
Much like the Skeleton Spell before it, the Bat Spell is a swarm spell. The main difference here, though, is that it has a chance to take out air defenses too. We'll do our best to add more complete stats on the Bat Spell as they become available.
New Magic Items
In case you missed the news from Monday morning, the Bat Spell isn't the only new feature due in Clash of Clans' December Update. Additions also include Tesla-adorned tree obstacles that cost 25,000 gold to remove. To make that deal a little sweeter, the new Shovel of Obstacles allows players to place and arrange all past, current and future obstacles anywhere they like on the map. That means it's possible to group your old pumpkins into a pumpkin patch or create a mini forest out of Christmas Trees.
For those fortunate enough to earn Magic Items, the Hero Potion is another new perk. It offers a buff of five levels to a Hero for one hour up to your max Town Hall threshold. If you need a little extra muster to finish off an epic battle, the Hero Potion is one effective way to do it.
Clash of Clans is available now on Android and iOS. The Christmas/Winter update does not have an exact release date yet, though since sneak peeks have already begun, it's presumably coming soon.
What are your thoughts on the Bat Spell and Hero Potion? Will they change Clash of Clans for the better? Tell us in the comments section!