'Clash of Clans' PEKKA King Skin Revealed As June Gold Pass Reward
Clash of Clans Season Challenges continue, and the Gold Pass reward has been revealed for the month of June. Starting now, players can work their way toward unlocking the P.E.K.K.A. King skin for a small fee. The news was revealed by Supercell Friday morning.
True to its name, the P.E.K.K.A. King is essentially a large version of the standard P.E.K.K.A. that can stand in for the Barbarian King once players unlock it. The unit's trademark suspenders and horns have never looked so cool, and you can see the design in action in the short clip below. It should be noted that the features of the P.E.K.K.A. King are purely cosmetic, which means there's no specific gameplay advantage to having it.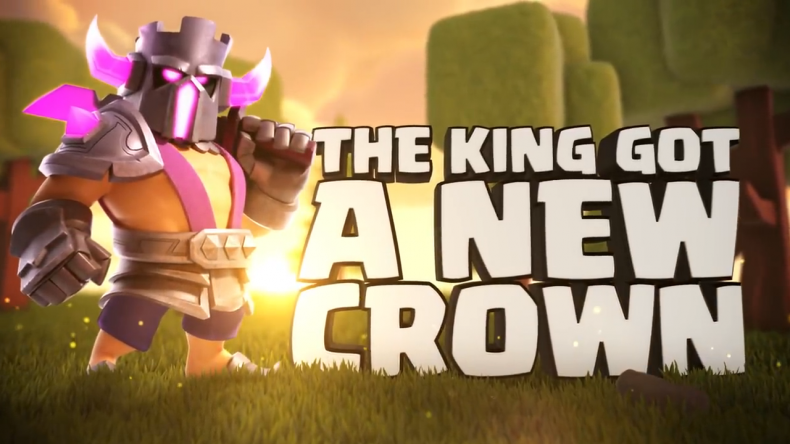 The P.E.K.K.A. King is the latest seasonal skin reward offered as part of the paid Gold Pass system introduced in the Spring update. After spending $5 or 500 Gems, players unlock a special set of challenges that yield Challenge Points. Accumulate enough Challenge Points by the end of the season, and the P.E.K.K.A. KIng, and 29 other rewards, are yours. Those who want to skip some or all of the challenges can also purchase the skin directly for as much as 3,000 Gems.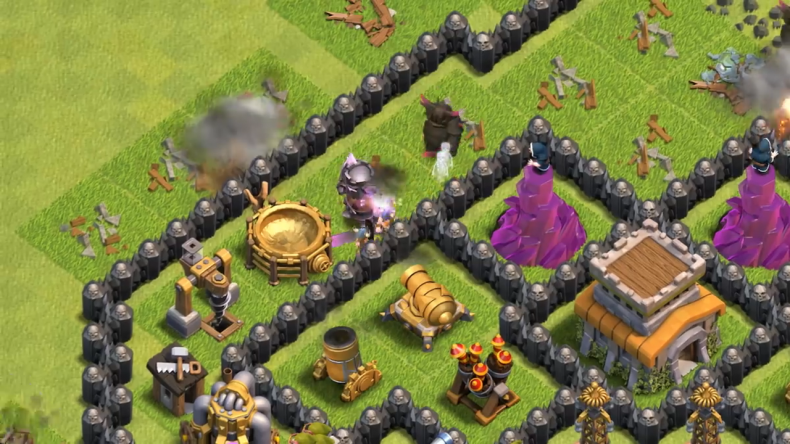 In March players were able to unlock the Gladiator King skin. The P.E.K.K.A. King may not be quite the Gladiator Warden some players had hoped for, but it's still a pretty sweet reward for those who are die hard fans of the game.
Check out the full list of Gold Pass challenge rewards below.
40 Points: One Gem Donation
80 Points: Five times Training potion
120 Points: 10 percent Builder boost
160 Points: 10 percent Training potion
200 Points: 10 percent Research boost
260 Points: Bigger Season Bank
320 Points: Rune of Elixir
380 Points: Rune of Dark Elixir
440 Ponts: Rune of Gold
500 Points: Book of Building
580 Points: Five times Wall Ring
660 Points: Power Potion
740 Points: 15 percent Research boost
820 Points: 15 percent Builder boost
900 Points: 15 percent Training Boost
980 Points: Bigger Season Bank
1,060 Points: Hero Potion
1,140 Points: Builder Potion
1,220 Points: Rune of Builder Gold
1,300 Points: Rune of Builder Elixir
1,400 Points: Clock Tower Potion
1,500 Points: 20 percent Research boost
1,600 Points: 20 percent Builder boost
1,700 Points: 20 percent Training boost
1,850 Points: Bigger Season Bank
2,000 Points: Shovel of Obstacles
2,150 Points: Power Potion
2,300 Points: Five times Wall Ring
2,450 Points: Book of Heroes
2,600 Points: P.E.K.K.A. King Skin
That's all you need to know about the new P.E.K.K.A. King skin in Clash of Clans. Clash of Clans is available now on Android and iOS.
What are your thoughts on Clash of Clans. P.E.K.K.A. King Skin? Will you buy the Gold Pass for June? Tell us in the comments section!