'Clash of Clans' Siege Barracks Revealed in TH13 December Update Sneak Peek
Clash of Clans Town Hall 13 Sneak Peeks continue, and the latest reveal features a new Siege Machine called the Siege Barracks. The news was revealed via a short teaser Tuesday morning, which was augmented by further details from several popular Clash of Clans YouTubers like Galadon Gaming.
When the initial Town Hall 13 teaser released last month, one of its highlight images was a suspicious object floating in the sky. We now know that object to be the Siege Barracks. It essentially functions like a giant lunar lander, dropping masses of troops in precise locations. Once it touches ground, a P.E.K.K.A. and swarm of Wizards fill the area.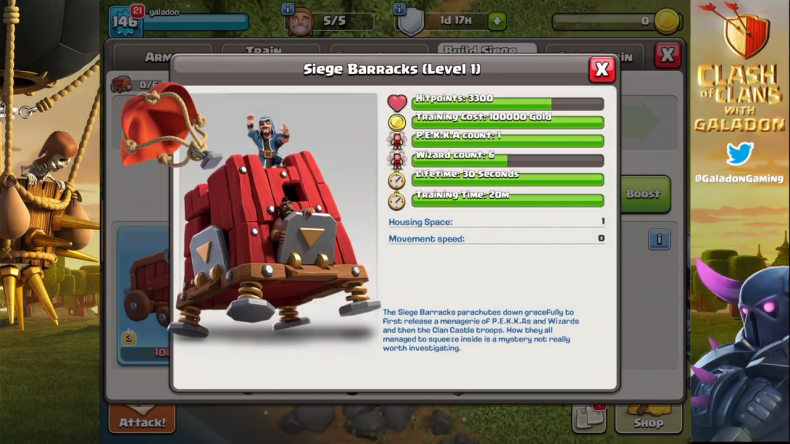 The Siege Barracks' official description reads as follows:
"The Siege Barracks parachutes down gracefully to first release a menagerie of P.E.K.K.As and Wizards and then the Clan Castle Troops. How they all managed to squeeze inside is a mystery not really worth investigating."
Here are the stats for its various levels
Hitpoints: 3,300/3,700/4,100
Training Cost: 100,000 Gold
P.E.K.K.A. Count: one
Wizard Count: Six/Eight/10
Lifetime: 30 seconds
Training Time: 20 Minutes
As far as its use in battle is concerned, the Siege Barracks seems ideal for spam attack strategies. To use it, simply drop the Siege Barracks outside a settlement and watch as the number on the structure decreases. Once the counter reaches zero, all donated Clan Castle troops will be dispatched. For situations where a faster deploy is necessary, it's possible to unload all donated troops at once. The tradeoff, however, is that an early release negates the possible P.E.K.K.A. and Wizards that may have deployed otherwise.
In that sense, there is a slight layer of strategy to how the Siege Barracks can be used. Clashers will have to decide how quickly and how much of a Siege Barracks should be unleashed to support a given strategy.
The Siege Barracks is the second major Sneak Peek to be revealed for Clash of Clans' Town Hall 13 update set to release later this month. On Monday morning, various Clash of Clans YouTubers released the first gameplay footage of the new Town Hall in action. Coinciding with the patch's wintry theme, TH13 features an ice beam attack and a Giga Inferno, which is essentially an upgraded Giga Tesla. We'll likely learn even more about the update in the coming days as more Sneak Peeks trickle out.
Clash of Clans is available now on Android and iOS. The Town Hall 13 update is expected to go live in December.
What are your thoughts on the Siege Barracks and the Town Hall 13 update so far? Is there enough here to bring you back? Tell us in the comments section!