'Clash of Clans' Super Valkyrie & More Revealed in October Update Sneak Peek
Clash of Clans October Update details keep coming, with the latest Sneak Peek revealing a new Super Troop headed to the mobile game. Outfit your army with the Super Valkyrie, and you'll experience the power that true rage can bring. The news was revealed by official Clash of Clans social media channels Saturday morning.
While the Super Valkyrie trailer doesn't offer many specifics on the troop itself, those have been shared by various Clash of Clans influencers like Galadon Gaming. The troop's description and stats are listed below.
"Not only are Super Valkyries superior to regular Valkyries in every way, they're also way more angry!"
Clash of Clans Super Valkyrie Stats (level 8)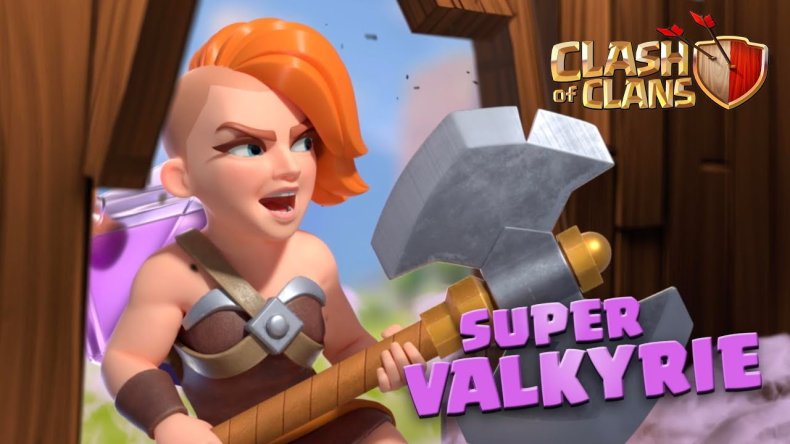 Favorite Target: Any
Damage Type: Area Splash
Targets: Ground
Housing Space: 20
Movement Speed: 28
DPS: 300
HP: 2,300
Training Cost: 500 Dark Elixir
Training Time: three minutes and 45 seconds
With these numbers in mind, the Super Valkyrie offers a fairly modest improvement in HP and DPS over the standard Valkyrie, with a massive increase in housing space cost. That tradeoff might not seem favorable to some players, but the real star of the show is this Super Troop's unique Rage spell that triggers after she's taken down. In this way, while the Super Valkyrie is pretty effective against most Town Hall 13 defenses on her own, you'll need two Super Vals if you intend to best targets surrounded by top-tier walls, Single-Target Infernos, X-Bows or Town Hall 13 itself. For those who are able to daisy chain the impact of multiple Super Valkyries together, though, the results showcase a foe that's a force to be reckoned with.
This third Sneak Peek for Clash of Clans' fall update arrives a few hours after the reveal of new Town Hall 13 content including levels for the Archer Tower, Hidden Tesla, Army Camp, Giant, Wizard and P.E.K.K.A. Chief among those adjustments is the removal of the seven-day cooldown for Super Troops. With this change the Super Valkyrie will be far more useful and deadly in your best village builds.
The adjustments don't apply to just Town Hall 13, however, as Supercell has also announced a wide variety of balance changes set to debut across the board. Wall Breakers, Electro Dragons, Super Archers, Skeleton Spells and Air Defense are all getting big buffs, alongside reduced upgrade times for Minions, Hog Riders, Valkyries, Golems and more. As has been the case with many recent Clash of Clans updates, it appears the intent is to reduce the asynchronous elements of the game to maintain a more constant sense of action without drastically impacting the required time investment. With new troops like the Super Valkyrie, the established gameplay loop stands to be way more fun in the months ahead.
Clash of Clans is available now on Android and iOS. A release date for the fall October update has not been revealed.
What do you think of the Super Valkyrie based on these details? Are you excited for the rest of the fall update? Tell us in the comments section!