'Clash of Clans' TH13 Royal Champion Revealed, December Update Hero Looks OP
Clash of Clans Town Hall 13 sneak peeks keep coming, and the latest reveal is a doozy. A new Hero is finally coming to the game, and she may be the single most powerful unit we've ever seen. The Royal Champion has tons of health, deals massive damage, hops over walls and throws a shield that takes out everything in its path. The news was revealed via a short teaser Friday morning.
Before getting to strategies and stats, here's the official description of the Royal Champion: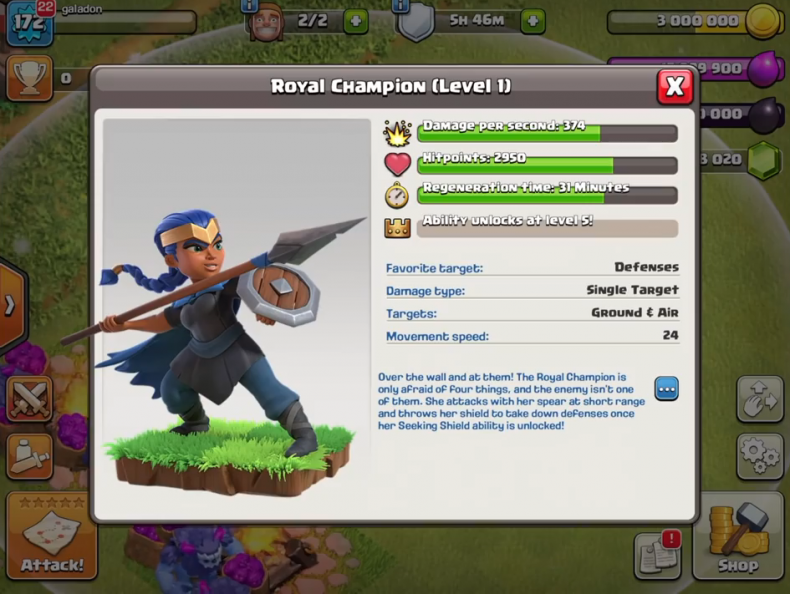 "Over the wall and at them! The Royal Champion is only afraid of four things, and the enemy isn't one of them. She attacks with her spear at short range and throws her shield to take down defenses once her Seeking Shield ability is unlocked!"
Favorite target: Defenses
Damage Type: Single Target
Targets: Ground & Air
Movement speed: 24
The Seeking Shield ability is described as follows:
"The Royal Champion throws her shield at the nearest defense, dealing a blow that is certain to leave a dent. The shield then bounces onwards to nearby defenses, dishing out additional destruction. Upgrade your Hero to level 5 to improve her ability!"
Speaking of levels, the Royal Guard has 20 individual levels with five Seeking Shield levels available at level five, 10, 15 and 20. Here's how her damage and health stats break down as she upgrades.
374 / 2950
383 / 3000
392 / 3050
401 / 3100
410 / 3150
418 / 3200
426 / 3250
434 / 3300
442 / 3350
450 / 3400
458 / 3450
466 / 3500
474 / 3550
482 / 3600
490/ 3650
498/ 3700
506 / 3750
514 / 3800
522 / 3850
530 / 3900
With all that in mind, the Royal Guard is purposefully designed to be seriously overpowered. Once unlocked, the Seeking Shield shreds through just about anything, even bouncing to the outside borders of Villages no matter where the Hero is located. That insane range is augmented by the Royal Guard's big spear, high damage and massive amounts of health. To put things into perspective, the Royal Guard is potent enough to solo a totally maxed out Town Hall 12! Your best opportunity for taking one down is littering your base with a few powerful single-target defenses.
Because the Royal Guard has so much working to her advantage, the best Clash of Clans players will know how to best leverage those abilities. While it's easy to just drop her in a Village and watch her shred, knowing where and when to play her will accent those strengths to the max.
The reveal of the Royal Guard arrives just in time, as many fans were starting to feel that defenses were becoming overpowered alongside the arrival of Town Hall 13 and the December update. As it turns out, additions like the Giga Inferno and new defense levels exist to provide a counterbalance to upcoming offensive threats like the Yeti and Royal Guard. When it comes to the rest of the Town Hall 13 sneak peeks, we'll likely learn more about those new levels and possible troop upgrades in the coming days.
Clash of Clans is available now on Android and iOS.
What are your thoughts on the Royal Guard and Town Hall 13? Are you looking forward to the December update? Tell us in the comments section!