'Clash Royale' June 2018 Balance Changes: Spear Goblins, Mega Knight and More to Get Buffs and Nerfs
On Tuesday, Supercell announced Clash Royale's latest balance change update would hit the arena June 4. However, the news came with no indication as to which cards would receive adjustments. In a new post published Friday morning, the company has finally revealed which of our beloved troops will get buffs and which will get nerfs.The update focuses on seven cards this month, among which are the ever-controversial Spear Goblins and Goblin Hut. Check out every card the balance changes will affect, below.
Clash Royale April Balance Changes 2018: Which Cards Are Getting Buffed and Nerfed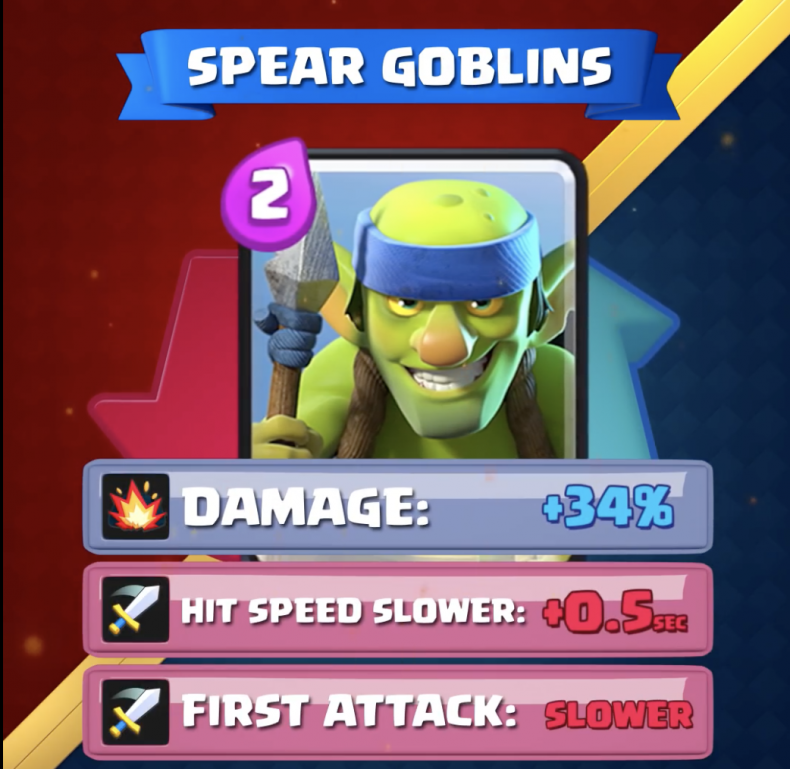 Spear Goblins (Buff and Nerf): These troops will see a damage increase of 34 percent, but hit speed will be slowed by half a second making attacks occur every 1.7 seconds. Additionally, the first attack will be slower as well.
Mega Knight (Buff and Nerf): This troop gets a boost to its Jump/Spawn Damage, increasing it by 23 percent. Area Damage, however, will be reduced by 7.5 percent.
Barbarians (Buff): These troops get a slight Hit Speed increase from 1.5 seconds to 1.4 seconds.
Wizard (Buff): This wizard's Area Damage will be increased by two percent. Area Damage radius will also increase by 25 percent.
Valkyrie (Buff): Our favorite ax-wielding gal sees her Hitpoints increased by seven percent this update, while also getting a speedier first attack.
Goblin Hut (Nerf): This building sees its lifetime shortened from 60 seconds to 50 seconds
Battle Ram (Nerf): These troops can now be knocked back by troops such as the Barbarian Barrel and The Log.
Royal Ghost (Nerf): This troop's invisibility delay will be increased to 1.6 seconds from 1.2 seconds.
Ice Golem (Nerf): This guy will see his Hitpoints reduced by five percent this update.
Which balance change are you most looking forward to? Share with us in the comments below.