'Clash Royale' January 2019 Update Brings New Card, Arena, Game Modes and More
The "Clash Royale" January update brings several new additions including a new card, arena and gameplay modes. Check out everything new and coming to the game this month, here.
On Monday, Supercell dropped a new Clash Royale update to celebrate the Lunar New Year in style. The game received a balance update earlier this month that applied tweaks and changes to 10 different troops and spells, and the January 28 update lays the groundwork for new changes players will enjoy throughout the end of the month and into February. Below, we've put together a complete rundown of everything new and changed in the update, including a brand new card and arena.
'Clash Royale' January 2019 Update: New Card, Arena, Game Modes and More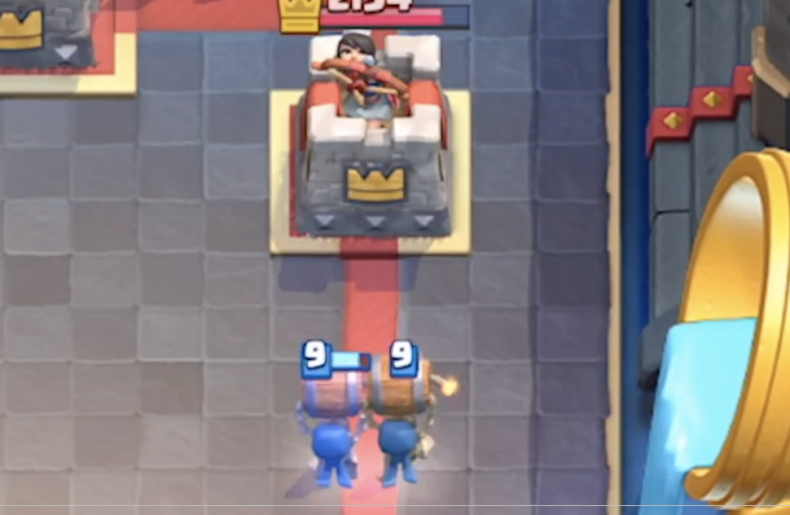 New Card
A new card is set to hit the arena soon after the January update — Wall Breakers. Borrowed from Clash of Clans , Wall Breakers are a pair of Skeleton minions, each carrying an explosive barrel of dynamite. Wall Breakers target towers and if they successfully reach one, they'll cause a ton of damage. You can check out a Wall Breakers' gameplay clip here ! We don't know yet which arena it will be unlocked in but our guess is it will fall in the new Arena 12 - Spooky Town.
New Game Modes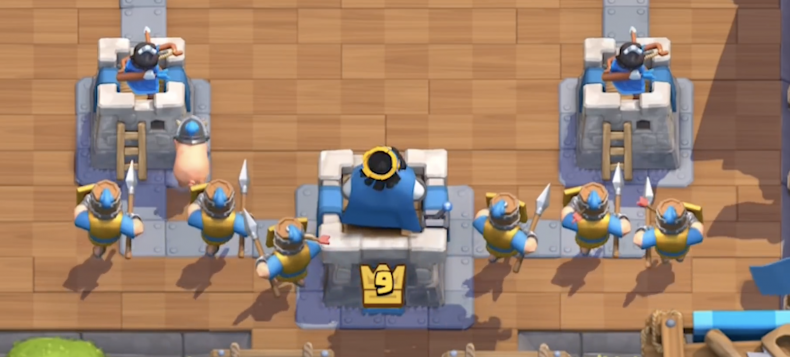 2019 is the Year of the Hog and to celebrate the Lunar New Year, the devs are introducing a couple of new game modes which will release during the month of February.
Year of the Hogs - This new game mode is sure to add some excitement and chaos to your battles as in it, Royal Hogs spawn every 12 seconds behind the towers of you and your opponent. As the battle progresses and elixir ramps up, so do the amount of the Royal Hogs spawned. If you thought 2v2 was crazy, it has nothing on the constant flood of Royal Hogs rampaging through the arena. To see the gameplay mode in action, check out the Year of the Hogs gameplay clip, here !
Mini Collection Mode: Similar to Clan Wars Battle Day, in this game mode, you and your opponent will be given a collection of 40 cards from which to create your battle decks. The new mode will challenge your deck building skills and perhaps force you to try some new things. You can check out Mini Collection gameplay, here.
Trading Improvements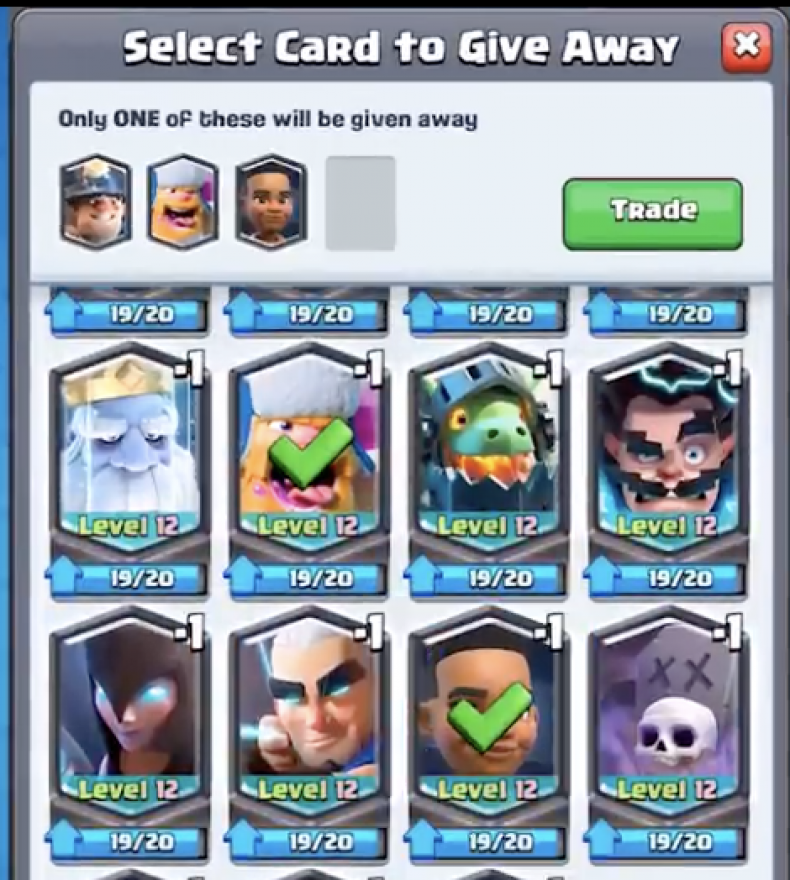 In the January update, players will now be able to select up to four different cards they are willing to another player in exchange for another. The person accepting the trade gets to choose which card they want and the trade is completed — they get theirs and you get yours. The new trade changes make it easier to negotiate a trade and get the cards you covet because it broadens the choices available to other players.
New Arena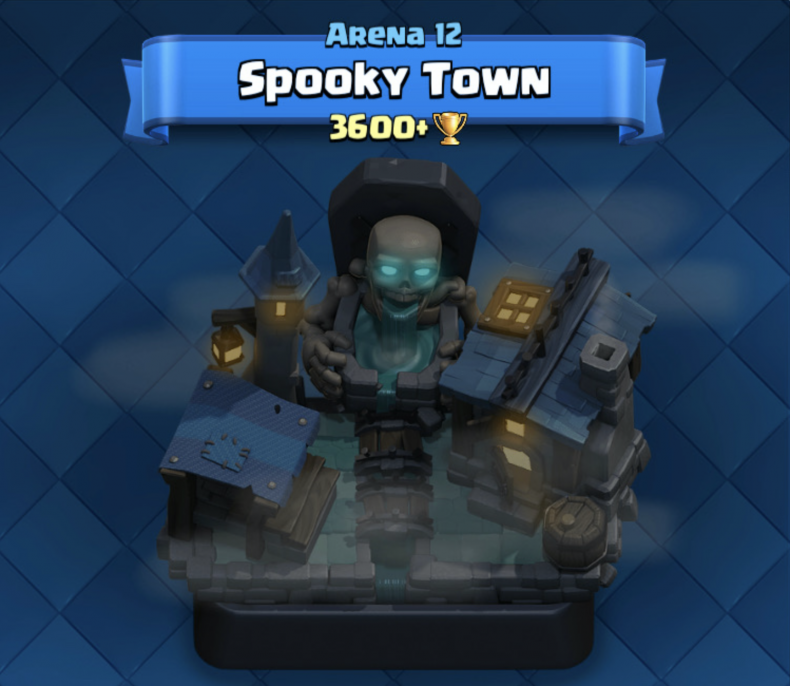 This update will add a new Spooky Town arena that will unlock at 3,600 trophies. To make space for this new arena, the arena trophy amounts have been changed, so that players move up three arenas per thousand trophies, topping off at 4,000 before heading into League gameplay. With the addition of the Spooky Town Arena, some cards unlocks at each arena have been altered as well. Additionally, all chests obtained at 4000 Trophies and above (League Levels) now contain more cards and gold. The Arena and card changes are as follows:
Arena 1: Goblin Stadium

Trophies: 0-300
Card Unlocks: Spear Goblins, Goblins, Goblin Hut, Hog Rider, Goblin Barrel, Hunter

Arena 2: Bone Pit

Trophies: 300 - 600
Card Unlocks: Bomber, Skeletons, Tombstone, Valkyrie, Giant Skeleton, Witch

Arena 3: Barbarian Bowl

Trophies: 600 - 1,000
Card Unlocks: Cannon, Barbarians, Barbarian Hut, Battle Ram, Barbarian Barrel, Golem

Arena 4: P.E.K.K.A.'s Playhouse

Trophies: 1000 - 1300
Card Unlocks: Zap Spell, Minion Horde, Inferno Tower, Mega Minion, Lightning Spell, P.E.K.K.A. Miner, Lava Hound

Arena 5: Spell Valley

Trophies: 1300 - 1600
Card Unlocks: Bats, Fire Spirits, Furnace, Wizard, Tornado, Poison Spell, Magic Archer, Night Witch

Arena 6: Builder's Workshop

Trophies: 1600 - 2000
Card Unlocks: Mortar, Skeleton Barrel, Rocket, Flying Machine, X-Bow, Balloon, The Log, Inferno Dragon

Arena 7: Royal Arena

Trophies: 2000 - 2300
Card Unlocks: Royal Recruits, Royal Giant, Heal Spell, Three Musketeers, Dark Prince, Guards, Mega Knight, Princess

Arena 8: Frozen Peak

Trophies: 2300 - 2600
Card Unlocks: Giant Snowball, Ice Spirit, Elixir Collector, Ice Golem, Freeze, Bowler, Lumberjack, Ice Wizard

Arena 9: Jungle Arena

Trophies: 2600 - 3000
Card Unlocks: Rascals, Goblin Gang, Dart Goblin, Goblin Giant, Bandit

Arena 10: Hog Mountain

Trophies: 3000 - 3300
Card Unlocks: Elite Barbarians, Bomb Tower, Royal Hogs, Rage Spell, Cannon Cart, Ram Rider

Arena 11: Electro Valley

Trophies: 3300 - 3600
Card Unlocks: Tesla, Zappies, Clone Spell, Electro Dragon, Sparky, Electro Wizard

Arena 12: Spooky Town

Trophies: 3600 - 4000
Card Unlocks: Mirror, Executioner, Graveyard Spell, Royal Ghost
Miscellaneous Improvements
Added the option to set "max losses" in Private Tournaments
Private Tournaments are now automatically shared to your Clan Chat
Clan recommendations now show up to five Clans with your friends in!
What do you think of the January 2019 Clash Royale update? Which feature is your favorite? Share with us in the comments below.