'Clash Royale' Modern & Retro Challenge Decks: Best Decks for Winning 2nd Anniversary Challenge Event
Looking for the best Modern and Retro Royale challenge decks for Clash Royale's 2nd Anniversary Event? Check out our list of winning decks and strategies, here.
Clash Royale's 2nd Anniversary celebration event has begun and with it comes Retro and Modern Challenges for players to enjoy. The challenges occur in two stages, requiring players to complete the ten crown Retro Challenge first before entering the Modern Challenge. Between the two challenges, players have the chance to earn one-time rewards of gold and cards ranging from common to epic.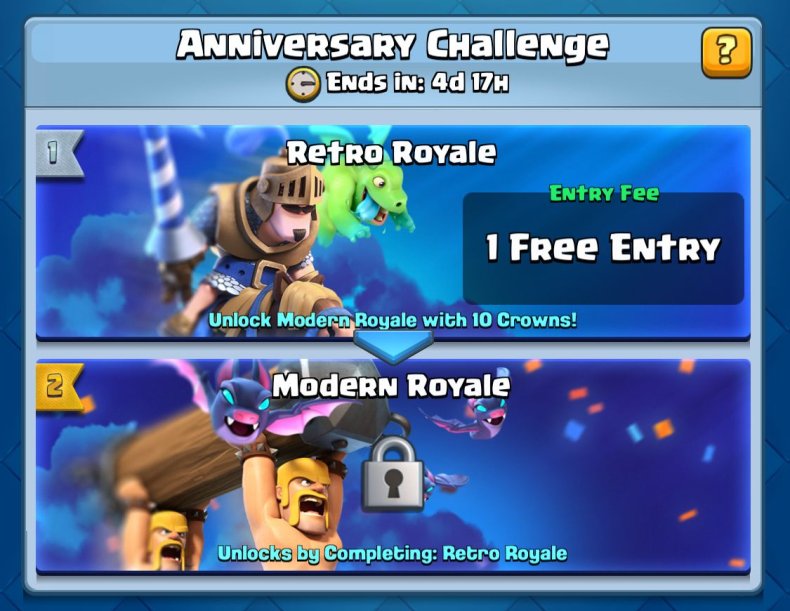 If you're hoping to try your hand at winning both the Retro and Modern Challenges, we've put together a guide of the best decks to use to get that win, including the deck we personally used to win each challenge. Check them out below, or if you have another winning deck to share, send them to c.harbison@newsweekgroup.com and we'll add them to the list.
See you in the arena!
Clash Royale Retro Challenge Decks: Best Decks For Getting The 10 Crown Win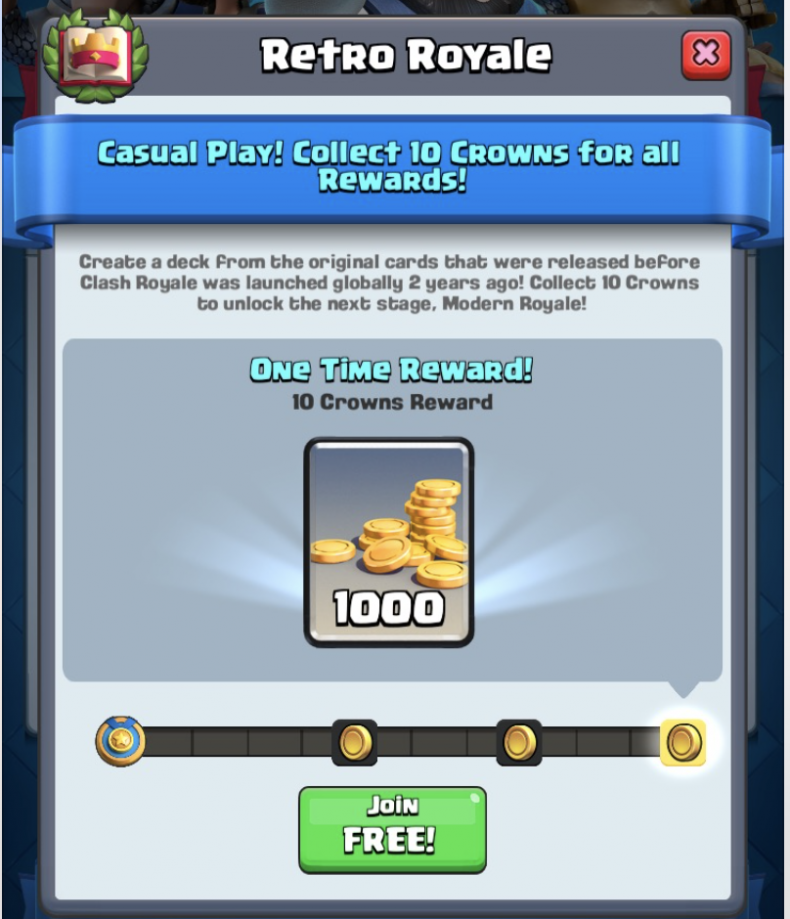 Beating the Retro Challenge is actually pretty simple since you need only win 10 crowns to do it. Here are some decks players have used to win that challenge.
Retro Challenge Deck 1
Baby Dragon
Spear Goblins
Valkyrie
Fireball
Goblin Barrel
Giant
Minions
Witch
Retro Challenge Deck 2
Giant
Hog rider
Fireball
Zap
Musketeer
Goblins
Skeleton army
Minions
Retro Challenge Deck 3
Prince
Minion hoarse
Skeleton army
Fireball
Spear goblins
Goblin barrel
Goblin hut
Zap
Retro Challenge Deck 4
Hog Rider
Baby Dragon
Fireball
Mini Pekka
Musketeer
Spear Goblins
Arrows
Tombstone
Retro Challenge Deck 5
Giant
Balloon
Zap
Rage Spell
Knight
Archers
Cannon
Musketeer
Clash Royale Modern Challenge Decks: Best Decks To Push You To Victory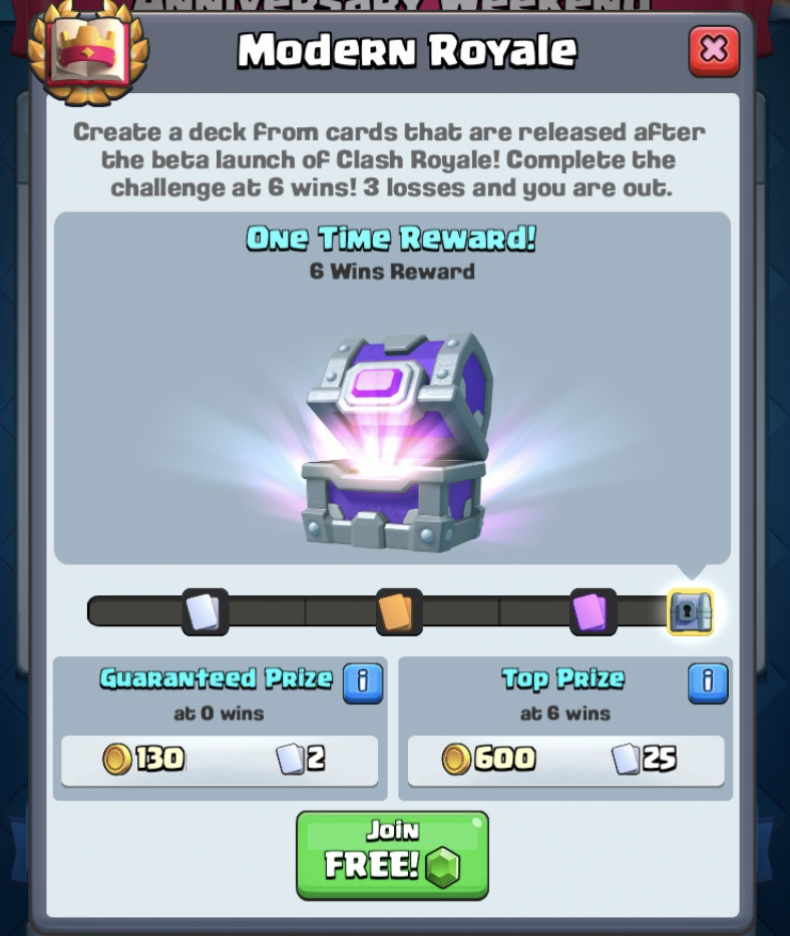 Modern Challenge Deck 1
Bandit
Poison
Dark Knight
Battle Ram
Ice Spirit
Log
Inferno Dragon
Ice Golem
Modern Challenge Deck 2
Poison
Dark Night
Lumberjack
Bats
Mega Knight
Zappies
Miner
Log
Modern Challenge Deck 3
Three Musketeers
Heal Spell
Bandit
Dark Prince
Ice Spirit
Poison
Ice Golem
Bats
Modern Challenge Deck 4
Lava Hound
Miner
Mega Minion
Flying Machine
Bats
Ice Wizard
Poison
Log
Modern Challenge Deck 5
Royal Ghost
Log
Guards
Ice Golem
Witch
Battering Ram
Poison
Inferno Dragon
Have you beaten the Retro and Modern Challenges? Share your thoughts on the challenges with us in the comments below!