'Clash Royale' Pro Deck Challenge: Decks & Strategy For Winning The In-Game Competition
Clash Royale's Pro Deck Challenge kicks off March 8. Check out all the decks and strategies for winning the challenge, here.
On the heels of the Clash Royale League Challenge announcement, the Supercell team has announced a new in-game Pro Deck Challenge that will kick off Thursday morning. The Pro Deck Challenge will have players choosing from one of 11 decks created by finalists from last year's Crown Championship. Players will have the opportunity to win a nice pile of coins ranging from 200 - 3,000 coins per win. Check out everything there is to know about the Pro Deck Challenge below, including all decks and strategies for using them.
Looking for League Challenge Decks And Strategy? Check out our new guide, here.
How Clash Royale Pro Deck Challenge Works
Clash Royale's Pro Deck Challenge kicks off Thursday, March 8 at 2 a.m. ET and will run through Sunday March 11. The challenge will work similar to the YouTuber Deck Challenge from earlier this year. During the challenge, players will be given a random deck to play with, created by 2017 Crown Championship World Finalists. Your challenge ends once you've lost three times. The first entry to the challenge will be free and each additional entry 10 gems.
Clash Royale Pro Deck Challenge Rewards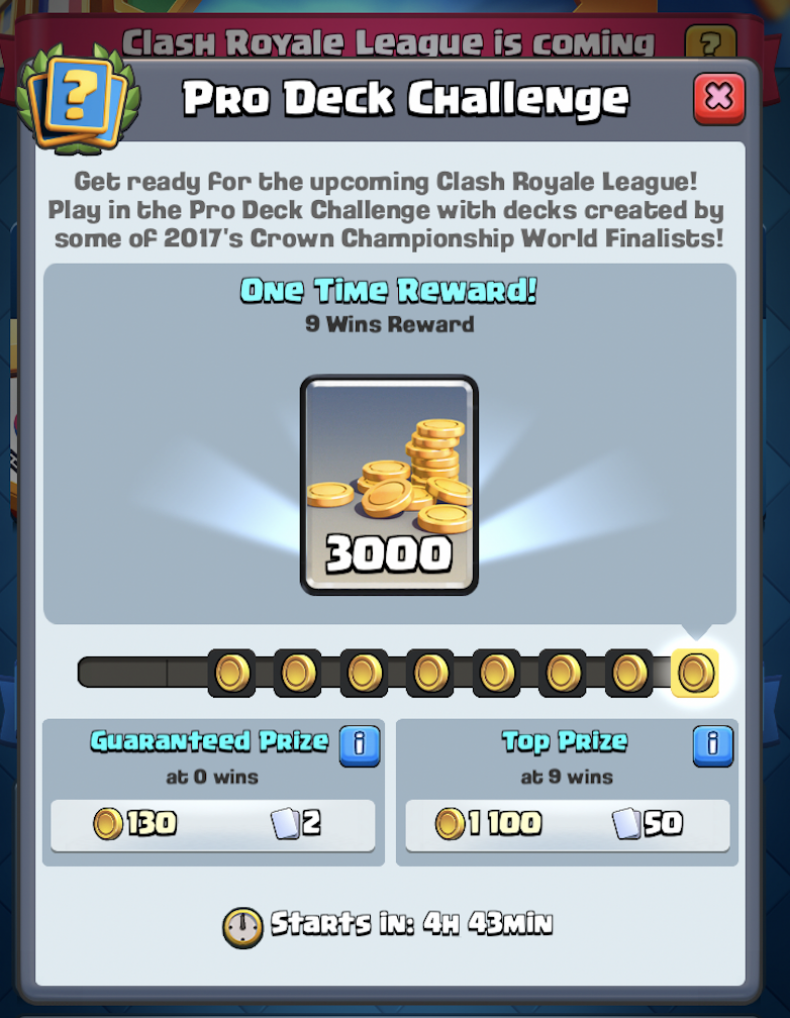 Here are the rewards you can receive for each win in the challenge:
2 Wins: 200 Gold
3 Wins: 300 Gold
4 Wins: 500 Gold
5 Wins: 800 Gold
6 Wins: 1200 Gold
7 Wins: 1700 Gold
8 Wins: 2300 Gold
9 Wins: 3000 Gold
Guaranteed Prize: 130 Gold, 2× Cards
Top Prize: 1,150 Gold, 50× Cards
Clash Royale Pro Deck Challenge Decks & Strategies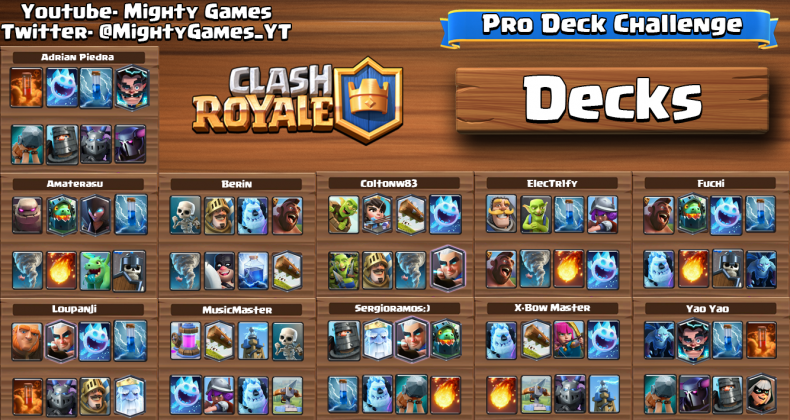 Here are the 11 decks that will be used during the challenge. You can practice with these deck in the game now by visiting the official Announcement within the Clash Royale app. The Pro Deck Challenge has been made available as a Friendly Battle option inside of clans as well. We will add strategies for using these decks as they become available.
Challenge Deck #1 - YaoYao

Minions
Electro Wizard
Poison Spell
Zap Spell
Battle Ram
P.E.K.K.A.
Dark Knight
Bandit

Challenge Deck # 2 - Musicmaster

Elixir Collector
Tesla
Musketeer
Skeletons
Ice Spirit
Log
Ice Golem
X-Bow

Challenge Deck #3 - X-Bow Master

Ice Golem
Fireball
Archer
Ice Spirit
X-Bow
Log
Mega Minion
Tesla

Challenge Deck #4 - Adrian Piedra

Poison Spell
Mega Minion
Electro Wizard
Ice Spirit
Battle Ram
Dark Knight
Zap Spell
P.E.K.K.A.

Challenge Deck #5 - ElecTr1fy

Knight
Goblins
Musketeer
Hog Rider
Tornado
Zap
Fireball
Ice Spirit

Challenge Deck #6 - ColtonW83

Goblin Barrel
Prince
Princess
Ice Spirit
Goblin Gang
Log
Tornado
Magic Archer

Challenge Deck #7 - Berin

Skeletons
Prince
Ice Goblin
Hog Rider
Tornado
Executioner
Lightning Spell
Log

Challenge Deck #8 - Fuchi

Hog Rider
Ice Golem
Ice Spirit
Zap Spell
Fireball
Inferno Dragon
Guards
Minions

Challenge Deck #9 - Lopanji

Giant
Poison Spell
Magic Archer
Ice Spirit
Mega Minion
Zap Spell
Prince
Royal Ghost

Challenge Deck #10 - Sergioramos

Dark Knight
Ice Golem
Royal Ghost
Magic Archer
Zap Spell
Inferno Dragon
Battle Ram
Fireball

Challenge Deck #11 - Amaturasu

Golem
Inferno Dragon
Night Witch
Zap Spell
Tornado
Fireball
Baby Dragon
Guards