'Clash Royale' New Cards 2018: 'Rascals' Card Release Teased in Latest Update
A new Rascal's card is coming to the Clash Royale arena. Find out what it does, when it arrives and more, here.
A new update made its way to Clash Royale after a maintenance break Wednesday morning, and with it came an in-game teaser for the newest upcoming card addition. In a Twitter post the official Clash Royale account urged clashers to " Take a peek at the bottom of your card collection…"
What Is The New Card In Clash Royale?
If you navigate to your card collection in game, near the bottom, you should see the greyed out image of a pair of bubble gum chewing girls with a big man standing behind them. Tap on the photo and up comes a description of the card dubbing it "Rascals."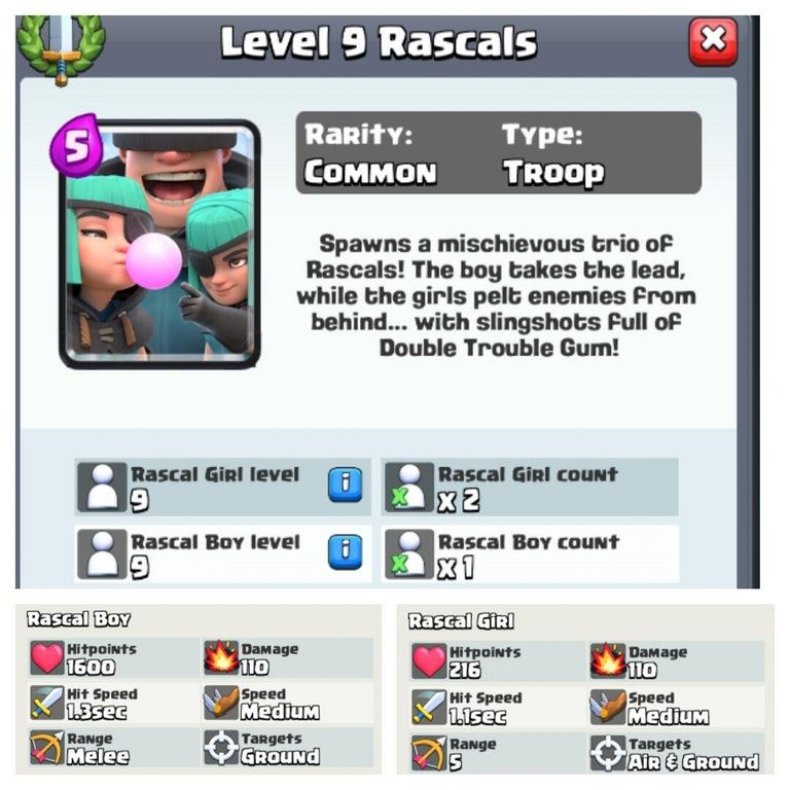 Rascals Card Stats and Info
Taking a look at the new Rascals card, you'll notice the card is a Common type with a 5 Elixir cost and is found in arena 9 or above. The description of the card is as follows:
"Spawns a mischievous trio of Rascals! The boy takes the lead while the girls pelt enemies from behind… with slingshots full of Double Trouble gum!"
There are no official details yet on how the new card will work, but an unofficial leaks video suggest that its dynamics may be similar to a barbarian and two archers. The leak is not verified so it's possible the gameplay footage is inaccurate. We personally believe if the Rascals shoot Double Trouble gum at opponents, this would likely have some kind of stun effect. Once official details on the new cards' dynamics are released, we'll be sure to update this post. In the meantime, here are the relevant stats for the new Rascals card:
Type: Common Troop
Rascal Girl Level: 1 (Air and Ground Attack)
Rascal Boy Level: 1 (Ground Attack)
Deploy Time: 1 Second
Rascal Girl Count: 2
Rascal Boy Count: 1
Elixir Needed: 5
Rarity: Common
Required Arena Level : 9
When Does The New Clash Royale "Rascal" Card Release?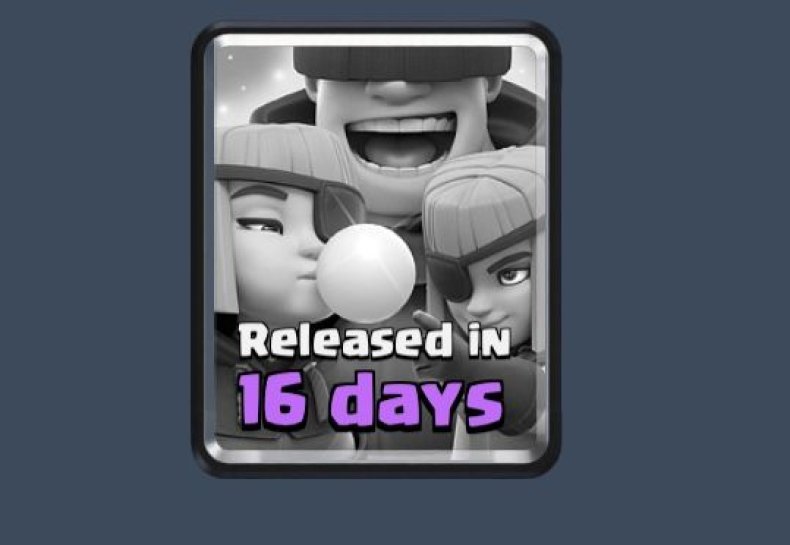 The new Rascal card debuts in 16 days according to the in-game post, making its release date Friday, May 25. There will most likely be some kind of weekend challenge related to the card this weekend or next, ahead of the release.
What do you think of the new Rascals card? Is it what you expected? Share with us in the comments below.