'Clash Royale' Anniversary Event Gives Victory Gold, Free Chests, Challenges And More
Clash Royale's 2nd Anniversary Event has begun! Check out everything that's happening from victory gold boost, free chests, challenges and more.
Clash Royale turns two years old this week and in honor of the occasion, Supercell has dropped some Anniversary goodies on players - our favorite of which is the Victory Gold Boost! Below we've put together a breakdown of every reward players can earn during the Anniversary event. If there was ever a week to be in the arena, it's now!
Happy Clashing!
Clash Royale Anniversary Event: Every Reward To Win This Weekend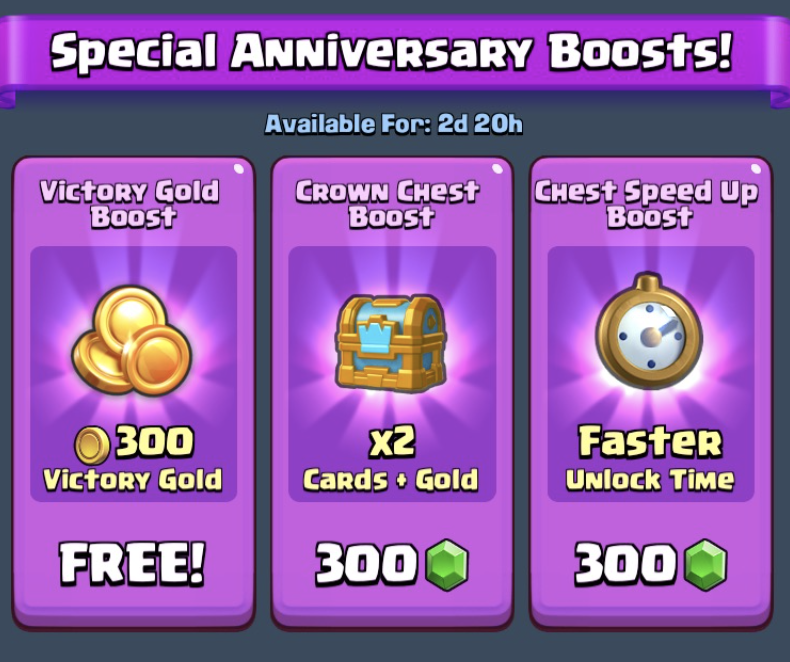 Anniversary Perk #1: Victory Gold Boost
As mentioned, the Victory Gold Boost is our favorite Anniversary perk as in gives players 300 extra coins on every game they win in the arena. The boost can be activated anytime between March 2 and 4th and will give bonus gold through March 9. With this being a Clan Chest weekend, you can maximize the rewards you and your clan earn, by grinding out as many wins as you can this weekend.
Anniversary Perk #2: Free Chests
On the shop page, Clashers will notice two free chests available to claim -- a Magical and Lightning Chest. Both Magical and Lightning chests contain gold and cards ranging fro rare to epic, but with Lightning Chest players have the option to reroll won cards for a different stack, giving your collection a little extra boost.
Anniversary Perk #3 - Chest Boosts
In the shop, players have the option to purchase Chest boost for both Crown and Victory chest. For 300 gems you can double the amount of cards and gold won in Crown Chests for the entire week of the Anniversary celebration or you can purchase a Victory chest unlocking speed up for 300 gems as well.
Anniversary Perk #4 - Retro Royale Challenge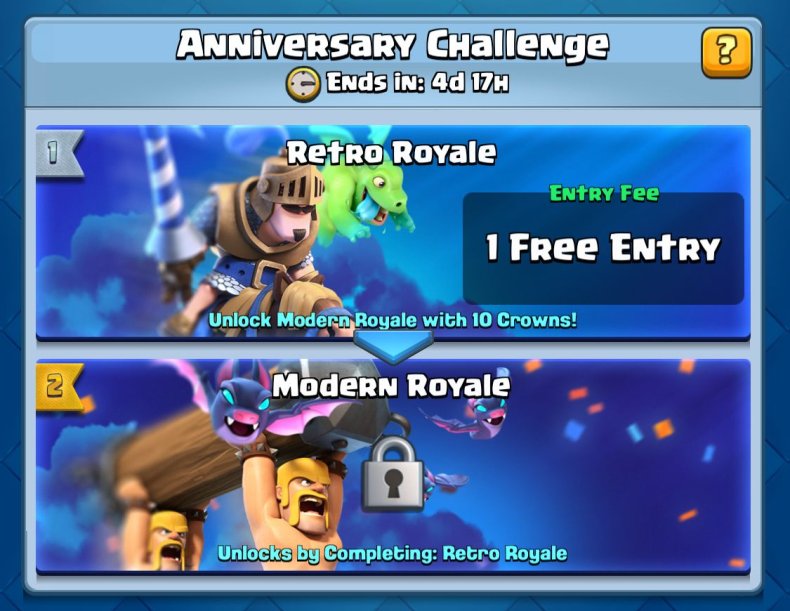 Players get one free entry to this challenge running March 2nd - 4th. The challenge takes players back to the good old days when Clash Royale was first soft launched. During the challenge players can only use cards released at the same time as the January 2016 soft launch. This challenge is full of nostalgia for veteran players and is a pretty simple one to complete. Players need only win 10 crowns during battles. Players can lose up to 3 battles before being eliminated. The challenge awards players one time awards of up to 1750 coins for completing. If you need a good deck for winning this challenge, you can check out our top Retro Royale deck picks, here.
Anniversary Perk #5 - Modern Royale Challenge
Players who successfully complete the Retro Royale 10 crown challenge unlock a free entry to the Modern Royale Challenge that include only cards release after the January 2016 soft launch. While this challenge can be somewhat trickier to win, it also comes with more rewards. In addition to gold, players can receive one time rewards of 30 Skeleton Barrel cards (common), 20 Zappies cards (rare) and 3 Hunter cards (epic). The challenge is available March 2nd - 4th. If you need a good deck for winning this challenge, you can check out our top Modern Royale deck picks, here.
Which Clash Royale Anniversary perk is your favorite? Share your thoughts on the event in the comments below.