'Clash Royale' New Legendary Card Leaked As Supercell Teases Upcoming Animation Reveal
A new legendary card is coming to Clash Royale this week, but what could it be? Find out everything we know about the new card, here.
On Monday, Supercell announced that a new Clash Royale card would be revealed this week. In the days following, the company has teased small graphic images we can only presume are related to the upcoming card. While the new card has yet to be confirmed, a number of unofficial leaks point to the new card being a Legendary and a possible alternative to the Hog Rider card currently dominating the arena. Below we've put together everything we know so far about the new Clash Royale card along with photos and other information leaked online or teased by Supercell.
Clash Royale New Legendary Card: Everything We Know So Far
On Tuesday, Supercell tweeted the first of two graphic clips to get players wondering what the new card might be. In the photo, we see the eyes and nose of an animal that appears to be a bear, a dog or possibly … a ram.
If the animal is, in fact, a ram it would fall in line with some leaks that appeared online Wednesday suggesting that the new card will be called the Ram Rider. The leaks which appeared on statsroyale.com have recently been removed, but some Twitter users still managed to grab screenshots of the leaks before they disappeared. Here's what the alleged leaks revealed
Ram Rider Legendary Card Stats (Per Stats Royale Leak)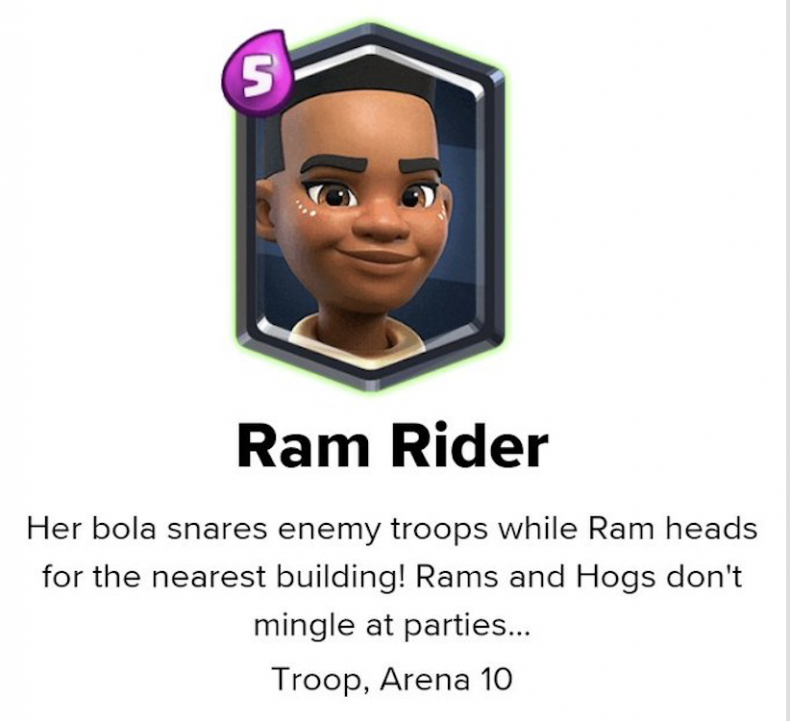 Description: "Her bola snares enemy troops while Ram heads for the nearest building. Rams and Hogs don't mingle at parties.
Arena: The Clash Royale app shows that the newest Clash Royale card will be unlocked in the Hog Mountain arena.
Rarity: The space for the new card in the Clash Royale app indicates that the new card will be a Legendary offering.
Speed: Medium
Spawn Speed: 0.0 seconds
Targets: Air and Ground
Range: 5.5
Hit Speed: 1.1 seconds
Freeze Duration: 2 seconds
There's no way to guarantee that the Ram Rider is the new card, but on Wednesday afternoon, the official Supercell Twitter account tweeted one more graphic clip featuring the eyes of a young woman that bears great resemblance to the Ram Rider photo leaked earlier in the day.
Additional unconfirmed leaks on Reddit show a small screenshot of what the Ram Rider may look like in the arena. On Thursday, Supercell has promised to release a new animation featuring the latest card, which you'll be able to watch on the official Clash Royale YouTube page once it goes live. As more is learned about the upcoming Clash Royale legendary card, we'll be sure to update this post.