Class-Action Lawsuit Calls on Betsy DeVos Testimony, But Biden Admin Dismisses Request
A class-action lawsuit challenging the Trump administration's handling of loan forgiveness is demanding that former Education Secretary Betsy DeVos testify. But the Biden administration is backing the former agency head in her efforts to avoid taking the stand.
DeVos, who is no longer the defendant in the lawsuit since she resigned from office on January 7 in the wake of the Capitol riot, is fighting to block a subpoena seeking her disposition on February 25.
On Monday, the former education secretary's personal attorney, Jessie Panuccio, was joined by the Justice Department in a filing seeking to dismiss the motion.
"Plaintiffs' demand for a former Cabinet official's deposition is extraordinary, unnecessary, and unsupported," lawyers wrote in a joint court filing. "It is a transparent attempt at harassment — part of a PR campaign that has been central to Plaintiffs' litigation strategy from the outset."
Brian Boynton, who is now the acting assistant attorney general in the Biden administration, signed the court filing alongside Panuccio.
Roughly 160,000 former for-profit college students are seeking loan forgiveness on the grounds that they were defrauded. Their lawyers argue they need DeVos' testimony to understand the agency's lengthy delays on loan forgiveness claims and the broad denials that followed.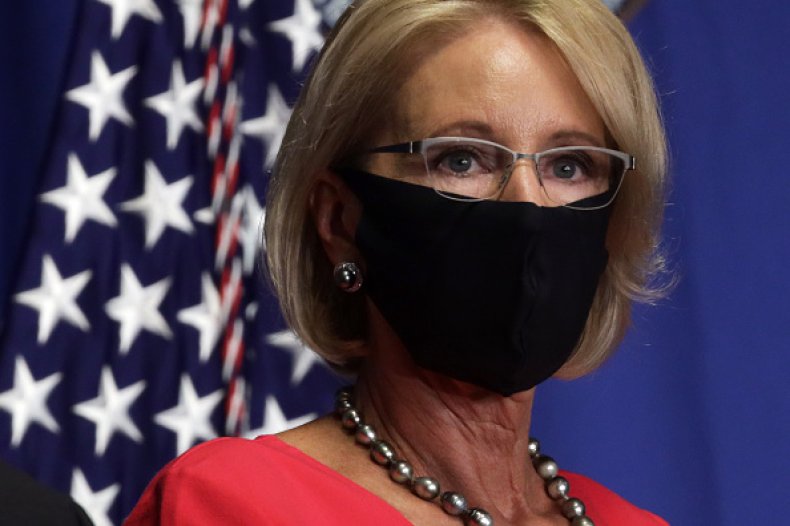 Student loan borrowers, represented by the nonprofit Housing and Economic Rights Advocates and Harvard Law School's Project on Predatory Student Lending, are accusing DeVos of illegally delaying action on tens of thousands of loan forgiveness applications at the Education Department.
Although the two parties reached a preliminary deal last spring, which forced the department to speed up its adjudication process, a federal judge found that DeVos delivered sweeping denials on the outstanding claims.
However, Boynton and Panuccio argued that the plaintiffs have not made the case that the former secretary's testimony is essential, nor have they indicated they've exhausted all alternative sources that would provide the information DeVos would have.
During the Trump administration, Democrats criticized a DeVos program known as "Borrower Defense to Repayment," which made it more difficult for students who were misled or cheated by their colleges to seek monetary relief.
President Joe Biden has promised to reverse DeVos' policies and revert to Obama-era approaches. Since DeVos' departure, Phil Rosenfelt has served as acting secretary. Biden's nomination of Miguel Cardona for education secretary is still pending Senate confirmation.
Newsweek reached out to the Project on Predatory Student Lending for comment but did not hear back before publication.