In Class Obsessed Britain, 'White Van Man' Tweet Causes MP's Resignation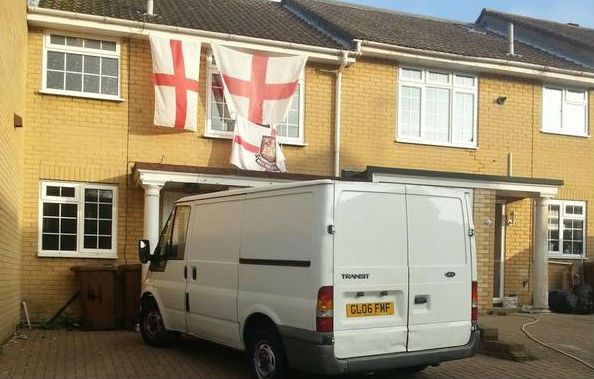 Posting a picture on Twitter of a two-storey house, displaying three English flags of St. George and with a white tradesman's van outside might seem innocuous to a foreign eye.
When a British politician appeared to sneer at the modest Rochester home of a 'white van' voter, she was vilified as a member of an arrogant London elite.
In a Britain where disaffected voters increasingly view politicians as snobbish, patronizing and out of touch, the picture was laden with social clichés.
Translation: White van = working class. English flags = right-wing working class feeling insecure about immigration in an England that no longer exists.
The timing - coinciding with a local election that delivered victory to an anti-EU, anti-immigration party - was disastrous.
Within 7 hours of posting the photograph, opposition Labour lawmaker Emily Thornberry had resigned as the opposition's chief spokeswoman on legal matters.
"I apologize for any offence caused by the 3 flag picture. People should fly the England flag with pride!" said Thornberry, who lives in a 3 million pound (4.7 million US dollar) house in the Islington area of London.
'She's a snob," said Dan Ware, the owner of the house in Rochester that he bought with his wife for 119,000 pounds in 2002.
"I can't even remember when I last voted," added Ware, a father of four who said the English flags had been put up to celebrate the soccer World Cup in the summer and were not a political statement.
The St George's cross has been an emblem of England for over 800 years and is part of Britain's union jack but it has been used by far-right groups protesting against immigration in recent years.
Anger at politicians has overturned the assumptions of Britain's traditional two-party system of Labour and Conservatives as voters turn to separatists in Scotland and to the anti-EU United Kingdom Independence Party in England.
"Snob Labour MP's Twitter dig at White Van Man's England Flags" Britain's best selling newspaper, the Sun, said on its front page.
Labour leader Ed Miliband, an Oxford-educated career politician who is ranked as Britain's most unpopular party leader since polling began in the 1970s, made it be known he was angered by the picture.
Cameron, who went to Britain's most exclusive fee-paying school before graduating from Oxford, criticized the tweet: "The Labour Party sneers at people who work hard, who are patriotic and who love their country - and I think that's completely appalling."
The tweeter Thornberry, in contrast, was raised by her mother on a council estate 30 miles (50 km) south of London.