Classified Name Revealed of Special Ops Hero Dog Wounded in Syria Raid that Killed ISIS Leader Baghdadi
When U.S. Army Special Forces soldiers with the secretive Joint Special Operations Command flew into Syria's northwestern Idlib province to capture or kill Abu Bakr al-Baghdadi, a male Belgian Malinois was along for the ride in the historic military operation. His name is Conan, Newsweek has learned.
On Monday, President Donald Trump tweeted out a picture of the military dog assigned to 1st Special Forces Operational Detachment-Delta, known as Delta Force, a unit that falls under the secretive Joint Special Operations Command.
"We have declassified a picture of the wonderful dog (name not declassified) that did such a GREAT JOB in capturing and killing the Leader of ISIS, Abu Bakr al-Baghdadi," Trump tweeted from his official account.
Multiple Defense Department sources confirmed to Newsweek on Monday that the dog's name is Conan. During a Sunday morning press conference to announce the death of Baghdadi, Trump said the dog was injured when the Islamic State leader detonated a suicide vest, killing himself and three children.
Trump declassified the photograph on Monday after a Pentagon press briefing between Defense Secretary Dr. Mark T. Esper and U.S. Army General Mark A. Milley, chairman of the Joint Chiefs of Staff.
Milley told reporters at a Pentagon briefing Monday that the dog was "slightly wounded and fully recovering," and said the Pentagon would not be disclosing the dog's identity as the animal was instrumental in the top secret raid which resulted in the death of the Islamic State leader. The dog has since returned to duty.
Working dogs have been a part of military culture dating back to World War I. Dogs typically are ranked as noncommissioned officers, a higher rank than the dog's handler, and are routinely involved in high-level, special operation missions or assigned to conventional forces to find improvised explosives devices.
During World War I, "Sergeant Stubby," described by The New York Times at his death in April 1926 as "only a dog, and unpedigreed at that," was the first dog in U.S. Army history to be granted military rank, according to U.S. Army historical records. He took part in four major offensives, the Times wrote, and Stubby's first injury in combat was from gas exposure.
In his Sunday morning announcement of the raid on the Idlib compound, Trump said that Baghdadi "died like a dog," whimpering and screaming.
At the same time, he described Conan—identified not by name but as a K-9 working with the team—as "a beautiful dog, a talented dog."
Trump himself is not known to have any pets, including any dogs, and does not appear to be an animal-lover in general.
Newsweek's senior Pentagon source said the dog was named for the comedian Conan O'Brien, and not the famed Barbarian.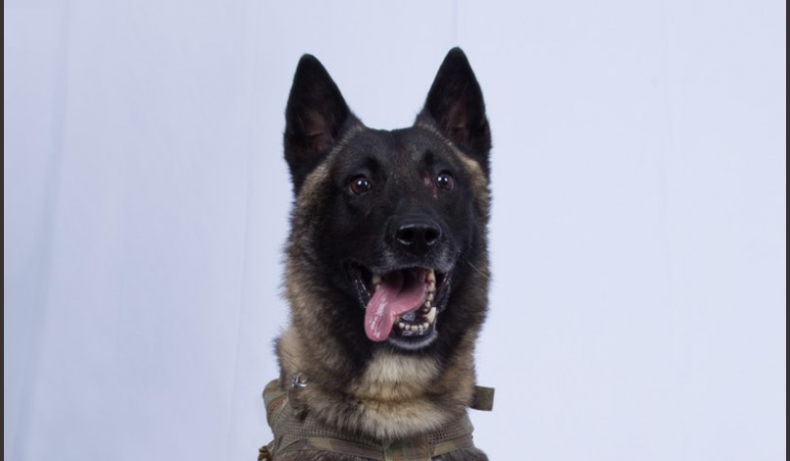 10/29, 9:20 a.m.: This story has been updated to correct Conan's gender.