Clay Higgins Tells Man Who Called Him 'Traitor' Over 2020 Election to 'Find Ring' for Fight
Congressman Clay Higgins didn't take kindly to being called a "traitor" for voting against certifying the 2020 election results, offering to physically fight a man from Alaska.
The Louisiana Republican was among the first representatives to announce he would object to the 2020 election results on the basis that he believed instances of voter fraud hadn't been reported. As has been the case with other legislators, the decision to push back on certifying the election results prompted backlash and on Wednesday, a Facebook user said his post-election behavior rendered him a "domestic enemy" to the Constitution.
Higgins responded, saying that he'll be in Alaska in 2022 and that he's "easy to find."
"Locate us a ring, or a dojo," Higgins said. "I'll give you a few rounds to make your point."
Joel Dolphin, the man who left the comment on Higgins' Facebook post, shared the congressman's response on his Twitter page. He reiterated that Higgins is a "literal traitor" and noted that the physical fight between the two men could be a "good way to raise money for charity," tagging Dana White, the president of the Ultimate Fighting Championship.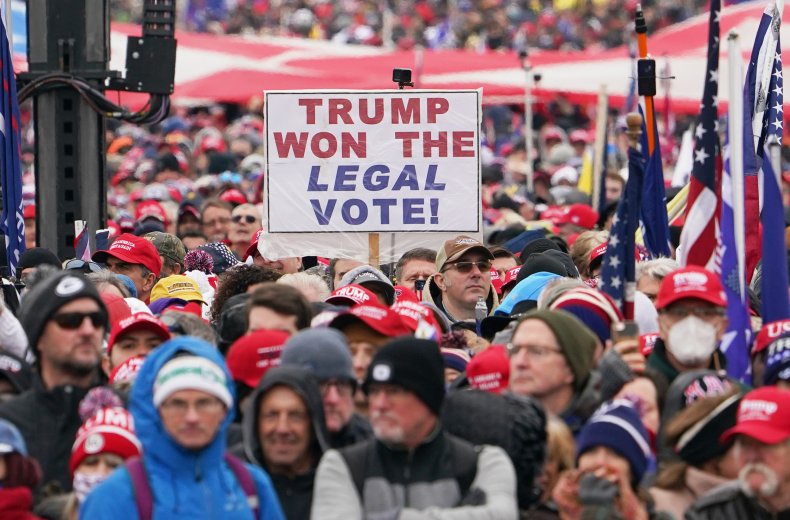 Dolphin told The Advocate that he was only "mildly" surprised that the congressman challenged him to a fight because he has a "very poor character." However, he wasn't expecting "anything to happen" with regard to the match.
"Challenging a citizen to a fight isn't a good look for a U.S. congressman or for U.S. politics in general for that matter. It's just another reason for his constituents to be disappointed in him—add it to the pile. I hope a more moderate and honest Republican successfully primaries him," Dolphin said.
Higgins first won election to the House of Representatives in 2016 and has easily won reelection twice since with his support increasing in 2020. Known for his tough and controversial rhetoric, Higgins posted on Facebook in the fall that anyone arriving in Louisiana "aggressively natured and armed" would have a "one way ticket." He added that he would "personally drop 10 of you," including a photo of Black protesters at a Black Lives Matter demonstration in the post.
He later penned a Facebook post that said the United States is "being manipulated into a new era of government control" and that he would advise people "when it's time to gear up, mount up and roll out."
Facebook removed both posts for violating the company's policies against inciting violence.
The confrontation between Higgins and Dolphin began when Higgins posted on Facebook that Biden and "leftist career politicians" "bend their tongues like a bow for lies, and they proceed from evil to evil." Dolphin called it "intense hypocrisy" for Republicans to call politicians out for lies after the Trump administration.
Newsweek reached out to Dolphin and Higgins for comment but did not receive a response in time for publication.