Fighting With the Stars: 'Iron Fist's Clayton Barber Talks Kung-Fu Hugs and Athleticism Vs. Hard Work
Clayton Barber has has taught actors how to fight for more than 35 years. He did choreography for Wesley Snipes in Blade II, trained Michael B. Jordan for Creed, was a stunt performer in John Wick and the fight coordinator for Black Panther. He recently finished work on Iron Fist Season 2 and he still considers himself "just a peon" doing his job.
"At some point I stop listening, and I do what I do," Barber tells Newsweek.
Barber has a stern exterior, yet he's warm and compassionate during our brief stunt training session in a warehouse near the Brooklyn waterfront. "I treat it like a big brother or like a father," he says of the day he started training the cast of Iron Fist. "I call it the kung-fu hug."
Commitment is required when Barber's involved. "We do this as a family," he says. "I immediately establish the tone and the philosophy—what we are gonna be doing, how we are going to do it, and what I expect of you. I make a verbal handshake and an eye-contact contract with them."
To my dismay, our handshake did not grant me the powers of a glowing orange fist as I attempted to recreate a scene from the Season 2 premiere — keyword, "attempted." Arms flailing, I forgot all the fight choreography as I barely managed to nail Iron Fist's classic pose — down on one knee, fist into the floor. I remembered something Barber said before we started training, "You can have the greatest athlete, but they can be terrible fighting for film."
"You can have the worst athlete, but they are great fighting for film because they put in the work and have heart," Barber continued. "You don't have to be a kung fu master. We get actors to portray enough to where the audience to believes they can do what they can do. That's the artform. They have to call upon their own sensory memories and lives, at the end of the day they have to act."
Iron Fist brought in a new creative team for Season 2, and Barber embraced a motto he's lived by his entire career: get bogged down in doing good work. "If you build, they'll come," he says confidently. "Going second always give you perspective. It's like a video game, it gives you a redo. You get to put another quarter in the machine and you get to play the game differently with a different mindset."
A quick Google search classifies Barber as a Taekwondo black belt, but he likes to describe his skillset more broadly; dance, acrobatics and martial arts technique."Doing a fight scene isn't necessarily a stunt, it's a dramatic scene with movement in it," he says. But he's emphatically clear that it's more than choreography. "I create story-o, not choreo. That's the art of the deal for me."
Barber started his film career specializing in Kung Fu and was enthused to return after 18 years. "I wanted to come back and see what I can do with a pure Kung Fu show with an iconic character like Iron Fist, who is supposed to be the greatest Kung Fu fighter in the universe."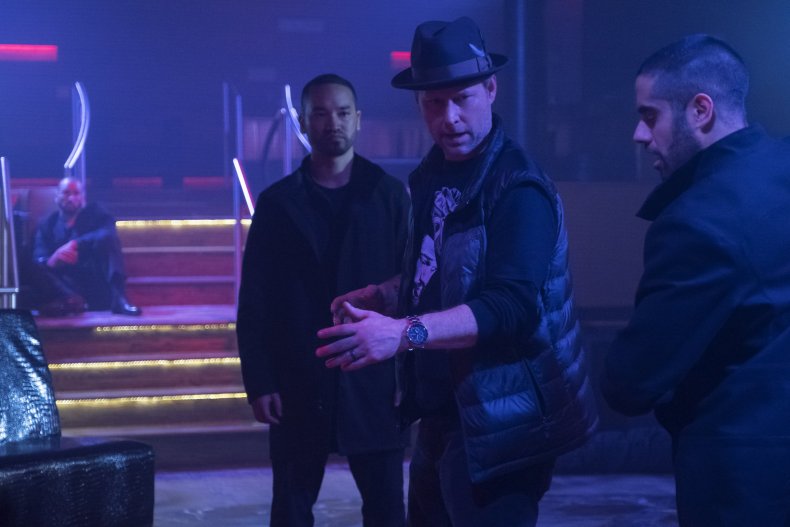 Barber also didn't want to limit himself to a direct translation. Iron Fist lives in 2018 New York, not in Ku'n-Lun. " He's having to adapt to the environment, the rhythm and fighters. Fighters in K'un-Lun are priests and monks, but New York has gangsters who fight with no rules. He needs to improvise and overcome," he says.
That's not at all dissimilar to the way he approaches most of his projects, I realize, after asking about the distinct fighting styles of the Dora Milaje, Jessica Jones and Colleen Wing. "You take all the stereotypes and throw them in the wind and out the door. Sometimes I grab them back," he swiftly added. "Depending on how I'm going to manipulate it."
In the end, he knows good action is about creating good story. "I'm not a big fan of doing 45 cuts knowing the guy didn't do the motions," he says, noting Michael B. Jordan didn't use a stunt double for a single scene in Creed. "I'm a big fan of making them participate, forcing them to be a part of the scene in a real organic way for them themselves as actors."