Clayton Kershaw set a new MLB record for postseason strikeouts as the Los Angeles Dodgers moved to within one win of a first World Series title since 1988 after defeating the Tampa Bay Rays in Game 5 on Sunday night.
Kershaw gave up two runs, two walks and five hits in 5.2 innings and struck out six batters, bringing his career postseason tally to 207 strikeouts in 189 innings and surpassing the record held by Houston Astros ace Justin Verlander, who has 205 strikeouts in 187.2 career postseason innings.
An eight-time All-Star and three-time National League Cy Young Award winner, Kershaw has long been considered one of the best pitchers of his generation, a reputation blighted only by a penchant for seemingly going missing in October.
The 32-year-old, however, has proved the doubters wrong over the past week, winning both of the games he has started in the World Series and putting the Dodgers on the brink of ending a 32-year wait for the Commissioner's Trophy.
"Any time you have any success in the postseason, it just means so much," Kershaw told the Los Angeles Times.
"That's what you work for, that's what you play for this month. I know what the other end of that feels like too."
Having allowed two runs in the bottom of the third as the Rays closed the gap to 3-2, Kershaw found himself in a tough spot in the bottom of the fourth as Manuel Margot and Hunter Renfroe both walked.
To compound matters, the former stole second base and then capitalized on a bad throw to move onto third, leaving Tampa Bay with two men on base with nobody out.
Kershaw, however, bounced back in style. He induced a pop-out off Joey Wendle, before striking out Willy Adames and subsequently throwing out Margot, as he attempted to steal home.
"Once Wendle popped that ball up, I felt like I was finding a way of getting out of that," he added.
With danger averted, Kershaw ripped through the Rays' batting order, striking out the next five batters before being hauled off the field by Dodgers manager Dave Roberts, who introduced reliever Dustin May in the sixth inning.
"I thought he pitched a heck of a game," Roberts told ESPN when asked for his thoughts on Kershaw's performance.
"And to go out there and get two more hitters [in the sixth], we felt that that would be good enough. And at that point in time, once he did that, I thought it was time to take the baseball. And I think he felt good."
Kershaw was somewhat less impressed with his performance.
"I didn't have my stuff like I did in Game 1," he told ESPN. "My slider wasn't there as good as it was, so fortunate to get through there."
The Dodgers ace is now 3-2 in five World Series starts and has allowed 23 hits, five walks and recorded 37 strikeouts in 30.2 innings in this postseason with a 2.93 ERA and a 4-1 overall record.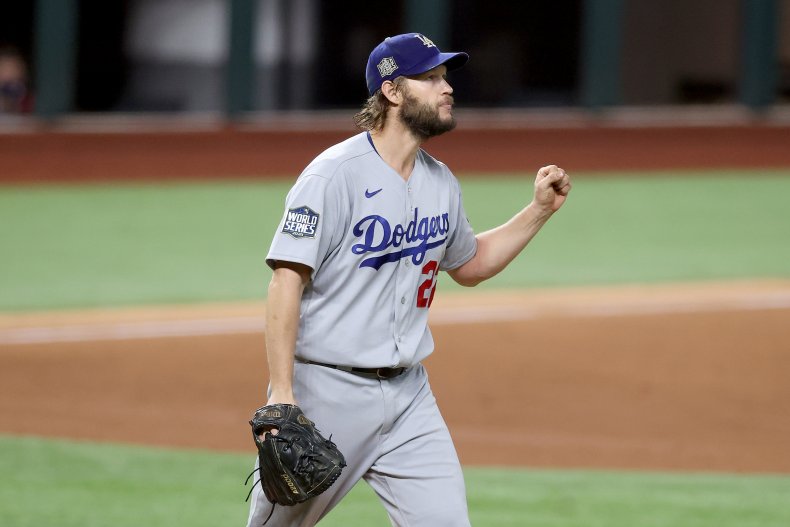 Uncommon Knowledge
Newsweek is committed to challenging conventional wisdom and finding connections in the search for common ground.
Newsweek is committed to challenging conventional wisdom and finding connections in the search for common ground.
About the writer
Dan Cancian is currently a reporter for Newsweek based in London, England. Prior to joining Newsweek in January 2018, he was a news and business reporter at International Business Times UK. Dan has also written for The Guardian and The Observer.