Jailed Immigrants Launch Hunger Strike until Congress Passes a 'Clean' DREAM Act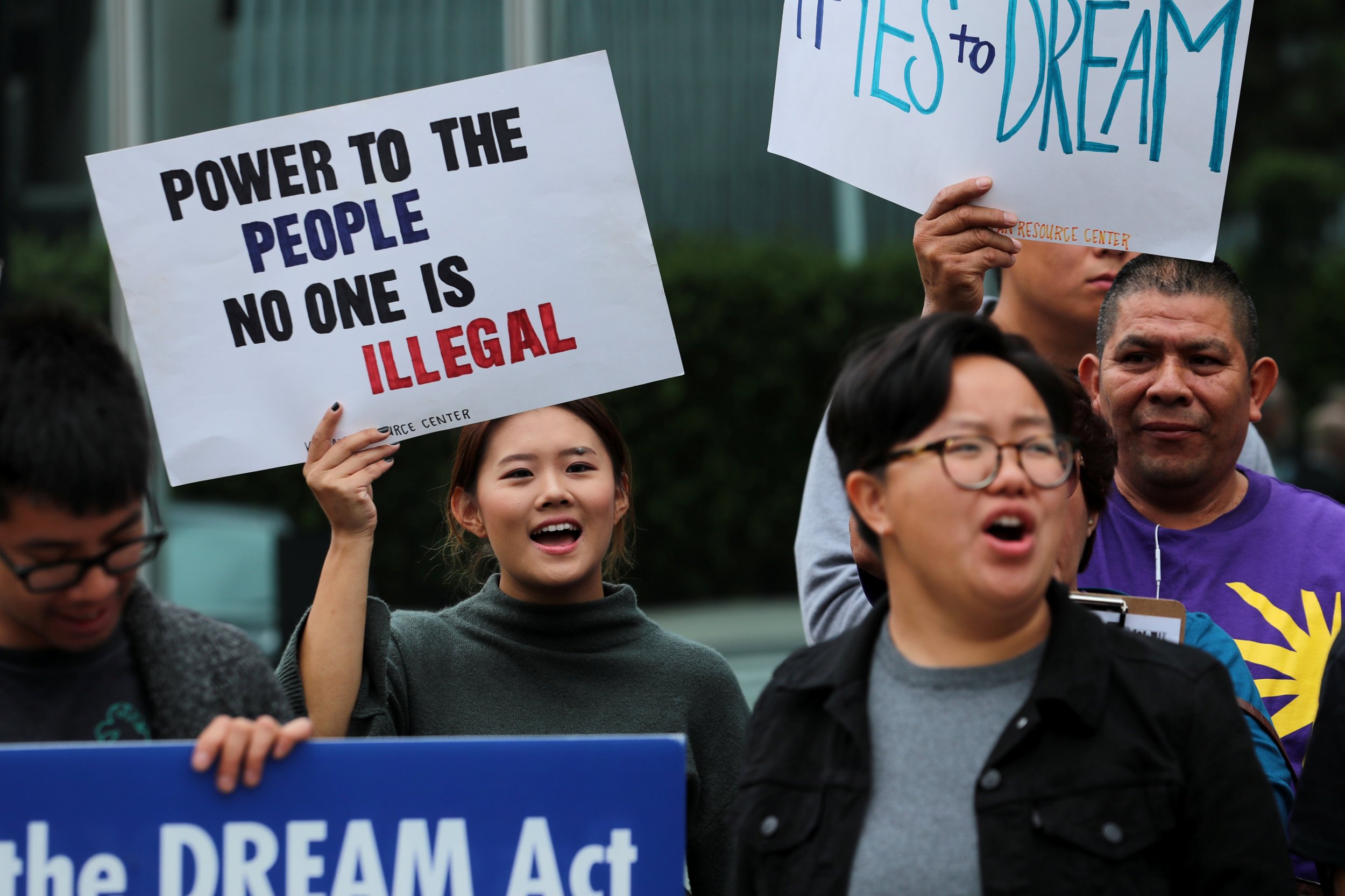 A group of Dreamers claim to have gone on hunger strike in a Washington, D.C., jail until Congress commits to forego passing an end-of-the-year spending bill without a "clean" DREAM Act.
Related: Immigrant youth to Congress: You have two weeks to pass the DREAM Act
According to a statement provided to The Slot, the seven Dreamers and an ally to their cause were arrested on Friday during sit-ins at the offices of Senator Chuck Schumer, the leading Democrat in the chamber, and Representative Carlos Curbelo, a pro-immigrant Republican.
All but one member of the group has not eaten since their arrest. When asked for their names in jail, each of them reportedly told police: "We're here until Congress passes a clean DREAM Act." The seven are demanding that Schumer and Curbelo "publicly confirm they have the votes to block any spending bill" that doesn't include legislation to protect young immigrants.
They call themselves the #Dream7 and are expected to be released from jail later today.
The #Dream7 are part of an upswell of immigrant rights' protests that have taken place in the Capitol over the last two weeks. Protestors are demanding that Congress pass a clean DREAM Act—legislation that would provide a path to citizenship for the 2 million immigrants who came to the country before the age of 16 without funding attachments for a border wall, detention centers, interior enforcement agencies or the E-verify program—before the December 22 deadline to fund the government.
Protestors and immigrant advocates say that immediate congressional action is needed after President Donald Trump rescinded the Deferred Action for Childhood Arrivals (DACA) program in September, putting nearly 700,000 immigrants at risk of deportation.
Under DACA, children brought to the U.S. without proper authorization and who met certain criteria were eligible for renewable two-year permits allowing them to stay in the country and go to school or work.
According to the Center for American Progress, more than 100 people lose their DACA protection "each day Congress delays acting on the Dream Act from now until March 5, 2018," the deadline imposed by the Trump administration for the program to expire.
Mark L. Goldstone, a lawyer representing the #Dream7, told local news outlet WUSA9 that his clients are "standing in for 700,000 Americans all across the country, representing them and standing up for their rights."
The prospects for a clean DREAM Act before the end of the year are slim.
On Monday, Representative Henry Cuellar, a Democrat from Texas and a staunch advocate for immigrant rights, said it would take a "miracle" to get a deal in place before the holiday recess.
Earlier this month, Senate Majority Leader Mitch McConnell said that it would be "ridiculous" to shut down the government over immigration reform and expected Congress to take up the issue sometime early next year.
Nevertheless, dozens of senators and congressional representatives have vowed not to vote for a spending bill unless it includes a clean DREAM Act.
In a statement to WUSA9, the D.C. Department of Corrections said it considers a hunger strike to be more than 24 hours without food or water, after which the individual is taken for medical treatment.
Keena Blackmon, spokesperson for the D.C. Department of Corrections, told WUSA9 that none of the Dreamers have been hospitalized, but she did confirm that "some of the protesters are fasting or refusing to eat."
Senator Schumer and Representative Curbelo each responded with a statement of support for the protesters and committed to passing a bipartisan DREAM Act soon.
"We are doing everything we can to find the Republican votes to pass the DREAM Act as quickly as possible, and are hopeful we'll have a bipartisan solution soon," Schumer told WUSA9 through a spokesperson.
Curbelo added in a statement to The Slot: "The Congressman is committed to finding a bipartisan solution for the DACA population. He's pledged to withhold his support for any spending past Dec. 31 until action is taken on a solution. These young immigrants are contributing to our economy and society all across the country in local communities, like South Florida. They've lived in fear for far too long and it is past-time leadership in both Chambers allow a solution to come to the floor."