'I Clean Strangers' Homes for Free'
I started cleaning when I was 16 years old. My mom had been in the industry for almost her entire life and I wanted to follow in her footsteps.
I've always loved how satisfying cleaning is. For instance, sometimes it takes years and years to create stains, then I come along and remove them in two minutes. It's so gratifying. I enjoy walking into a room to find stains and mold.
When I was 21, I completed a bachelor's degree in hospitality management at Finland's Tampere University while working as a cleaner for my mom's industrial cleaning company. After graduating I was promoted to service manager, with around 30 employees under me.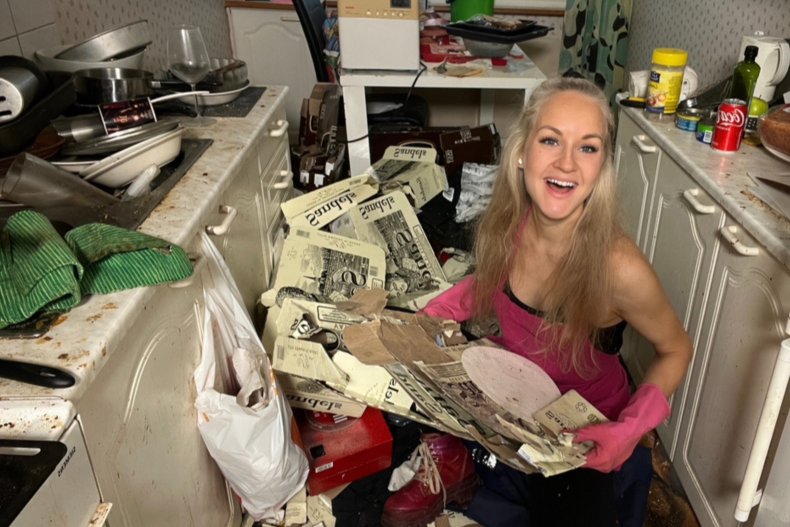 Initially, I worked as a service manager during the week while occasionally cleaning the homes of friends or relatives on the weekends and would share videos of my cleans online.
The first time I cleaned a stranger's home free of charge was in October 2020. One of my followers reached out and told me that her husband had taken his own life. She was the mother of three young children and was struggling to keep her home clean while working long hours.
She asked me for help and, of course, I agreed. I spent the weekend cleaning while her kids were at their grandmother's house. She was so grateful. From then on, I started doing free home cleanings on the weekends while working my normal job during the week.
I began posting more and more about my home cleanings on social media and in summer 2021 I was able to quit my day job and dedicate all of my time to flying around the world helping strangers clean their homes.
I have two commercial sponsors who help pay for my trips and earn commission from Facebook and YouTube. Overall, my new cleaning venture makes on average €80,000 ($87,468) per month, and I pay myself a salary of €40,000 ($43,734), which is around the same amount of money that I made while working as a service manager.
I've traveled to various countries while cleaning, including the United States and United Kingdom, and there has never been a home too dirty for me. If anything, I sometimes refuse because they're not dirty enough—if it's too clean, it's boring for me.
The dirtiest house I have ever cleaned was in Finland. I couldn't even see the floor and there were so many rats everywhere, plus rat feces. The owners had not been able to access their kitchen for three years because it was so full of mess. We called it the "horror house." It was amazing.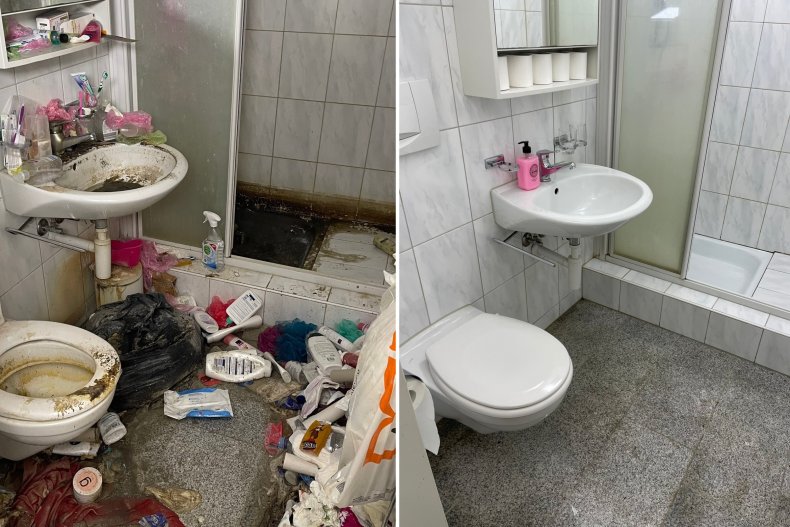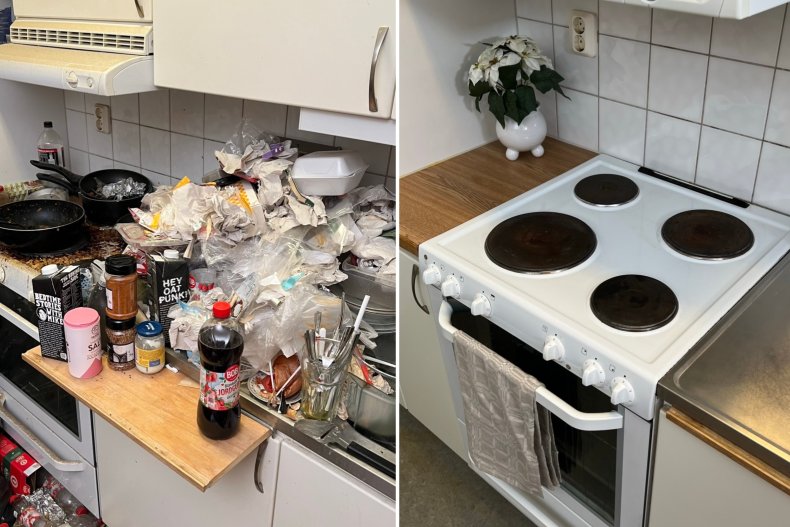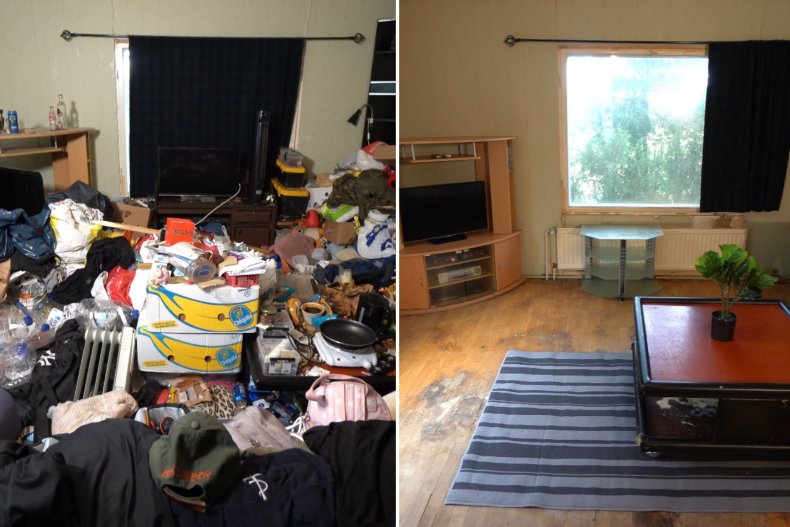 On another occasion, I received an email with a picture of a bathroom that was so filthy it had turned completely black. I said: "Oh my God, this is the best bathroom I have ever seen."
This particular follower was from Switzerland and was in a really desperate situation. She had contacted various cleaning services who had all said it would have cost her 15,000 Swiss Francs ($16,446). Immediately after seeing the pictures and reading her story, I contacted my sponsors and booked a flight.
One of my most recent cleans took place in Sweden. A woman called Olga sent me pictures of her home and explained she had previously been in an abusive relationship and had recently lost a pregnancy. She had many health problems and could barely move in her home anymore.
Her story really touched me, so again I contacted one of my sponsors and they were also keen to help her. At first, she didn't think I would actually turn up—many people don't believe someone would clean their home for free.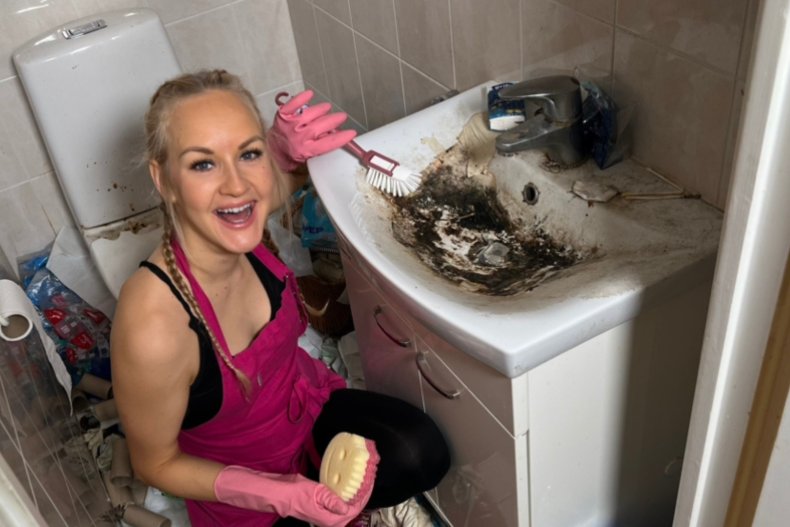 When I arrived, I couldn't see the floor, which is actually pretty typical for one of my cases. There were numerous takeaway and food boxes on the floor, cans, bottles and some rotten food. Olga had really tried to clean, she had so many supplies, products and organizing things, but the mess was just too severe.
The smell wasn't too bad, but the house was full of mess. She hadn't been able to access her own bedroom for years because there was so much clutter and would sleep on the couch.
During every clean, I start by clearing all of the mess and clutter, so you are able to move around the space. Once I have removed all the trash, I tackle the kitchen, because that room usually has the toughest stains and takes the longest. Then I move on to the bathroom and the living spaces.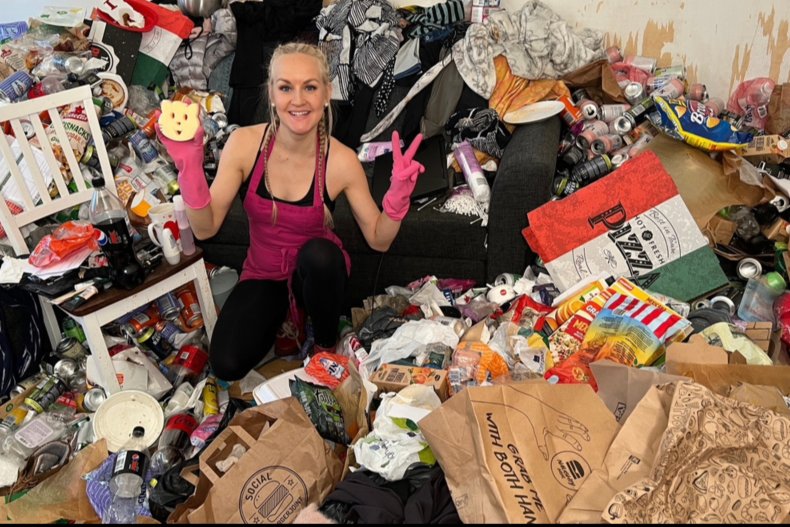 For Olga's home clean, I had two Swedish TikTok influencers with me and my assistant. The entire process took three days. Once she saw the finished result, Olga burst into tears and hugged me multiple times. She even brought me a gift, which was really touching.
It's always really heartwarming to see people's reactions. Often they are in situations where they want change in their lives, but find it hard to help themselves for various reasons. When I was younger I had some issues with my mental health and received help, so it's really nice to be able to give that help back to others now that I am doing okay.
Cleaning is my passion and I have loved being able to combine that with helping people. My next destination is Germany and I have two or three cleanings at home in Finland coming up, but I want to clean all around the world, because there are so many people that I would love to help.
Auri Katariina is a cleaner and social media influencer from Finland. You can follow her TikTok account on @aurikatariina or her Instagram page at @aurikatariina.
All views expressed in this article are the author's own.
As told to Newsweek's My Turn associate editor, Monica Greep.
Do you have a unique experience or personal story to share? Email the My Turn team at myturn@newsweek.com