Baltimore Police Tallies Officer Injuries as Residents Clean Up, Crowds Remain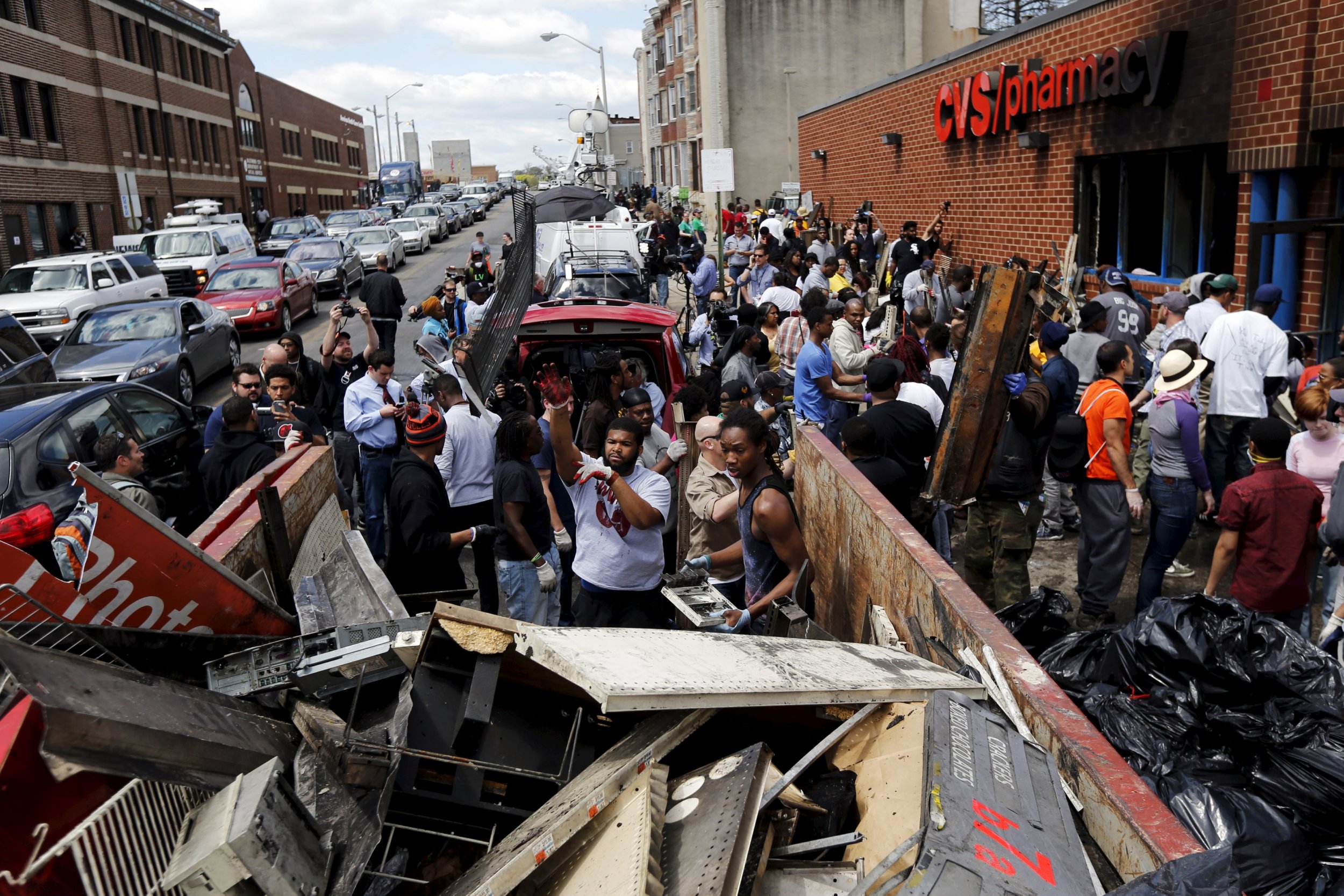 Updated | Baltimore police said Tuesday, in a 2 p.m. update by Captain Eric Kowalczyk in front of police headquarters, that at least 20 officers were injured during Monday night's violence, and one person was critically injured in a building fire. Police also clarified that out of 235 arrests, only 34 were juveniles.
The police department tweeted at 2:20 p.m. that "a large crowd remains at North Ave and Pennsylvania Ave. The crowd is becoming aggressive and throwing items at police."
A Mashable editor tweeted around the same time that pepper spray had been used during a brief scuffle, and shortly afterward that people were continuing to throw things amid high tensions.
Earlier in the day, on the morning after a day of violent protests, riots, arrests and fires in Baltimore that spurred the governor of Maryland to declare a state of emergency and the National Guard to arrive on the scene, volunteers were out on the streets to help with a cleanup effort.
Protests had been going on for several days when unrest broke out Monday following the funeral of Freddie Gray, a 25-year-old black man who died after suffering a spinal injury while in police custody. More than a dozen buildings and more than 100 vehicles were set on fire, Reuters reports.
Volunteers of all ages gathered Tuesday morning toting brooms and garbage bags to begin to address the damage left in the wake of Monday's events, cleaning up broken glass, rocks and paper. Some handed out water bottles to fellow volunteers.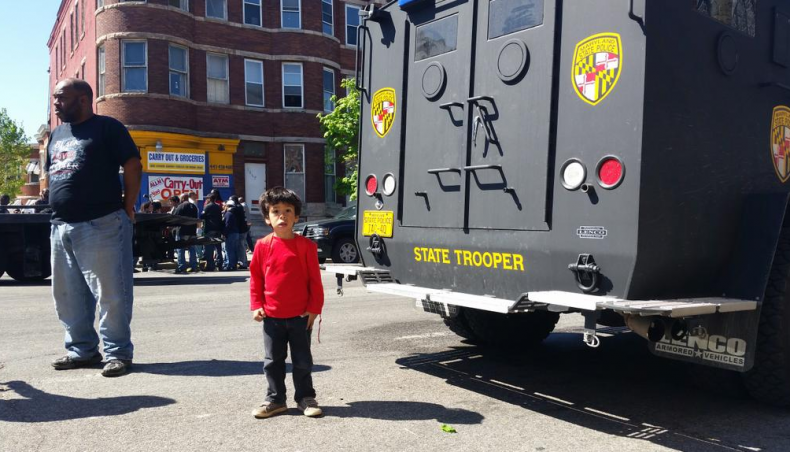 "We wanted to bring our nephew out and help the community because we live here and at the end of the day we've got to live here," says Chantrelle Jones, 24, who was preparing to help sweep, pick up trash and clean up the CVS Pharmacy that had been looted on Monday.
Jones, who grew up in Baltimore, says she was flabbergasted Monday when she saw her city going up in flames. "The whole nation is watching us," she said. "Our city sometimes has a bad taste in our mouth, just being Baltimore, we have a high crime rate already."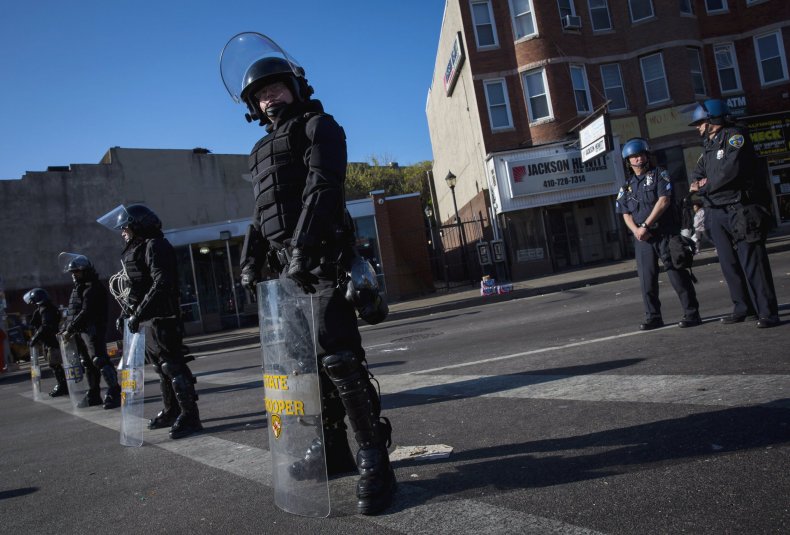 In Focus
Acrid smoke hung over streets where violence broke out just blocks from Freddie Gray's funeral.
Launch Slideshow

12 PHOTOS
The intersection of North Avenue and Pennsylvania Avenue, where some cleanup efforts organized on Facebook met Tuesday morning, was calm as residents and others began to work.
"Let's get together and help affected communities/businesses remove debris. Bring heavy duty trash bags, gloves, brooms, dust pans, trash cans, containers, and anything else that would help," reads the description on a Facebook event titled "Baltimore clean-up effort."
"Please use this event page to post times and locations of any areas you'd like people to get together and help," it says.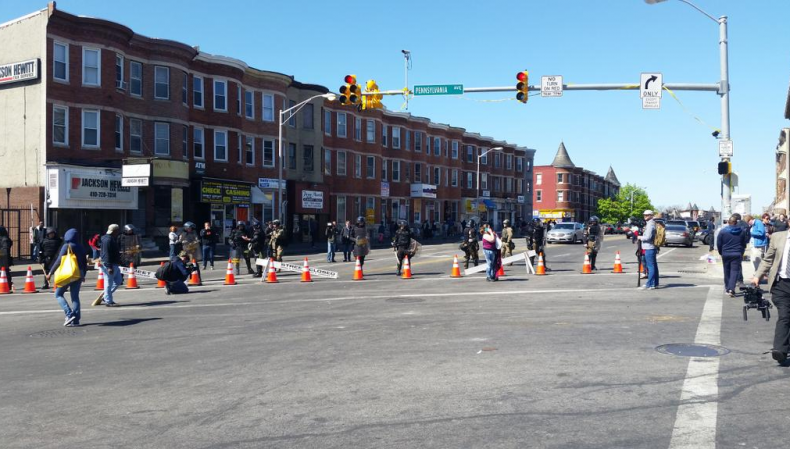 A couple of private security officers stood in front of a check cashing storefront whose windows had been smashed as police helicopters circulated overhead. Riot police formed a line at the intersection of North and Pennsylvania Avenues, but were allowing people to walk through on the sidewalks.
"I love my city," says Duane Haley, a 43-year-old social worker who lives in West Baltimore, who had arrived with his son Joseph to assist the cleanup effort. "The sadness anger and frustration that the people of my city are feeling right now touches me deeply," he says. "I want my son to understand this."