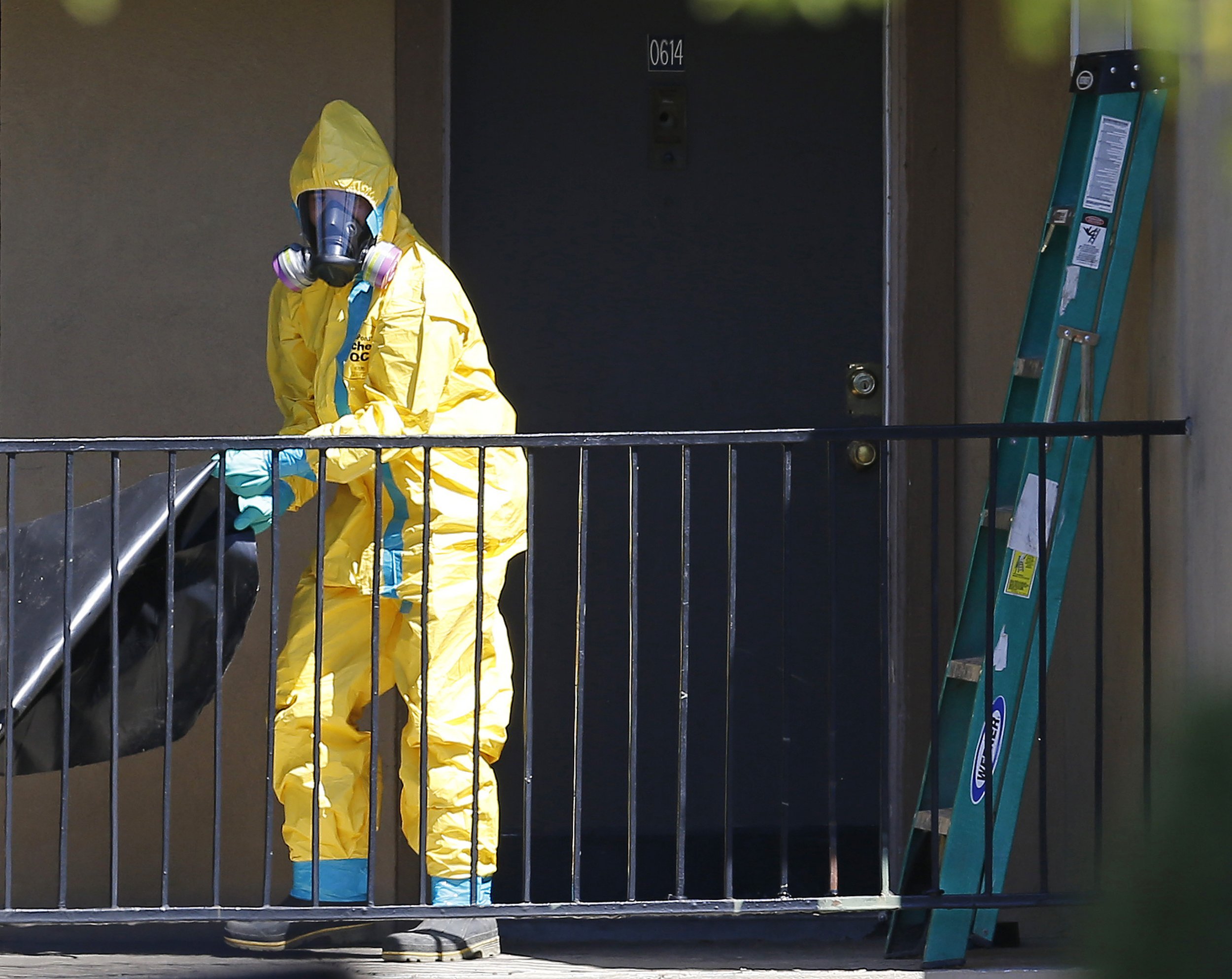 As a Texas-based emergency cleaning company, Cleaning Guys rarely finds itself caught at the center of national attention.
But on Thursday, the private biohazard cleanup service—which is listed under the full name "CG Environmental – Cleaning Guys" and has locations in Dallas, Houston, San Antonio and Austin—landed a particularly high-profile assignment: decontaminating the Dallas apartment recently occupied by Ebola patient Thomas Eric Duncan.
"We were notified yesterday," said Kasey Bonner, a coordinator at Cleaning Guys' office. "We have no idea of the duration of this project. I'm pretty sure that the only option is to have it completed today."
Duncan is being treated in an isolation unit at Texas Health Presbyterian Hospital, while four of his family members are under quarantine at the apartment, where they are under orders to remain until October 19.
Asked if this job is different from a routine cleanup, Bonner answered with an emphatic "Um, yeah."
"Given the fact that Ebola has never been in the United States? This is much more advanced than a simple hazmat [hazardous materials] cleanup that we've ever done," Bonner told Newsweek.
Despite that, she rejects any fears about contracting the disease, which can spread through contact with the blood or bodily fluids of an infected human or animal.
"Our guys, they're highly trained," Bonner said. "We're not worried about that at all. We respond to bio jobs quite often. The only difference is this is a disease-infected situation. Not just blood or bodily fluids."
According to a CNN report, the company is collecting sheets and clothes worn or used by Duncan, which will then be taken to a safe location.
The cost of the job is unclear, though Bonner told Newsweek the company charges about $185 an hour for more routine cleanings.
"We train for this type of thing," the company's vice president, Brad Smith, told ABC News. "Obviously, we haven't trained for Ebola because there hasn't been a situation in Texas until now."