'Clearly Unconstitutional' Campus Free Speech Restrictions Are Easing, but Some Colleges Must 'Go Back to the Drawing Board,' Report Says
Colleges are trending away from outwardly restricting free expression, but a recent study found most aren't utopias for diversity of thought, as First Amendment experts and politicians say should be the case.
"Many college administrators are scrubbing the most egregious policies from the books, but they're increasingly crafting subtler policies that still limit student expression," Laura Beltz, Foundation for Individual Rights in Education senior program officer, said in a statement.
On Wednesday, FIRE, a nonpartisan organization focused on protecting free speech on college campuses, released a report that analyzed written policies at 471 campuses, dividing schools into three light categories: red, yellow and green. There was a three percentage point increase from last year in yellow-light campuses due to schools being demoted from the green category, the best rating, and bumped up from red, the worst rating.
Beltz told Newsweek schools' removing policies that earn them a red-light rating is "absolutely" a step in the right direction, as they're the "most clearly unconstitutional." But, that doesn't mean the school's new policies fully promote free speech, either.
There are nuances to what earns a school it's rating, but policies contributing to a yellow-light classification could require students to obtain permission before putting up fliers or restrict the content of speech depending on the area of campus.
"That's confusing because they're vague and that can have a different chilling effect," Beltz said. "Students aren't sure what the rules are, so they think, Well forget it, I just won't put the poster up or go out and protest."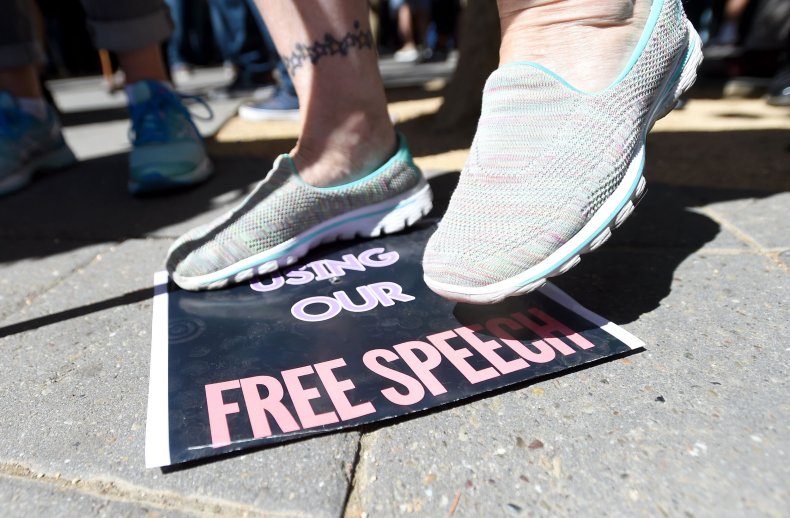 College campuses have long hailed themselves as venues for the free exchange of ideas, but legislators, including President Donald Trump, have criticized them for squelching speech. In March, Trump signed an executive order requiring colleges to protect free speech or risk losing federal funding.
"We will not stand idly by and allow public institutions to violate their students' constitutional rights. If a college or university doesn't allow you to speak, we will not give them money. It's very simple," Trump said during the signing event.
Much of the conversation surrounding free speech on campus is within the narrative of politically conservative opinions being unwelcome. In 2019, speakers, such as Thomas Homan, former acting director of Immigration and Customs Enforcement, and economist Arthur Laffer, had speeches canceled or interrupted, and conservative student groups on campuses claimed unfair treatment due to their political beliefs.
Beltz told Newsweek FIRE advocating for colleges to make changes that move them into the green category was intended to improve the campus experience for all students, regardless of political leaning.
Policies need to clearly outline security fees and deadlines for events so students feel encouraged to bring speakers to campus. It is also necessary to set a clear line for when protests become disruptive, because just as speakers are great for the free exchange of ideas, Beltz explained, so is respectful disagreement with speakers. So students should know how and when they can dissent.
In October, the University of Wisconsin Board of Regents approved changing an administrative rule on free speech to require students to be suspended if they're found to have disrupted others' free expression on two occasions and expelled on their third offense. Ahead of the vote, FIRE submitted a letter to the regents explaining their concerns that in sending a message that all speakers are welcoming on campus, it discourages students from exercising their right to protest.
"The problem is, in so doing, the policy provisions could paradoxically chill speech on campus as students rationally decide that instead of going to protest or to ask tough questions, they'll stay home because they're fearful of an overly broad disruption policy," Will Creeley, senior vice president of legal and public advocacy for FIRE told Newsweek in October.
FIRE analyzed seven of the University of Wisconsin's campuses for its 2020 report and six were categorized as yellow-light schools. The Oshkosh campus was placed in the red-light category.
The reason behind keeping yellow-light policies on the books varies, but Beltz said it could be because the person writing the policy isn't even aware the wording could restrict free speech. The goal could also be to make things easier for administrators.
"If you have a free speech zone policy that says events can only take place in one part of campus, it makes it easier to shut down controversial events if they're outside of that area," Beltz said.
To achieve a green-light ranking, written policies must not "seriously imperil" speech, according to FIRE. The 2020 report indicated 11 percent of the 471 institutions analyzed were categorized as green and only two states—Arizona and Mississippi—had all four-year public institutions ranked as green.
"Colleges must go green or go back to the drawing board," Beltz said in a statement.