Jordan Roberts: The Cleated Cleric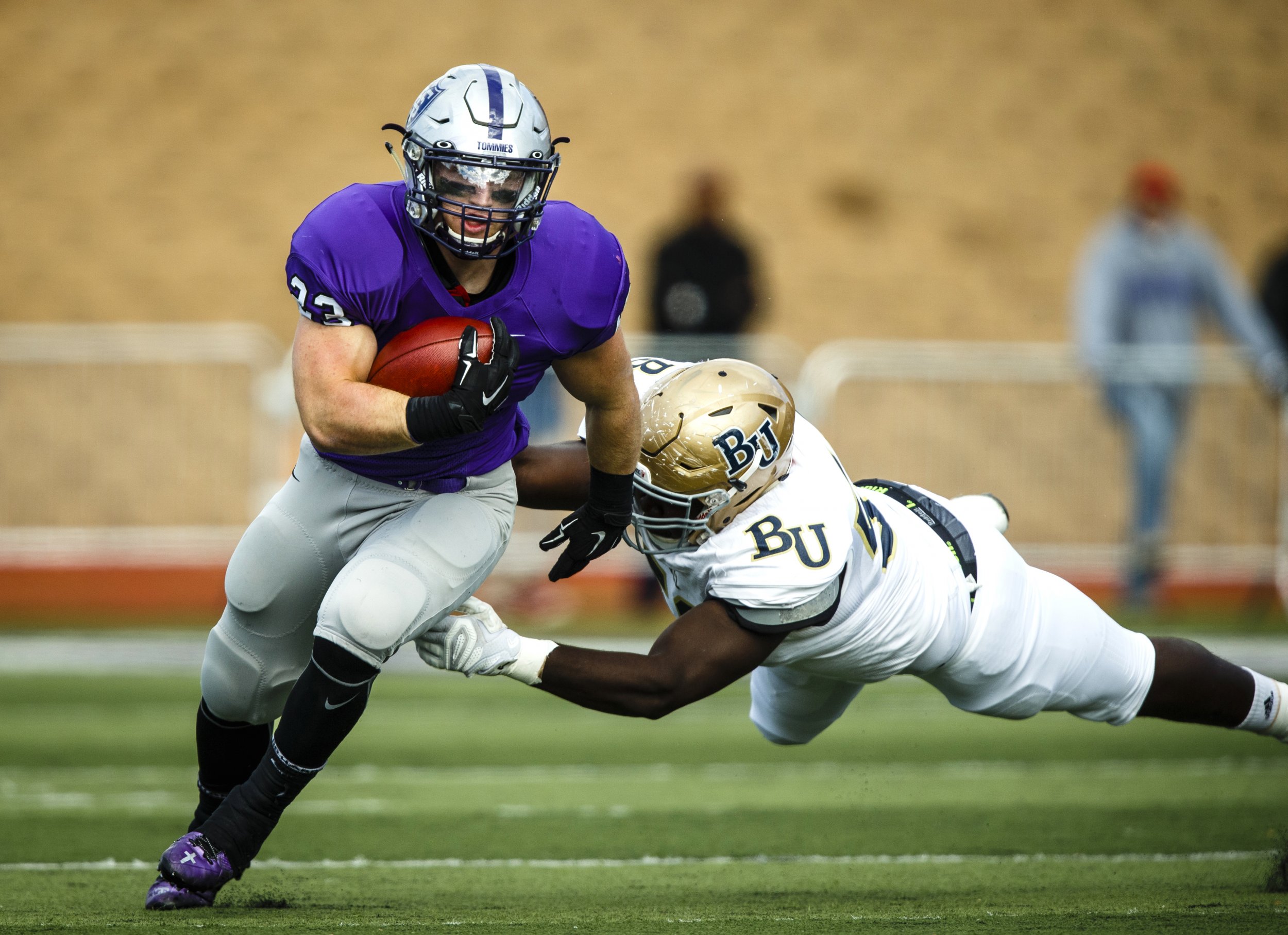 Updated | As rector of the largest college seminary in the United States, Michael Becker routinely poses questions of an ecclesiastical nature to young men considering a life in service to God. For example, he will ask, "Is the locus of your vocation in the heart?" Last winter, however, when Becker met the strapping new enrollee at St. John Vianney Seminary in St. Paul, Minnesota, his first inquiry was decidedly secular. "How much," asked Becker, "do you bench-press, kid?"
Standing before Becker was a 6-foot, 222-pound young man of faith who as a high school senior in Sheridan, Wyoming, had rushed for 2,688 yards and 38 touchdowns. A bull of a prospective cleric who only five months earlier had played in a college football game that also included Marcus Mariota, the 2014 Heisman Trophy winner. Jordan Roberts stared into the eyes of Becker, the man who for the next two years would be staring into his soul, and replied, "375." Then Roberts thought to himself, I'm going to love this place.
Located on a bluff overlooking the Mississippi River, the University of St. Thomas has the idyllic setting for which brochure covers were created. Visitors to the St. Thomas campus quickly discover that the Catholic school has two prominent features: its undergraduate seminary, St. John Vianney, or "SJV," which boasts 134 students; and its Division III powerhouse football team, the Tommies, which has 145. Only one undergrad is on both rosters: Jordan Roberts.
The Tommies (13-0) are more than an article of blind faith, having won at least 13 games in four of the past six seasons, including this one. This Saturday, St. Thomas hosts Linfield (12-0) in a national semifinal at O'Shaughnessy Stadium. The Tommies' shepherd, a player who leads all divisions of college football in rushing touchdowns with 29, and is fifth in Division III in rushing yardage, will be Roberts. "Jordan personifies what a man of faith is," says St. Thomas head coach Glenn Caruso, "but he also runs the ball like an absolute beast."
"Jordan is the best player on our team," says Becker, that rare Roman Catholic priest who can quote a seminarian's clean-and-jerk max ("Jordan can clean 380") as if quoting scripture. "When it comes down to the goal line and we need it, they put the ball in Jordan Roberts's hands."
Not unlike Roberts, who put his life in the lord's hands. During Christmas break of his freshman year at the University of South Dakota, a Football Championship Subdivision (FCS) school, Roberts made a last-minute decision to attend a national Catholic retreat in Orlando, Florida. "I was really drawn by one thing at that conference—how happy everyone was," says Roberts, 22, whose humble and gentle nature is incongruous with what you might expect from a former high school Gatorade Player of the Year. "Like, annoyingly happy. I thought, What is missing in my life?"
Roberts was born and raised in Gillette, Wyoming, before his family moved to Sheridan following his junior season. He was a three-time first-team All-State running back, and as a senior in 2011 he led Sheridan to the Class 4A state championship. "I felt God's presence in my life at a very young age," says Roberts, who was not raised Catholic. "Even my senior year, getting all of the attention, doing the interviews, I knew that something was missing."
In October of his freshman year at South Dakota, where both of his older sisters had competed as swimmers, Roberts experienced a pair of traumatic events within a 24-hour span. First, his girlfriend of six years dumped him. "It was an ugly breakup," he says. "I don't want to get into the details."
The following day, Roberts got a phone call. His best friend and high school teammate from Gillette, Nick Bazemore, had committed suicide in his dorm room at Black Hills State University. "Nick was of the happiest people I had ever known," says Roberts, who has his friend's initials inscribed on the heels his cleats. "It was such a shock to me."
Not long after that, Roberts wandered into a Bible study at the Newman Center on the South Dakota campus in Vermillion. "I had attended Bible studies before, but this was so much deeper," says Roberts. "I realized that I had been living my life as I pleased and asking God to bless it. What I should have been doing is letting God into my life and show me the path."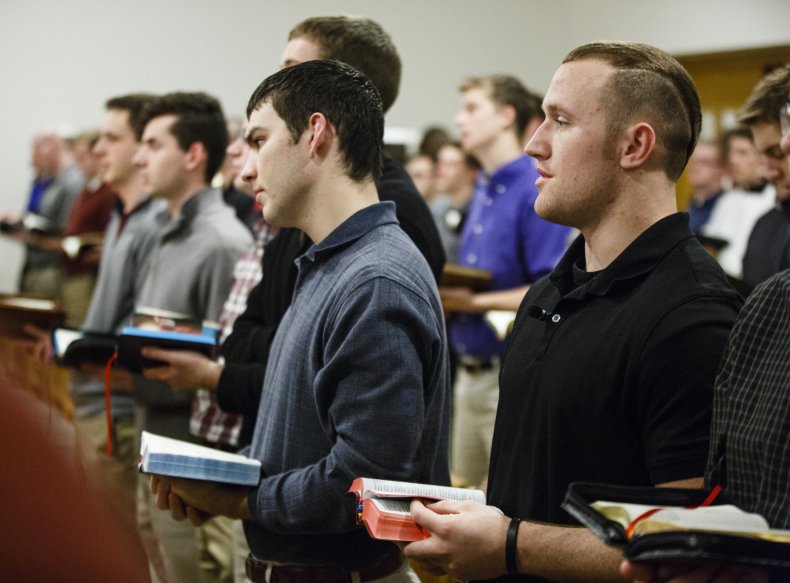 Roberts shares a name with the river in which Jesus was baptized. In October 2013, one year after attending that first Monday night Bible study, he converted to Catholicism. "I completely dove into Catholicism," says Roberts. "You're supposed to take a weekly class in it if you are considering conversion, and I was taking three to four per week."
Roberts's redshirt sophomore season opened with a visit to the University of Oregon, where his Coyotes met the third-ranked Ducks. Those football fans who remember the 62-13 rout are probably more likely to cite Mariota's four touchdown passes than Roberts's 22 yards rushing. "It was fun," Roberts says of the pilgrimage to Autzen Stadium. "I got to meet Marcus after the game."
Later in the season, South Dakota had a bye week, and Roberts opted to undertake a more dramatic journey. On Saturday at 7 a.m., he got into his car and made the 300-mile trek to the St. John Vianney seminary, unannounced and uninvited. "I absolutely fell in love with it," Roberts says. "Then I found out they had a pretty good football team here as well. 'OK, God, you're speaking to me. If I could go to seminary and play football, that would be pretty cool.'"
One morning last January, Becker placed a phone call to Caruso. "I knew I had some juicy info, and I was going to make his week," says Becker. "I began, 'Coach, I've got a guy for you, Jordan Roberts, and I think you're gonna—"
"Oh yeah! Thirty-eight TDs his senior season," exclaimed Caruso, who had already begun a Google search as Becker launched into his sermon. "Yeah, I think we're going to like Jordan."
On a campus that houses priests both present and future, there is no more evangelical—and certainly no more charismatic—creature than Glenn Caruso. The 41-year-old former Ithaca College center is 86-13 in his eight seasons at St. Thomas and is more popular in the Twin Cities than a February thaw. "I was blown away by his presence when I first met him," Roberts says of Caruso. "He had an authority to him but also a warmth. He's someone you love to play for."
The third of seven children who grew up in Greenwich, Connecticut, Caruso endured the death of his mother on Christmas Day when he was 8 years old. His father, Bucky, an attorney, raised seven kids on his own and attended all but two of the 152 football games that Glenn played in Pop Warner, high school and college.
"My senior year, we were playing a game at St. Lawrence in Canton, New York," says Caruso, who graduated in 1997. "It's so close to Canada that you might as well bring your passport. There were 53 people in the stands—I counted during the national anthem. And my dad, who had driven six hours, was one of them."
After the game a teammate of Caruso's who had noticed Bucky Caruso in the stands remarked, "Wow, Glenn, your dad must really be into football."
"No," said Caruso. "My dad is just really, really into me."
Caruso invokes the words and deeds of his father as much as Becker or Roberts invoke the "Our Father." "I was going to be a lawyer, follow in the family business," says Caruso, "but my dad saw that I had it in me to be a coach. He also told me to get as far away from home as possible."
Caruso sent out hand-written letters to 117 Division I-A (now known as FBS) schools in search of a graduate assistant's position. He received 117 rejection letters. "I still have every one of them," he says.
Finally, North Dakota, a Division I-AA (now FCS) school, offered Caruso a position. He piled his belongings into his Volkswagen and headed north and west to Fargo with plans to stop overnight in South Bend, Indiana. "I wanted to see the University of Notre Dame," he says. "I pictured it to be like Oz."
Caruso arrived in South Bend after midnight and, unwilling to pay for accommodations, decided to sleep in his VW, which he parked in the shadow of the school's famed Touchdown Jesus, a 12-story mosaic on the side of the school library. "The date was May 22," recalls Caruso. "I woke up at first light and snuck into the football stadium. There was construction going on, so I had to dig under a chain-link fence. But once I made it onto the field, with the sun coming up...it was back-lit by angels. I thought, If I can't get cranked up for coaching college football after this, it'll never happen."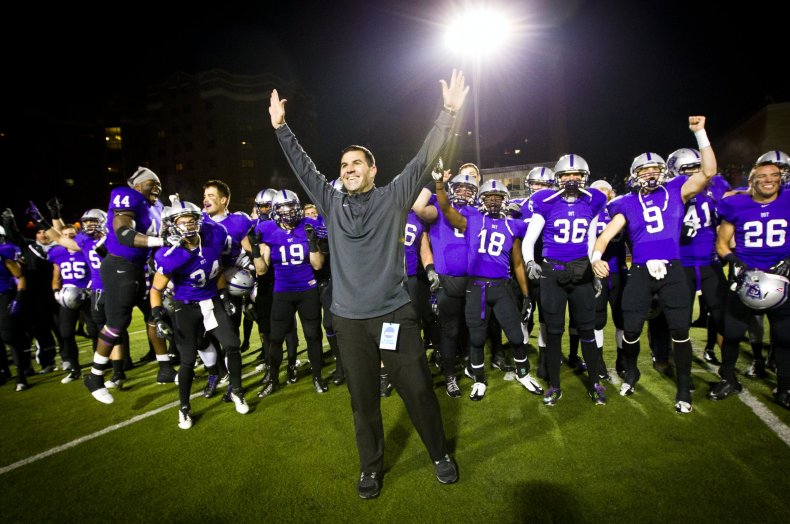 Caruso had his come-to-Touchdown Jesus moment in 1997; Roberts, a come-to-Jesus moment three years ago. The day of a seminarian at St. John Vianney is highly regimented, even more so than that of a football player. Roberts rises daily at 5:30 a.m., has an hour of prayer at 6:30 and attends daily mass at noon. He must make his bed and shave each morning and wear dress clothes to class. "I have a wardrobe of khakis and dress shirts now," he says.
"Every seminarian has a chore," says Becker, "and if anyone fails to do his chores, everyone does pushups."
The seminarians happen to be the most ardent disciples of the football team among the St. Thomas student body. Becker's predecessor as rector, Bill Baer, made it a requirement for seminarians to attend football games. "We even have a group who dress up in hard hats, like construction workers, who call themselves Caruso's Crew," says Becker.
As for Roberts, while his conversion to Catholicism has proved more challenging than third-and-inches, he is a man at peace. "I have a verse, John 15, that has been my theme this year," says Roberts, who is majoring in philosophy and will have one more year of eligibility next season. "It reads, 'Apart from me, you can do nothing.'"
Sometimes, when a person places his faith in something greater than his own talent, Roberts has found, the path leads to places he might never have imagined. A national championship, possibly. Or something more.
"Last June, about 50 of us from the football team took a two-week trip to Italy," says Roberts (St. Thomas has a campus in Rome). "I was sitting inside St. Peter's Basilica, in Vatican City, just six months after I had entered the seminary. I kept thinking, How lucky am I?"
You might even say Roberts is blessed.
Correction: This article originally incorrectly stated that the St. Thomas football team's record is 12-0. St. Thomas is 13-0 headed into its December 12 playoff game. In addition, it was incorrectly stated that coach Glenn Caruso has an 84-13 record at St. Thomas. Coach Caruso's record is 86-13.