Clemson QB Trevor Lawrence Sparks National Movement to Allow Football in 2020
Once news began circulating Sunday that major college football could get canceled or postponed this fall, Clemson quarterback Trevor Lawrence took it upon himself to save the season. He rolled out a tweet that said players would be safer with their college teams than back home in their communities.
"People are at just as much, if not more risk, if we don't play. Players will all be sent home to their own communities where social distancing is highly unlikely and medical care and expenses will be placed on the families if they were to contract covid19," Lawrence wrote.
Commissioners from the Power 5 conferences held an emergency meeting Sunday to discuss whether or not they should hold a season in 2020, postpone it until spring or cancel it entirely. This came one day after the Mid-American Conference (MAC) decided to postpone football and all other fall sports until spring of 2021.
Clemson plays in the Atlantic Coast Conference (ACC), which is a Power 5 conference along with the Big Ten, Big 12, Pac 12 and SEC. Lawrence led the Tigers to the national championship following the 2018 season, and then an appearance back in the game following 2019, where they lost to LSU.
Lawrence is projected to be one of the Heisman hopefuls for the 2020 season and possibly a No. 1 overall draft pick in the NFL next spring. He said teams need to remain together for the players to maintain good habits to avoid catching, or spreading, COVID-19.
"Players being safe and taking all of the right precautions to try to avoid contracting covid because the season/ teammates safety is on the line," Lawrence said in another tweet. "Without the season, as we've seen already, people will not social distance or wear masks and take the proper precautions."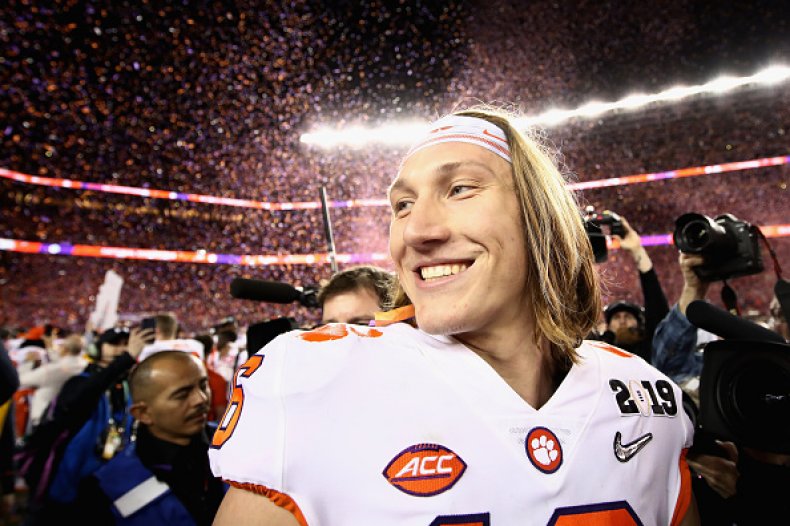 For all of college football to cancel or postpone the 2020 season, it's likely that a Power 5 conference like the Big Ten or Pac 12 would need to lead the way. In reports published Sunday, the Big Ten presidents could be the first to vote against playing football this fall. Most presidents from that conference have indicated they would vote to postpone all fall sports until the spring.
Once one big domino falls, all other conferences would likely follow, starting with the the Pac 12—if they don't beat the Big Ten to the punch.
In the last weeks, college football conferences have designed new schedules that include mostly, or entirely, conference games. They also have staggered start dates, with some starting in late August and others starting in late September.
If the season is canceled or postponed, then Lawrence could miss out on possibly winning a second national championship in three years (because they're favored to get back) and he could miss out on a potential Heisman Trophy if he has a great season.
Lawrence said college football is a "safe haven" and that players would have a better chance of catching coronavirus in "everyday life."
"Not to mention the players coming from situations that are not good for them/ their future and having to go back to that. Football is a safe haven for so many people. We are more likely to get the virus in everyday life than playing football. Having a season also incentivizes."
Lawrence's post on Twitter added much-needed fuel to the trending tweet called #WeWantToPlay, as college players all over the country chimed in. Here's a small sampling of the action on Twitter from Sunday night that rolled into Monday morning.