Though the Clemson Tigers were left out of the Top Four in the first College Football Playoff rankings, the team is still among the favorites to win the national title.
In the initial rankings, which were released Tuesday night, the defending national champions were ranked No. 5 behind No. 1 Ohio State, No. 2 LSU, No. 3 Alabama and No. 4 Penn State.
Collge Football Playoff Selection Committee chairperson Rob Mullens explained during the selection show that the committee talked at length about where to rank Penn State and Clemson.
"They're both really, really good teams and both strong defensively. In the end, what it came down to -- again, much debate -- Penn State has the marquee win over 14th-ranked Michigan and a road win at 18th-ranked Iowa. And they have a nonconference win over Pitt, which is a pretty good win at this point," Mullens said. "You look across Penn State's been very consistent. I think that they've held seven of their eight opponents to 13 points or less. So again, and Clemson's coming on and playing their best football, but after Week 10, the committee thought Penn State was a notch above."
Clemson has been the subject of criticism for playing a schedule that is light on ranked opponents. Through nine weeks of the college football season, the Tigers have yet to play a Top 25 team, having faced Texas A&M, Wofford, and Charlotte as non-conference opponents.
The Tigers also struggled in their Atlantic Coast Conference game against North Carolina, which Clemson won 21-20. When asked about that contest, Mullens told ESPN, "That's a piece of it. When you're comparing resumes, you know that you look at every single game, and that was the game."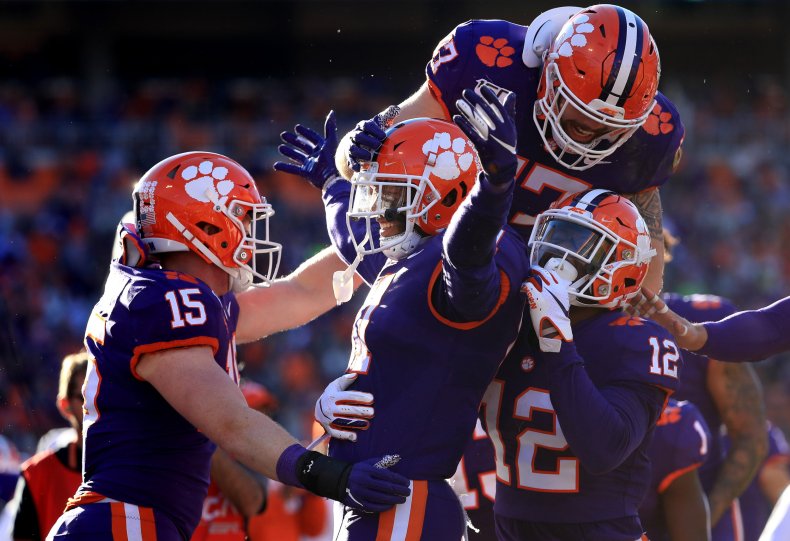 Despite the No. 5 ranking, many sportsbooks list the Tigers as one of the favorites to win the national championship. Draftkings sportsbook has Clemson listed as outright favorites with +200 odds. They are above Alabama (+275), Ohio State (+300), LSU (+700) and Penn State (+3300).
Fanduel sportsbook has Clemson tied with Ohio State and Alabama at +250, but the Tigers are favored above LSU and Penn State with odds of +800 and +4000, respectively.
Clemson is the second favorite, following closely behind Alabama and Ohio State, in Bovada sportsbook. The Crimson Tide and OSU are tied with +250 odds with Clemson at +275. They are positioned above LSU (+450) and Penn State (+3300), despite being ranked below the two teams.
On Tuesday, Clemson head coach Dabo Swinney dismissed the concerns about the team's schedule and their current CFP ranking. "In the beginning of my career, it was, 'They'll never be a great ACC team in the playoff.' 'They don't play anybody.' Well, now we have become a dominant team in the postseason, and now we only win because we don't play anybody," Swinney said. "It used to be we couldn't match up in the postseason and now it's you can only win in the postseason (because you don't play anybody in the regular season). I just laugh."
The Tigers, led by quarterback Trevor Lawrence, are set to take on North Carolina State on November 9.
About the writer
Matthew Impelli is a Newsweek staff writer based in New York. His focus is reporting social issues and crime. In January 2023, Matthew traveled to Moscow, Idaho where he reported on the quadruple murders and arrest of Bryan Kohberger. Matthew joined Newsweek in 2019 after graduating from Syracuse University. He also received his master's degree from St. John's University in 2021. You can get in touch with Matthew by emailing m.impelli@newsweek.com. Languages: English.