FBI Says Bank Robber Who Wrote Demand on Document With His Name and Address Helped Them 'Tremendously'
Law enforcement officials in Ohio are thanking a suspect after he handed over a note to a bank teller with his personal details on it during a robbery.
The FBI and police are still searching for Michael Harrell, 54, after he allegedly entered the U.S. Bank on Euclid Avenue, Cleveland, on the morning of July 29 and handed the teller a letter demanding money. However, Harrell had written his note on a piece of paper which had his name and address on the other side.
"When the teller took the note, and looked at it and looked at the other side, she saw his name. He had used a note that he had used earlier at the Ohio Bureau of Motor Vehicles and it had his name on it," Special Agent Vicki Anderson, of the Cleveland Office of the FBI, told Fox 8.
"She actually even referred to him as Michael," Anderson added. "[The teller] gave him the money and called him Michael and then notified law enforcement."
Anderson said it is not that uncommon that a suspect would accidentally incriminate themselves like this.
"We've had individuals drop things on the way out the door, that they didn't intend to obviously," she said. "We've had individuals drop cellphones that have all their identifying information in it.
"A lot of times, we're sending out pictures, we have no idea who this person could be or what part of town they could be from. And when you present a note that has your name already on it and address, it helps law enforcement tremendously."
A warrant has been put out for Harrell's arrest, but police are still hoping he just hands himself in.
Harrell is around 5 feet 6 inches tall with a thin build, reported Cleveland.com. He was wearing a black T-shirt, baseball cap worn backwards, green and tan camouflage shorts, and dark tennis shoes.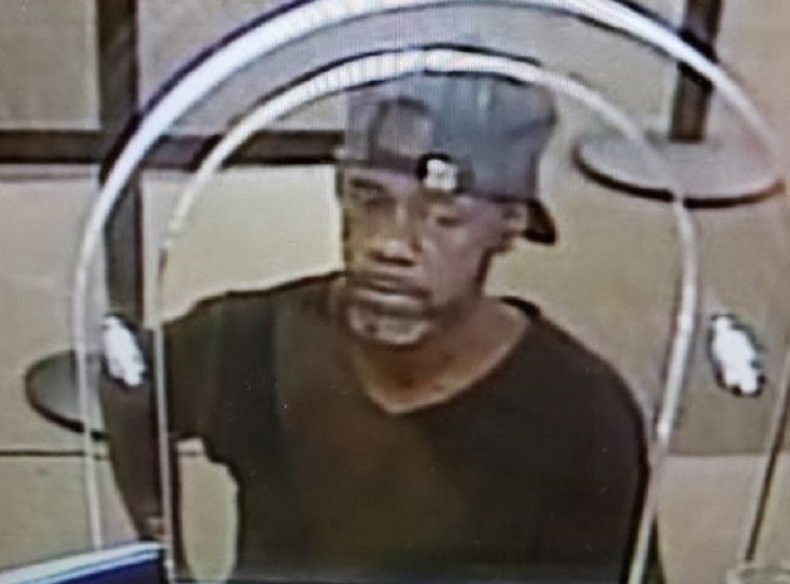 Earlier this month, a California man was arrested on suspicion of using stolen credit cards after surveillance footage recorded him allegedly purchasing items while wearing a tag with his real name on it.
Chris Thomason was arrested on July 8 in Rancho Cordova, California, for allegedly using cards which he had stolen from an elderly person in Auburn, Sacramento, whilst wearing his mechanic's uniform, complete with his identification tag.
The Placer County Sheriff's Office said in a statement that the public helped officers identify Thomason within 20 minutes after they posted his picture on social media.