Cleveland BMV Uses Lebron James Lakers Jersey Photo To Prevent Smiles On Drivers Licenses
A Cleveland Bureau of Motor Vehicles (BMV) license branch set up a crafty way to keep motorists from smiling during their driver's license photographs: a picture of Lebron James in a Los Angeles Lakers jersey.
The BMV at 1593 Golden Gate Plaza in Ohio's Mayfield Heights neighborhood taped up a photoshopped image showing the Lakers-era Lebron last week. A Facebook post from Beachwood native Roni Zemelman Thursday showed the Akron-born NBA player and former Cleveland Cavaliers star in the Lakers jersey just weeks after his free agency trade to the West Coast.
"At the Ohio DMV, where it's forbidden to smile for your license picture. They enforce this rule by making you look at the Lebron on Lakers picture…" wrote Zemelman. He added to Newsweek that it was the stereotypical "worst day ever at the DMV," and that's why he was taking photos of the bureau.
The Facebook post shows James looking quite serious in a Lakers jersey just inches below the camera used to take drivers license photos. Several U.S. states have "no-smile" laws on the books in order to allow facial recognition software to more easily identify people through their state identification. Other states, including Ohio, unofficially recommend a "neutral expression." An employee at the Golden Gate Plaza BMV confirmed the presence of the photo to Newsweek but Ohio BMV spokeswoman Lindsey Bohrer did not immediately respond to requests for comment.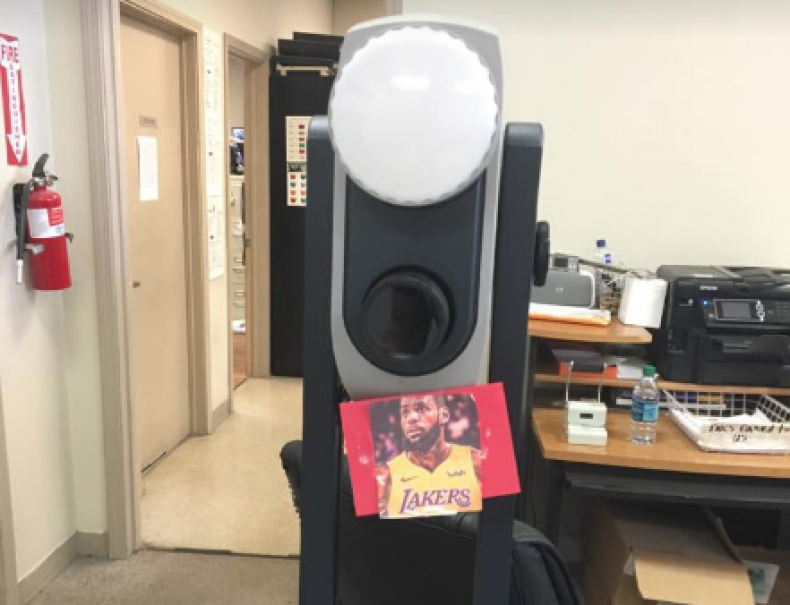 On July 2, Ohio BMV deputy registrar offices started a new two-step process that allows motorists to have their photo taken and submit their paperwork at the office, but their non-temporary license will be mailed to them within two weeks, WCPO-TV reported.
Lebron James joined the Cleveland Cavaliers as the team's 2003 first-round draft pick, where he won the Rookie of the Year award. The hometown hero then moved to the Miami Heat in 2010, where he won a pair of NBA titles before returning to the Cavs in 2014. James was taken off the free agency market at the beginning of this month and will start with the Lakers for the 2018-2019 season in October.