Cleveland Browns' Baker Mayfield Honors Navy Corpsman Killed in Kabul With Custom Cleats
Cleveland Browns quarterback Baker Mayfield honored one of 13 U.S. personnel killed during the August Kabul attack by wearing a custom pair of cleats adorned with the late Navy corpsman's name.
On Sunday, Mayfield—who helped the Browns beat the Houston Texans in a final score of 31-21—paid tribute to Hospital Corpsman 3rd Class Maxton "Max" Soviak. The cleats featured a picture of the 22-year-old sailor from Berlin Heights, Ohio along with the words, "Rest In Peace Navy Corpsman Maxton Soviak."
Mayfield had reached out to graphic artist Marcus Rivero to commission the shoes. Rivero uploaded a picture of the cleats onto his Instagram business page @solesbysir.
Newsweek spoke to Rivero on September 22 about how he felt once Mayfield reached out to him to create the cleats.
"When Baker reached out, it's always fun when cleats have a meaning," said Rivero. "It's cool to do custom work and art pieces, but it's more heartfelt when there's a meaning behind it. It's also nerve-wracking so I tried my best to get the ideal image portrayed. I'm thankful Baker reached out and allowed me to honor this individual alongside him."
Mayfield, a vocal supporter of the U.S. military, thanked a number of uniformed service members and vets at the Browns' training camp on August 17.
"If there's any veterans here, thank you as well," Mayfield said in a video that was posted on Twitter. "I wanted to say thank you on behalf of the Cleveland Browns, and thank you for allowing us to play this game that we love. We appreciate you more than you know."
On August 26, 13 members of the U.S. military and nearly 60 Afghan civilians were killed during an ISIS-K suicide bombing attack outside of the Hamid Karzai International Airport in Kabul, Afghanistan. The attack came as the United States raced to extract all Americans from Afghanistan by the August 31 deadline set by President Joe Biden.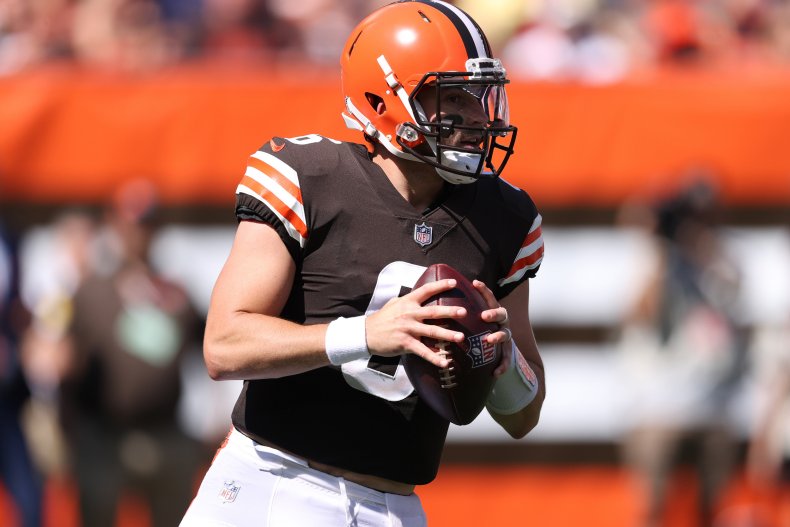 Soviak was stationed at the Camp Pendleton Marine base in California when he was deployed to assist in evacuation measures in Kabul, as the U.S. moved to end its 20-year occupation of the country.
Soviak's commanding officer told the corpsman's family that he was assisting an Afghan mother and child prior to the explosion.
Soviak's sister Marilyn spoke to Military Times about her brother and his mentality throughout his time of service in Kabul.
"The last thing he said to me was 'Nothing too crazy going on,' which is typical Max," said Marilyn. "He always thought he was invincible, and I guess we kind of did, too. He died doing what he was passionate about, surrounded by his brothers, and that brings me some peace."
Soviak's remains were returned to his family in Ohio on September 8. A memorial service was held on September 13 at his alma mater Edison High School in Milan, Ohio.
Update (9/22/2021, 7:26 p.m.): This article has been updated to include a statement from Marcus Rivero.