Cleveland Browns Tailgater's Son Begs for Jokes to Stop about Father Falling off Van, Says He Suffered Seizure: 'Stop Assuming He Was Drunk'
The son of a Cleveland Browns fan, who was taken to hospital after falling off the van he was standing on while tailgating before the season opener on Sunday, has urged people to take the incident seriously.
The fall was captured live on TV by 19 News' live broadcast shot at approximately 7:30 a.m. local time on Sunday morning. A man can be seen standing on the top of a van in the background, before losing balance and falling heavily onto the ground.
As he fell, fellow Browns fans immediately gathered around him to offer help. According to 19 News sports reporter Glenn Forbes, the man was sitting up and responsive while he was being treated by emergency services on the scene.
Forbes added the unidentified man suffered injury to a side of his head and was eventually put on an ambulance.
The fact the incident was caught live on camera meant footage of the incident spread rapidly, and sometimes mockingly, on social media, but a Twitter user claiming to be the injured person's son urged people to take the fall seriously.
He explained his dad was epileptic and suffered a seizure while taking pictures.
"I'm sure by now everyone has seen this," @Sheph_ash wrote in a note posted on Twitter.
"It's my dad on top of a van taking pictures. He has a medical condition, he's epileptic and he had a seizure while taking pictures. I'm in the hospital with him right now. He has a fractured skull, a shattered shoulder and six broken ribs. Please stop assuming he was drunk, he had no drinks at that point at all.
"Please stop making fun and jokes about my dad and please keep him in your thought."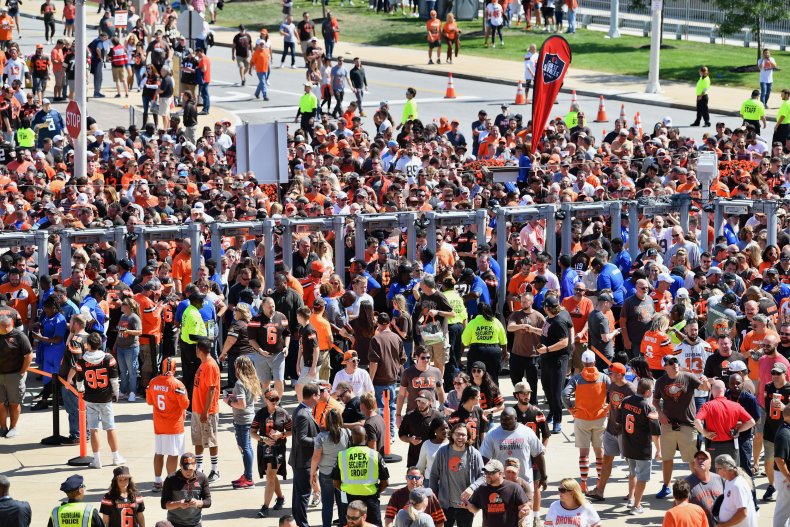 The incident unfolded in the North Coast Municipal Parking Lot, colloquially known as the Muni Lot. Located just a few blocks away from FirstEnergy Stadium, the parking lot is a traditional meeting point for Browns fans ahead of home games.
The Browns arrived into the first game of the season with high expectations after acquiring star wide receiver Odell Beckham Jr. and running back Kareem Hunt in the offseason but suffered a chastening defeat on opening day.
Cleveland lost took a 6-0 lead against the Tennessee Titans in the opening period, but failed to score in the second and fourth quarter as the Titans cruised to a 43-13 win.
While Beckham marked his debut with a solid performance with 71 receiving yards over seven receptions, Browns quarterback Baker Mayfield had a day to forget.
The second-year signal caller finished 25-of-38 for 285 passing yards and a touchdown, but was intercepted three times.
After not getting sacked in five of Cleveland's final seven games last season, Mayfield was pulled down five times on Sunday as the Titans overwhelmed the Browns' offensive line at will.
Cleveland is now 1-19-1 in the first game of the season since 1999 and the feel-good factor that surrounded the team in preseason is quickly evaporating. Browns coach Freddie Kitchens, however, remained confident his team would overcome the early setback.
"We lost our discipline and we lost our composure, but it is one game and we are going to be tested," he was quoted as saying by the Associated Press.
"You either take adversity and run toward each other or you run away. We have a bunch of guys who are going to run toward each other and we are going to be fine. It is one game. I do not care. It counts on the scoreboard, but each game counts one time."
Cleveland Browns Tailgater's Son Begs for Jokes to Stop about Father Falling off Van, Says He Suffered Seizure: 'Stop Assuming He Was Drunk' | Sports