The Catholic Diocese of Cleveland instituted a policy restricting LGBTQ+ identity and expression at its schools in Northeast Ohio.
The policy imposes restrictions on gender-affirming care, dress, use of pronouns, use of bathrooms that do not correspond with the sex assigned at birth, expressing or celebrating LGBTQ+ identity, and more. It applies to students, employees and volunteers at 79 elementary schools and five high schools in the diocese, News 5 Cleveland reported.
The move comes amidst a record wave of anti-LGBTQ+ bills sweeping U.S. statehouses this year, and after Pope Francis last month accused some American Catholics of putting political ideology over faith.
The policy states that every person is expected "to present and conduct themselves in a manner consistent with their God-given biological sex."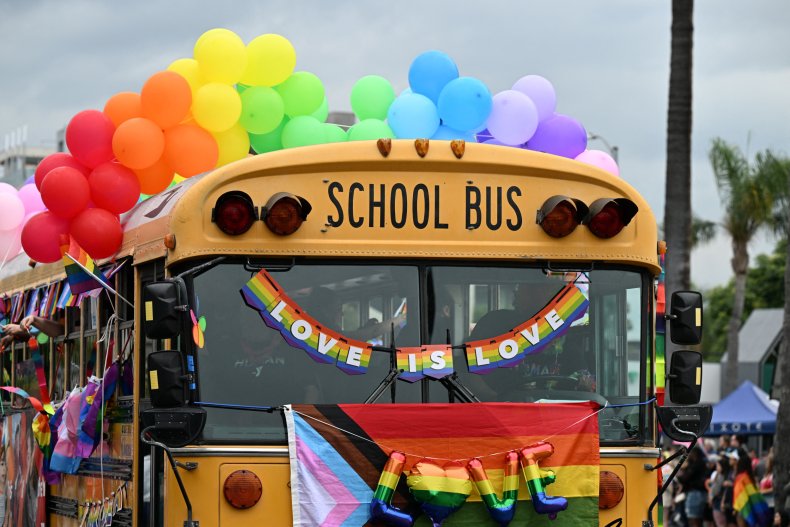 It says they are prohibited from expressing or celebrating LGBTQ+ identity in ways "that are contrary to the Catholic Church's teaching," including by displaying rainbow or pride flags and other symbols.
The policy also states that only pronouns that "accurately reflect a person's God-given biological sex" may be used. Nicknames that confuse or contradict the person's biological sex are banned.
Everyone must also use the bathrooms that correspond to their "God-given biological sex," the policy states and no one can attend a school dance or event with a date of the same sex.
No person "may engage in so-called social transitions, surgeries, or medical treatments that seek to 'transition' the person to a sex or gender inconsistent with his or her God-given biological sex."
Parents and guardians will be notified if a child is questioning their gender, the policy says.
In a statement to Newsweek, the diocese said: "In response to societal trends and at the request of church and school leadership, the Catholic Diocese of Cleveland has taken existing guidance and practice in matters of sex, sexuality, and gender identity and developed them into a formal policy, rooted in scripture and Church teaching, to help ensure that these matters are addressed in a consistent, pastorally sound, and authentically Catholic manner across our diocesan and parish institutions and schools."
"[E]ach and every person is welcome and invited to be a part of the Church," the statement added. "Each one of us brings our own struggles and questions, and the Church, like Christ, meets each one of us where we are. It is our hope that this policy, in tandem with the pastoral and theological resources found on the diocese's website, helps each person to live more fully in the truth of their identity as a son or daughter of God who is made, body and soul, in His image."
Cleveland Mayor Justin Bibb is among those who have criticized the policy.
"As a Christian, the new Catholic Diocese of Cleveland anti-LGBTQ+ policy is a shocking betrayal of the Church teachings that have shaped who I am today," Bibb said in a statement posted on Instagram.
"For me, faith is about universal love and acceptance. Instead, the new policy forces LGBTQ+ kids to hide their authentic selves and attend school in fear of persecution for who they are."
In an interview with the Associated Press in January, Pope Francis criticized laws that criminalize homosexuality and called on Catholic bishops who support the laws to welcome LGBTQ+ people into the church.
"We are all children of God, and God loves us as we are and for the strength that each of us fights for our dignity," he said.
Last month, he called out the "backwardness" of some conservatives in the Catholic Church in the United States, accusing them of putting political ideology over faith, the Jesuit periodical La Civilta Cattolica reported.
"I want to remind these people that backwardness is useless, and they must understand that there's a correct evolution in the understanding of questions of faith and morals" that allows for Catholic doctrine to progress and consolidate over time, he said.
Update 9/14/23, 10 a.m. ET: This article has been updated to add a statement from the Catholic Diocese of Cleveland.
Update 9/14/23, 11 a.m. ET: The headline on this article was updated for clarity.