Cleveland Cavalier Andre Drummond Leaves Waitress $1,000 Tip
Professional basketball player Andre Drummond left a tip worth more than 600 percent of his meal at a south Florida restaurant on Saturday.
The Delray Beach establishment that received Drummond's $1,000 gratuity over the weekend, Che Restaurant, expressed thanks to the Cleveland Cavalier in an Instagram post shared on Sunday.
Alongside a photo of Drummond's receipt, the restaurant reposted a lengthy message initially shared to the social platform by the server who managed his order, Kasandra Diaz. In it, she said the tip was particularly significant given the current economic climate.
"Today, started off as slow day at work getting there for my double shift. The past week, overall, has been pretty slow of course due to COVID. Restaurants and staff have been struggling, as you can imagine," Diaz wrote, before going on to describe her reaction to Drummond's payment.
"When I was given the checkbook, I went to put in the tip & information to close the table and I couldn't believe it. From a $160 check, the tip read $1,000. I was shaking and had tears of happiness," she continued. "I didn't know how to react, I didn't want to draw attention but at the same time I couldn't describe the amount of appreciation I had/ have. It's so amazing to see people displaying acts of kindness in these uncertain times."
Newsweek reached out to the Cleveland Cavaliers to ask Drummond about his gesture but did not receive a reply by publication time.
Drummond's recent visit to Che Restaurant came just a few weeks after food service establishments in Delray Beach were permitted to begin accepting customers again. Following a statewide stay-at-home order effected by Florida Governor Ron DeSantis in March, which limited restaurant operations to takeout or delivery services only, Palm Beach County—where the city of Delray Beach is located—initiated preliminary reopening procedures several weeks ago.
According to a press release shared to the city's website, food service establishments were able to restore on-person dining starting May 11, with social distance measures and occupancy restrictions in place. At the time, indoor occupancy was limited to 25 percent of an establishment's maximum capacity, while outdoor seating, with six feet of distance between parties, was permitted. By May 16, the city eased restrictions further to allow restaurants to seat customers indoors at 50 percent of their maximum capacities.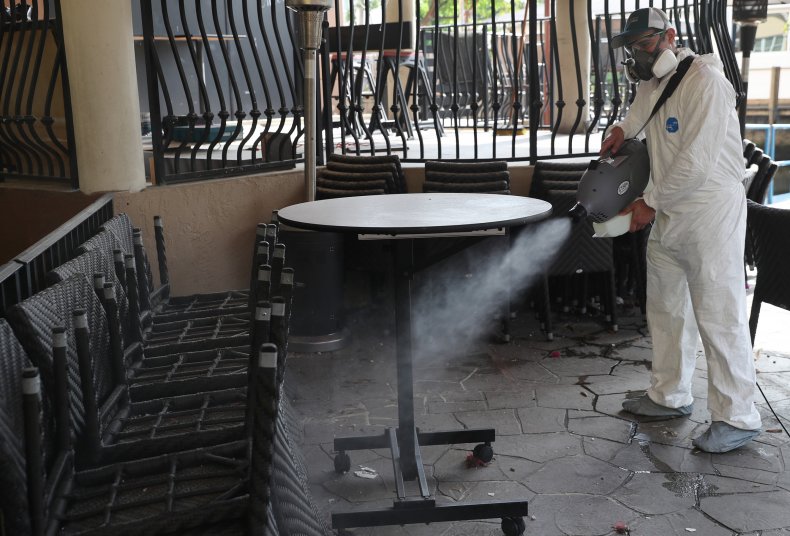 Businesses, including restaurants, have reopened in regions across Florida. While some southern areas of the state, like Miami and Fort Lauderdale, have initiated more gradual reopening strategies due to higher incidences of the novel coronavirus, some municipalities with lower virus numbers allowed industries to resume operations before the start of May.
Cooper City, near Fort Lauderdale, allowed restaurants to start accepting customers on a limited basis on April 29. Several weeks later, Florida native and Miami Dolphin player Chad Johnson left a $1,000 tip after eating at a restaurant in the area.
Florida has experienced one of the United States' most sizable outbreaks since the onset of the novel coronavirus pandemic. As of Monday evening, the state had confirmed 51,746 positive cases and 2,252 resulting deaths from the disease, according to Johns Hopkins University's tracker.
Newsweek reached out to Delray Beach officials for comment regarding how local businesses are faring after extended closures or operational restrictions but did not receive replies by time of publication.