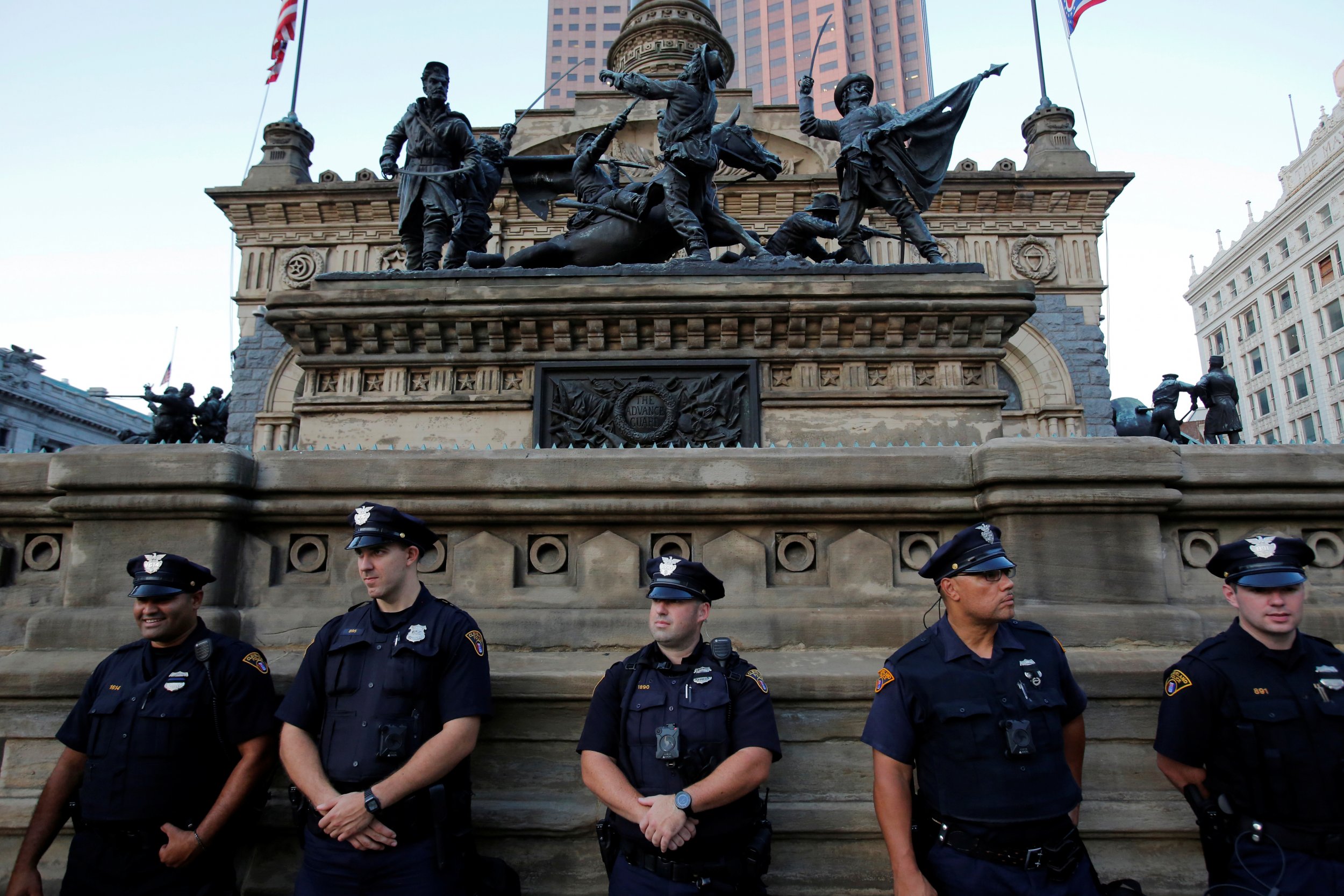 Another morning in Cleveland, another inbox full of Hillary Clinton campaign emails, crafted and blasted out by elves sometime last night, refuting almost every statement made at the Quicken Loans Arena (the Q) during the Republican National Convention.
No, the emails weren't classified. No, she didn't pay women less than men when she was in the Senate. Yes, she will stand up to Vladimir Putin—the Russian leader who Donald Trump apparently admires. No, she won't repeal the Second Amendment.
The Democratic rapid response team had been busy because Tuesday night's RNC speakers turned their "Make America Work Again" theme into a full-blown, pitchforks-and-torches Hillary hatefest, led by New Jersey Governor Chris Christie. It was a crowd-pleaser, guaranteed to charge up the otherwise somnolent gathering. As the presidential (and veep) also-ran read off an "indictment" of her crimes, he was forced to stop periodically to let the crowd bay: "Lock her up! Lock her up!"
The only thing missing was a hologram of the Democratic nominee herself on a broomstick with a black cat dancing on the Jumbotron.
Christie and Tiffany Trump were the stars of a night on which the Republicans officially gave Trump their nomination. Even the delegate count seemed reality-show produced, with states abstaining from the alphabetical count temporarily so that New York, birthplace and home of The Donald and his Tower, could put him "over the top."
The press pack surrounded the delegation early, having been tipped that the Trump kids would show up to make the announcement. As they approached and reporters shoved each other for a better view and video and still cameras clashed and flashed, the leader of the New York Republican delegation, Edward Ridley Finch Cox—scion of six lines of pure American blue blood, son-in-law to Richard Nixon, white-shoe lawyer, paragon of establishment Republicanism—looked on with the stunned expression of a very polite mastodon as the Ice Age rolled in.
As writers Rebecca Traister and Michelle Dean tweeted about "Goody Rodham," in reference to the New England Puritan women burned at the stake as witches, and Christie roared, outside, under the full moon, men hawked and sported obscene Hillary Clinton T-shirts. New York Republican Ariel Kohane crept around in the near-midnight Cleveland streets with an image on his back of a screaming Clinton tumbling backwards and a grinning Trump driving a Harley, under the words "If you can read this, the bitch fell off."
A vendor was hoarse from bellowing over and over, in a sing-song melody, the phrases on the front and back of the last two of his T-shirts (he'd sold the rest): "Hillary Sucks but not like Monica! Trump that Bitch!"
Nearby, another young man earnestly tried to persuade a protesting feminist into considering what God really wanted her to do with her life. His T-shirt read: "Now Pack Your Bags and Go Home to Your Rapist Husband Bill," over The Donald's iconic Apprentice image and the words "You're Fucked."
Other than those spasms of lies and open misogyny, the streets of Cleveland on Day 2 were unexpectedly peaceful and friendly. (Your correspondent had no need of her orange helmet or tear-gas-repelling Italian swim goggles.)
Again the phalanxes of fresh-faced, grinning California cops manned the street corners, looking ready to hand you a wheat grass smoothie or power bar. Mounted police, motorcycled police, bicycling police and police on foot, one for every one of us.
Around midday, Reuters reported that shots had been fired near a police base near the Q, but that turned out to be false.
Across from the man hawking the "Trump That Bitch!" T-shirt, Sarah Wellington of the New York art collective We Will Not Be Silent held up a black and white sign that read: "The Trump Campaign is an insult to our intelligence." She and other members of her group had spent the afternoon laying their signs—with statements such as "Misogyny is Deadly" and "Imagine the End of Misogyny"—at the designated protest site at Cleveland's Public Square. Wellington claimed that, contrary to all indications and expectations, the majority of passersby were giving her a thumbs up on the "Trump is an Insult to Our Intelligence" sign.
"It's been very strange," she said, recounting how a man openly carrying a pistol had approached her and asked if he could buy one. She said he could have it free of charge.