Cleveland Indians Selling 'Indians' Gear While Looking for Non-Racist Mascot
The Cleveland Indians baseball organization last year said it would change the "Indians" moniker to a new nickname following the 2021 season to conform to social justice and racial equalities issues raised in 2020. As the team strolls along in second place in the American League Central, it continues selling "Indians" merchandise on the team's website.
The Indians on Thursday announced they have whittled public opinion on the team's new nickname to a handful of choices, and that they are vetting those names for any "legal issues," according to the Associated Press.
The team received almost 1,200 entries since a query began, and now Cleveland searches for a name to replace the Indians, which the team first used in 1915.
Some of the more-popular names have included: Spiders, Rockers, Guardians, Buckeyes, Clevelanders, Defenders and Lindors, according to an early poll almost a year ago. Team owner Paul Dolan said last year that any new nickname or mascot would have no connection, or connotation, of Native American culture.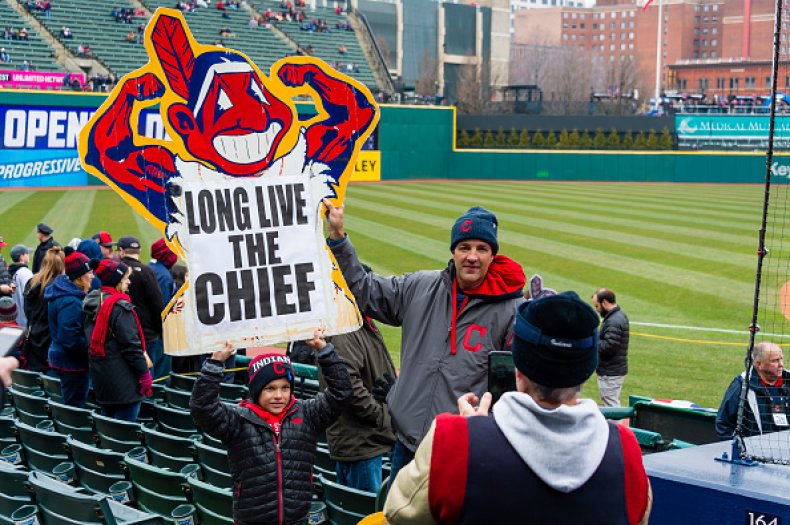 Meanwhile, the club continues selling "Indians" merchandise on its team website through MLB.com.
"It's time to upgrade your game day style, Indians fans," it states at the bottom of the shop's homepage. "MLB Shop is your one-stop shop for everything your need to show off that team pride in a look you'll love. From classic Indians t-shirts to authentic Cleveland Indians jerseys from the best brands. Grab a new Indians Nike jersey or go with retro style with one of our popular throwback Indians jerseys."
This could be a last-ditch effort to offload Indians merchandise before a total rebranding, and it could possibly be a way for fans to grab gear that will be "retro" within a year.
The Washington Redskins avoided changing their moniker for more than 50 years, but pressure last summer from major sponsors, including field sponsor FedEx and apparel giant Nike, led the team to eventually changing its name to Washington Football Team.
In baseball, the Atlanta Braves have also faced pressure over a few decades to change its name.
Florida State University, home of the Seminoles, has looked at plans to change the name of its football stadium named after Doak Campbell, a former president who had publicly-known, anti-Black opinions.
And back to Cleveland. Picking a name shouldn't be that big of a deal, as names are probably easier to come by than professional sports championships. The Indians last won a World Series in 1948 (the only other was 1920). The Cleveland Browns have never won a Super Bowl, and their last NFL title was in 1964. The Cavaliers won their only NBA title in 2016.