Cleveland Indians Will Officially Become The Cleveland Guardians This Week
The Cleveland Indians will officially become the Cleveland Guardians on Friday, according to a release sent by the team Wednesday.
The change will include the shift of the team's digital and social media profiles to Guardians logos and handles, as well as the launch of official Guardians merchandise being sold at the team's downtown Progressive Field team store.
The merchandise will be available at the official team store before Guardians hats, jerseys, souvenirs and more are available at other retail locations in Ohio on November 23, according to the Associated Press.
The announcement comes just a day after a trademark infringement lawsuit filed by a Cleveland Guardians roller derby team was settled on Tuesday, and two days after Cleveland's Plain Dealer reported that Guardians merchandise was delayed from a Monday launch with no explanation from the team.
The name change was announced in July and was met with a mix of support and criticism. Some fans felt the Dolans, the family who owns the franchise, bowed to a vocal minority and argued that few people were actually offended by the Indians moniker.
Paul Dolan has said the decision to change the name first introduced in 1915 was a long process and part of a national reckoning with problematic Native American imagery among professional sports.
The name change was expected by many after the team moved on from the criticized Chief Wahoo logo, which was changed from the primary to secondary logo in favor of a Block C in 2013, and fully removed from uniforms and promotional materials following the 2018 season.
The Washington NFL franchise formerly known as the Redskins for over 80 years is in their second season as the Washington Football Team while they find a new name. The Atlanta Braves, criticized by activists for their name invoking a Native American warrior and "Tomahawk Chop" chant accompanied by a chopping motion imitating the swinging of a tomahawk, won the World Series on November 2.
For more reporting from The Associated Press, see below.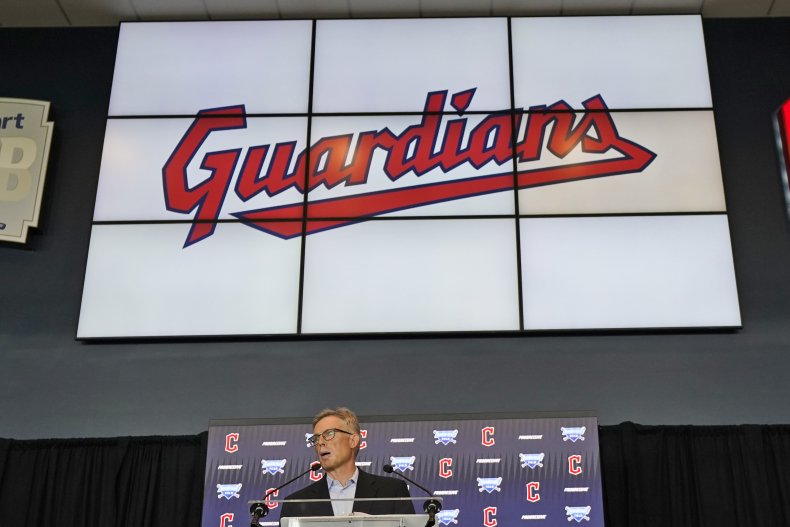 A new era of big-league baseball in Cleveland is about to start. The Guardians will be off and running.
The hitting and fielding comes in a few months.
The team wanted to find a name that suited Cleveland's community and history, and following a year-long process that included surveys and interviews with fans, area leaders and front-office members, the team chose Guardians, a name inspired by eight massive, art-deco statues on the Hope Memorial Bridge near the ballpark.
It was the final hurdle in the name makeover for the American League franchise, which is scheduled to play its first game as the Guardians at home on March 31, 2022, against the Kansas City Royals.