Backlash As New York Says It's Not so Hot in Cleveland
In a case of the Big Apple itself taking a bite, New York's official Twitter account has mocked Cleveland, spurring many to defend the Ohio city.
A tweet by the City of New York showed an image of its world-renowned skyline, while a blanket of grey clouds glowered overhead.
Next to the low contrast image, even more shade was thrown with the tweet, "a gloomy day in New York City is still better than a sunny day in Cleveland."
While it could be simply a way to look on the bright side of a dull day, many took to Twitter to discuss what this unexpected left hook signified about the New York state of mind towards the city on the shores of Lake Erie.
"Where's this coming from?" tweeted journalist Chris Morris. "Our football team actually plays IN our state. In fact, right there IN our downtown, just like Cincy's does.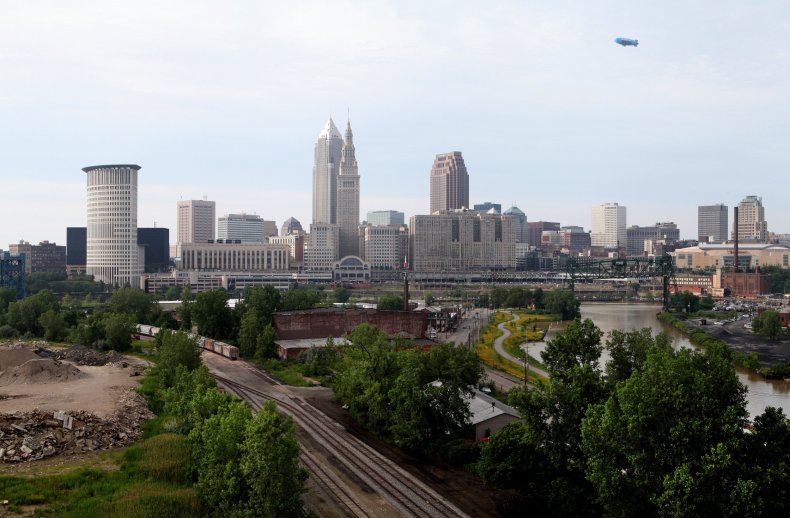 "You guys have to take three bus transfers and a tunnel or bridge to see two very average NY-named teams play in someone else's state. Siddown."
Brian Musick tweeted: "Enjoy your masks, rats, and overpriced rent. We'll keep smiling." Cleveland fan in Pittsburgh wrote: "Cleveland has better Pizza, football, presidents and traffic. Plus it's so much affordable to live in Cleveland."
The difference in lifestyles between the cities was also a theme in Cleveland's defense with RustBeltPants tweeting: "parked downtown...yesterday for $2.
"Then went to lunch on a big patio with a lake view. I'm just gonna keep replying to this with awesome pix of my life in Cleveland so you can be jealous and feel stupid." Another user wrote: "My mortgage is $500/month," adding, "I can walk to the beach in ten minutes."
The account of the North East Ohio regional sewer district compared the municipal service it provides with the sentiment expressed by New York, tweeting, "Doesn't NYC have a sewer utility for this kind of crap."
Meanwhile, Teri Tynes tweeted: "That's mean. Take it back. I live in New York City. Please apologize to Cleveland, a fine city with great arts and culture."
That tweet was read out during a segment on Ohio network, ABC affiliate, WSYX, which defended the city, as home to the world-renowned Cleveland Orchestra. It also pointed out that that Cleveland Browns wide receiver, Odell Beckham Junior, "likes it better here."
However, if there is no such thing as bad publicity, then the Ohio city could take the NYC slight as a compliment.
"If I worked for the Cleveland tourist bureau I would see this tweet as a huge win. New York City has announced they see The Cleve as a rival," tweeted Jonah Goldberg.
The economic development group, JobsOhio, tweeted: "Why so gloomy @nycgov? We love NYC too! @TheCLE #Ohio is not to be missed!"
Back in March, JobsOhio poked fun at New York as it urged businesses and people to move to the Buckeye State. Its billboards in Manhattan and Brooklyn included the message, "Your buildings are taller, our taxes are smaller."
Newsweek has contacted the New York City government and Cleveland City Hall for comment.