Cleveland Settles With Justice Department Over Unconstitutional Policing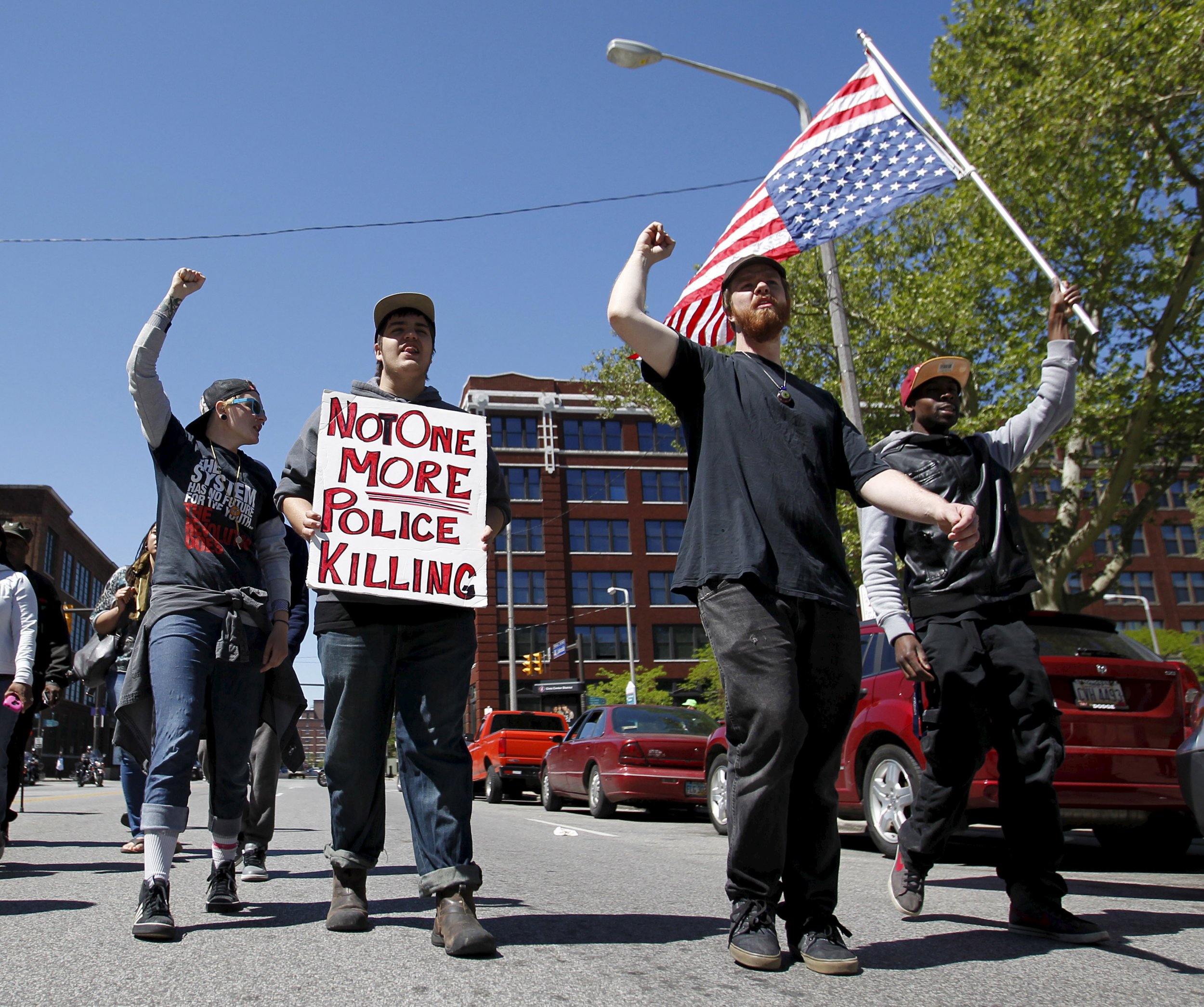 Updated | The city of Cleveland has reached a settlement with the U.S. Department of Justice (DOJ) over charges of excessive use of force and unconstitutional conduct by Cleveland police, Cleveland Mayor Frank Jackson announced Tuesday.
The New York Times reported Tuesday morning that an agreement had been reached on Monday, based on statements made by people familiar with the case. City and DOJ officials later confirmed the settlement in a press conference Tuesday afternoon.
Jackson called the settlement "a defining moment for the city of Cleveland."
The settlement will set strict limits on use of force by Cleveland police officers, the Times reports. Use of force as punishment for talking back and running away will be banned, as will pistol whipping and warning shots. Police will also be required to record and report incidents in which they use force — currently, incidents often go unreported. The department will also be subject to federal oversight.
Cleveland is not the first police department in the country to agree to such oversight, although the limitations announced Tuesday are among the strictest in the country, the Times reports. In 2009, after the murder of Ecuadorian national Marcelo Lucero in Patchogue, New York, the DOJ found a pattern of discrimination against Latinos among police in Suffolk County. The county settled out of court in 2013, promising to improve relations between Latinos and police and submitting to independent monitoring. Also in 2013, the DOJ settled out of court with the Missoula, Montana, police department after an investigation revealed that the city's police failed to respond to reports of sexual assault. Missoula agreed to revise its policies and submit to monitoring. And, in 2014, the Portland Police Department entered a settlement with the DOJ over its officers' treatment of the mentally ill. Portland police were asked to reform their practices and submit to monitoring.
The DOJ launched its investigation into the Cleveland Police Department in March 2013. In DOJ's findings, which it released in December, it found "unnecessary and excessive use of deadly force, including shootings and head strikes with impact weapons…unnecessary, excessive or retaliatory use of less lethal force including Tasers, chemical spray and fists…excessive force against persons who are mentally ill or in crisis, including in cases where the officers were called exclusively for a welfare check;" and "the employment of poor and dangerous tactics that place officers in situations where avoidable force becomes inevitable."
The announcement of a reported settlement comes at a time of great tension in city, which is still reeling from the death of 12-year-old Tamir Rice. A Cleveland police officer shot Rice dead last November after mistaking an airsoft gun Rice was holding for a lethal weapon. And last Saturday, a jury found Cleveland officer Michael Brelo not guilty of manslaughter after Brelo in 2012 climbed onto the hood of a car he had been chasing and fired 49 shots through the front window, killing both occupants. Brelo is white; the car's occupants, Timothy Russell and Malissa Williams, were black. The verdict sparked a night of protests over what some members of the Cleveland community saw as uneven, racially biased policing.
Ferguson, Missouri, where last year protesters gathered to demonstrate the death of 18-year-old Michael Brown by a white police officer, is also in talks with the DOJ to settle out of court after an investigation revealed a pattern of unconstitutional policing there. The small city has reportedly voted unanimously to hire "one of the nation's most distinguished and highest-paid trial lawyers" to aid in the process, the St. Louis Post-Dispatch reports.