Cleveland Video Shows Police Shot Boy Within Seconds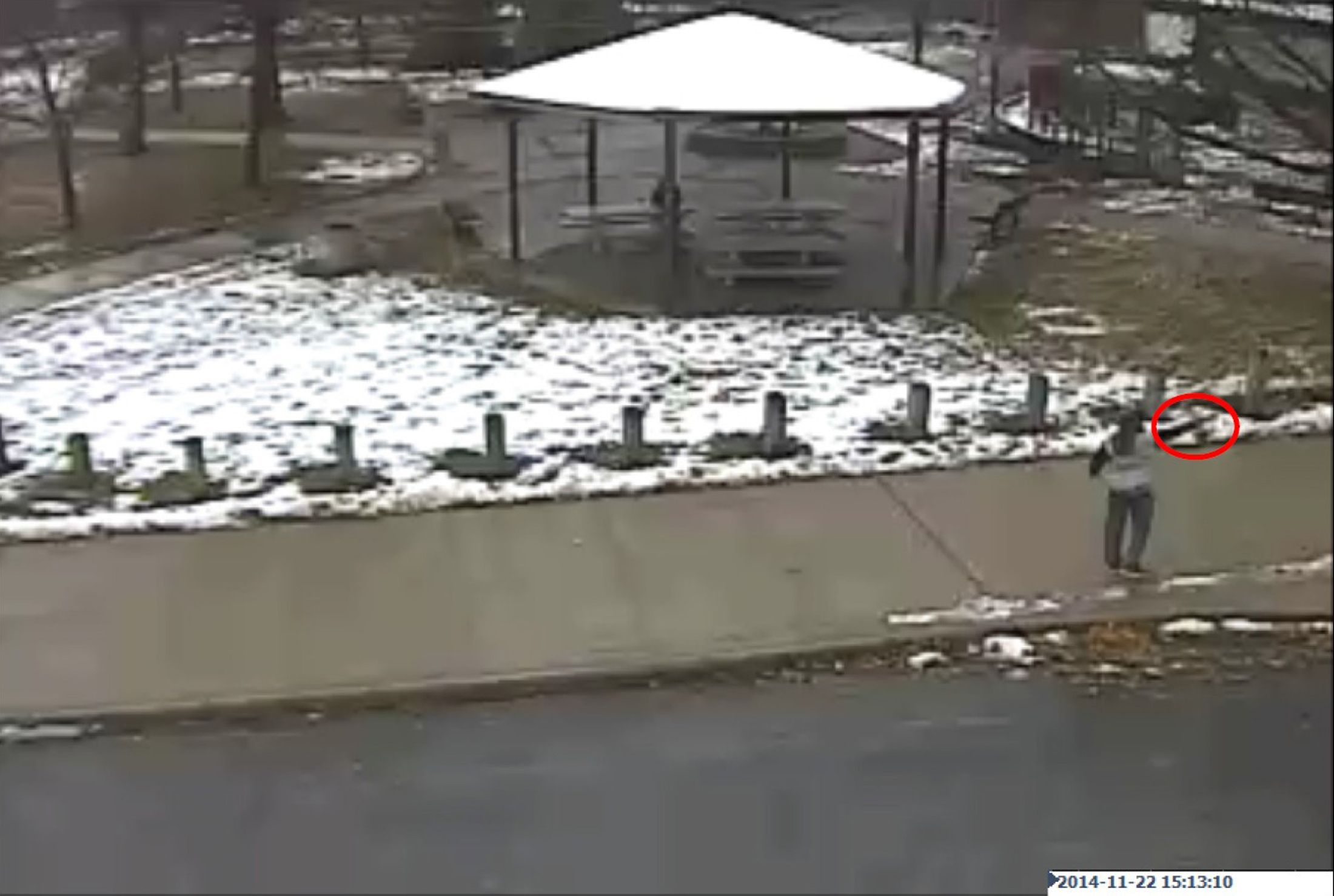 Cleveland officials on Wednesday released a video of the fatal police shooting of a 12-year-old boy that shows him pointing a pellet gun around a park before police arrive and shoot him within two seconds.
Tamir E. Rice was shot by a patrol officer on Saturday after a 911 call reported someone pointing a gun at people at the Cudell Recreation Center. The caller said the gun could be a fake.
The video shows the boy walking and pointing the gun in different directions before entering a gazebo.
A patrol car with two officers pulls up to the gazebo. The first to get out, identified by a city official as Timothy Loehmann, 26, shoots almost immediately.
In a news conference broadcast by NBC, Cleveland Police Deputy Chief Ed Tomba said the time between the car pulling up and Rice being shot was 1.5 to 2 seconds.
There is no audio on the video, but the officers said they told Rice to raise his hands three times before he was shot, police said. He died on Sunday.
Asked why the car pulled up so close, Tomba said "That's a legitimate question," which is part of the investigation.
In a statement about the video, Rice's family said, "It is our belief that this situation could have been avoided and that Tamir should still be here with us." The family asked the community to remain calm and keep protests peaceful.
Cleveland police said Loehmann and the second officer, Frank Garmback, 46, were both on leave. A union representative said the officer who shot Rice had been on the force for under a year.
Rice had an Airsoft-type replica gun that resembles a semiautomatic pistol, but typically shoots plastic pellets, police said.
Rice's family described him as "a bright young man who had his whole life ahead of him."
The video release follows a second night of sometimes violent protests over a Missouri grand jury's decision not to indict a white Ferguson police officer for the fatal shooting of Michael Brown, an unarmed teenager.
Both Rice and Brown were African American.
The shooting case will go to the Cuyahoga County Grand Jury for possible charges.
An Ohio grand jury in September decided not to press charges against two police officers who fatally shot a man while he held a pellet gun at a Dayton-area Walmart.