The city of Cleveland has penned a farewell letter to LeBron James amid his departure from the Cleveland Cavaliers for the Los Angeles Lakers. The send-off note was inspired by words written by James four years prior, explaining his reasoning for returning to his home team.
"You came home. You worked. We won. We were inspired," the letter reads. "No Clevelander, past or present, can ever forget your gut-wrenching cry after Game 7, 'Cleveland, this is for you!' In ways no one that is not of this place can ever understand, it was. And, it is. It was earned. Simply put, you delivered. You did so while doing so much for this community and its children. What you gave can never be taken."
James, 33, joined the Los Angeles Lakers in a $154 million deal, his agency—Klutch Sports Group—announced Sunday. The free agent, who initially signed with the Cavaliers in 2003 as the first overall NBA draft pick in 2003, will play for the California team as part of a four-year contract. Former Lakers star Kobe Bryant welcomed James to the "family" via Twitter Sunday, with ESPN later reporting that he issued them an all-caps response about James' move: "I LOVE IT."
Like Cleveland, Cavaliers owner Dan Gilbert addressed a goodbye letter to James. He thanked the beloved player for his ability to "lead the Cavaliers to the promised land" upon returning to the team following his 2010 exit for the Miami Heat, where he won his first-ever championship.
"LeBron, you came home and delivered the ultimate goal," Gilbert, 56, said in a written statement Monday. "Nothing but appreciation and gratitude for everything you put into every moment you spent in a Cavaliers uniform. We look forward to the retirement of the famous #23 Cavs jersey one day down the line."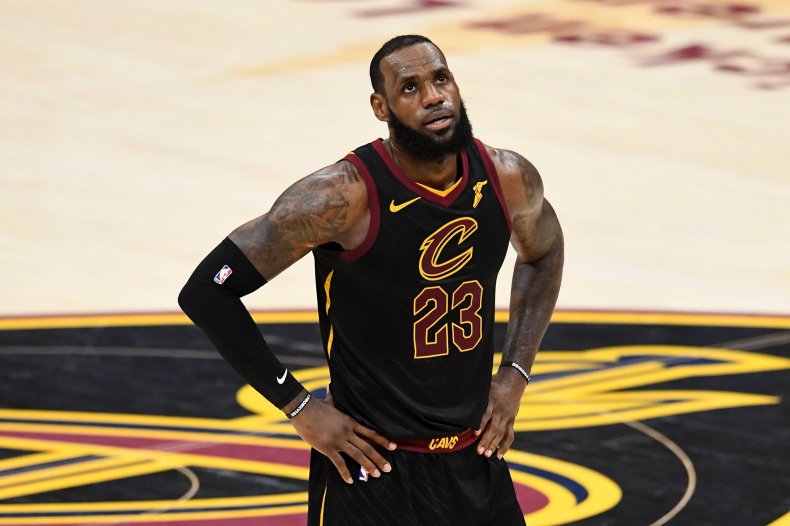 In his return to the Cavaliers, James helped the Cleveland-based team win against the Golden State Warriors during the 2016 NBA Finals. During James's final season with Cleveland, he led them to the 2018 NBA Finals against the Warriors in June. The Cavaliers ultimately lost, and James opted not to renew his contract with the team Friday.
The Lakers haven't made it to the playoffs in the last five years. NBA legend Kareem Abdul-Jabbar, who is a Lakers alum, suggested that James's move to Los Angeles could position the team to become a major player in the league.
"I am sure the Lakernation is rejoicing," Abdul-Jabbar, 71, tweeted Sunday. "The acquisition of LeBron James means that the Lakers are just a smidgen away from being real contenders. Congrats to @MagicJohnson & @LALakersLive et al."