'Clickbait' Ending: The Netflix Show's Major Twist Explained
Clickbait is the new Netflix show that's enthralling viewers with its dramatic twists and turns.
The crime drama follows Pia (Zoe Kazan) and Sophie (Betty Gabriel), as they rush to try and save Nick (Adrian Grenier), Pia's brother and Sophie's husband, after he was kidnapped.
Nick is a loving partner and sibling, and yet the person who has kidnapped him has accused him of being abusive to women.
The kidnapper forces him, beaten and bruised, to appear in a video with a sign that says if the clip gets five million views, then he dies.
And Newsweek can reveal all you need to know about how the show ended.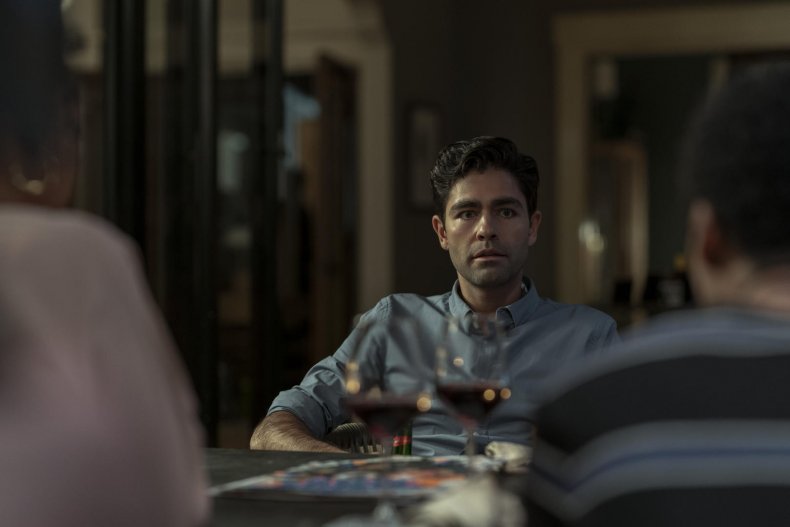 Who Kidnapped Nick?
It is not revealed for some time who took Nick, and several people are made out to be suspects in his kidnapping and eventual death.
Sophie's former lover Curtis (Motell G Foster) is a suspect after it was revealed Nick confronted him about their affair and fought him, but he is later cleared after providing an alibi.
After an arduous search, it is revealed that a man named Simon Burton (Daniel Henshall) was the person who had kidnapped Nick.
Simon took him for revenge after the death of his sister Sarah, who killed herself after her online relationship with "Nick" broke down and he goaded her into taking her own life.
Was Nick Really Catfishing Women?
Over the course of the series, Nick is accused of abusing women and having relationships with multiple people online.
One woman, Emma Beesley (Jessica Collins) even meets Nick's wife Sophie to tell her of their six-month relationship over the internet.
However, it wasn't Nick who was duping these women, it was his colleague Dawn Gleed (Becca Lish) who catfished him in order to live a double life.
Who Killed Nick?
Once Nick convinces Simon that he wasn't the person who was speaking with Sarah online under a false name, the grieving brother lets him go.
However, rather than return home Nick decides to meet with the only person who could have been catfishing him: Dawn.
Nick went to her home to confront her, telling her he was taking her to the police to reveal what she'd done but Dawn's husband Ed (Wally Dunn) strikes him over the back of a head with a hammer, killing him.
How Does the Show End?
Nick's son Kai (Jaylin Fletcher) goes to Dawn's house after his brother and Alison, one of the women duped by "Nick", mark the location.
Dawn and Ed convince him they had nothing to do with Nick's disappearance and pretend to take him home, but bring him to an abandoned warehouse to kill him.
Kai manages to escape from Ed before being shot, and runs away from them as police arrive at the warehouse with Sophie and Pia.
The police arrest Dawn and chase after Ed before he gets to Kai, they catch up to them but rather than give up Ed shoots at the police and is killed in turn.