Clift: Is Representative-Elect Karen Bass the Next Nancy Pelosi?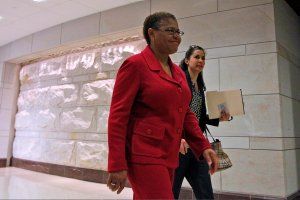 Before Ronald Reagan made being a Republican cool, he joked that all the conservatives in Washington could fit into a phone booth. When the two political parties held orientations this week for their newly elected members of Congress, it became very clear how much things have changed. Republicans are a hundred strong, filling hotels and restaurants and crowding into welcome receptions. Democrats, however, might want to dust off that Reagan-era phone booth. There are only nine members in the House Democratic freshman class, and "shell-shocked" is the word that one of them, Representative-elect Karen Bass of California, used to describe her and her colleagues' reaction.
The emotional outpouring of a Democratic caucus decimated by election losses set the stage. One by one on Tuesday, every Democrat who lost had five minutes to make his or her case, and there were lots of sports metaphors to make the point that even if the coach is great, when the team loses, the coach goes. According to accounts pieced together from those who were there, the "coach," House Speaker Nancy Pelosi, sat motionless, never flinched, looked everybody in the eye, and took it. One member said that every time he turned on the television, Pelosi's image appeared, and "there I was in the palm of your hand; how could I run again in two years? How could I overcome that?"
A defeated Iraq War veteran told a battlefield story meant to convey that passing health-care reform made his election loss worthwhile. A pro-life member recalled the pain of being vilified by both left and right for her views, insisting that, despite her doubts, "I was one of you." Members who survived the election tried to buck up the losers, telling them there's another chance in only two years, they can come back. But with Pelosi at the helm, many of those Democrats were ambivalent about waging another costly run that seemed likely to end in heartbreak.
The next day, after everybody had a chance to vent, the Democratic caucus elected Pelosi minority leader 150 to 43, with North Carolina Democrat Heath Shuler mounting a symbolic challenge. A member of the conservative Blue Dog caucus, which lost half its members to the GOP in 2010, Shuler had no real possibility of winning. But he did prevent Pelosi from winning by acclamation, a reminder that lawmakers from rural, white, blue-collar districts and their constituents need to be given more attention, or the Democrats will consign themselves to the minority for a long time.
Being a member of the minority is not what Karen Bass, 57, a former speaker of the California Assembly, expected when she first started exploring a run for Congress. "One of the big reasons I wanted to come to Washington is we were in charge," she says. "I didn't anticipate losing [the majority]. But I'm OK with settling in for the fight." She was first elected to the California Assembly in 2004 and served as speaker from 2008 until March of this year. Asked what she's most proud of in the two years she held the top job, she cites the issue of foster care for children, and the visibility she gave it; her work for her fellow African-American Californians; and "surviving our hurricane: the budget deficit."
Well, not quite. Gov. Arnold Schwarzenegger has just called a lame-duck session for California to deal with a new deficit, just five weeks after the legislature Bass was part of closed the last budget gap. "I can't tell you how glad I am to be here [in D.C.]," Bass says. Schwarzenegger's chief of staff has been quoted as saying there's no more "easy stuff" to cut: "We are cutting into bone now." Hearing the quote, Bass says, "We've already cut bone. This is more like amputation." California voters have tied the legislature's hands, voting in the midterms to require a two-thirds vote to raise fees, along with taxes, while granting lawmakers authority to pass a budget with a simple majority, a pyrrhic victory for democracy if legislators don't have two of the tools to raise revenue.
Bass won't miss all the tough votes that, as speaker, she had to persuade Democrats to take. One attribute of being in the minority in Washington is that the heavy lifting is left to the majority. Her district is in central Los Angeles, and because her election was virtually assured, she spent a lot of time campaigning for other Democrats, raising a couple of hundred thousand dollars that she contributed to some 15 contenders. "I was in such a privileged position," she says. "I have a safe seat." And she has a talent for leadership, much like Pelosi, who rose to speaker on the strength of her ability to fundraise and inspire loyalty. Maybe she's the next Pelosi? "I'm still trying to recover from my two years as speaker in California," she says with a laugh. But she wouldn't have a steep learning curve: "I'm feeling very much at home in this whole process. It feels very much like Sacramento."