Climate Activist Says Royal Dutch Shell Ruling Will 'Change The World'
After a Dutch court ruled Wednesday that Royal Dutch Shell needed to slash its carbon emissions by 45% from 2019 levels by 2030, climate activists called the decision a win for the planet.
Activists outside the courtroom broke out in cheers when the ruling was announced, the Associated Press reported. Roger Cox, a lawyer for Friends of the Earth, one of the climate advocacy groups that brought the case to court, said that the decision will "change the world."
"Worldwide, people are in the starting blocks to take legal action against oil companies following our example," Cox said.
The court did not specify how Royal Dutch Shell, more commonly known as Shell, should go about meeting the requirement by 2030.
The company called the ruling a "disappointing court decision" in a statement, citing an existing goal to reach net-zero emissions by 2050 and billions of dollars already invested in more environmentally friendly initiatives and products.
However, the court said that while the company isn't currently violating any agreements, Shell has an obligation to reduce carbon emissions because its current plan isn't solid enough.
For additional reporting on this story, see more from the Associated Press below.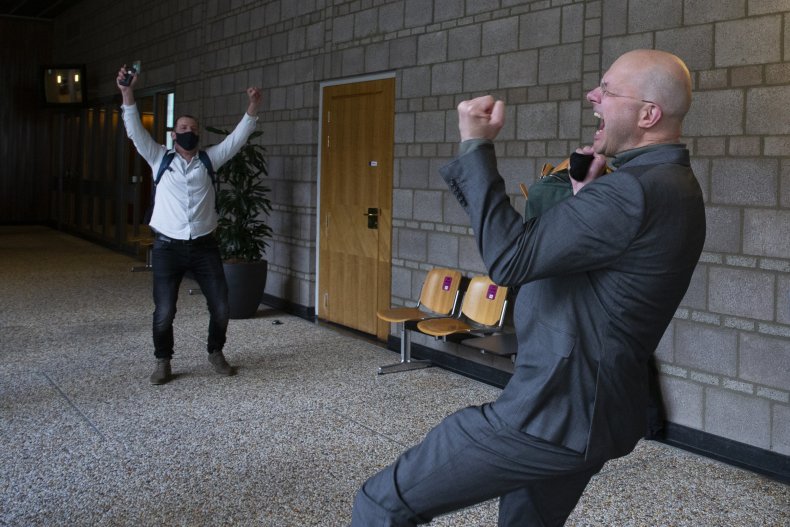 A group of seven environmental and human rights organizations and some 1,700 Dutch citizens filed the case in 2018, calling on the court to order Shell to cut emissions in line with the global goals set out in the Paris climate agreement. That equates to Shell cutting emissions 45% by 2030.
The court ruled on the claims by six of the groups.
The case in the Netherlands is the latest in a string of legal challenges filed around the world by climate activists seeking action to rein in emissions, but it is believed to be the first targeting a multinational company.
One of the first successful climate cases also was in the Netherlands, where the Supreme Court two years ago upheld a 2015 ruling requiring the government to cut emissions at least 25% by the end of 2020 from benchmark 1990 levels.
In February, a Paris court ruled that the French government had failed to take sufficient action to fight climate change in a case brought by four nongovernmental organizations. Last month, Germany's top court said the federal government must set clear goals for reducing greenhouse gas emissions after 2030.
Donald Pols, director of Friends of the Earth Netherlands, called the ruling in The Hague, "a monumental victory for our planet, for our children and a big leap towards a livable future for everyone."