Climate Activists Arrested After Hundreds of Gallons of Fake Blood Sprayed on Treasury Building
Climate change activists have sprayed almost 500 gallons of fake blood over the front of the Treasury building in London, demanding the government "stop funding climate death."
Four people were arrested on suspicion of criminal damage after the stunt on Thursday morning, police confirmed to Newsweek.
Extinction Rebellion said they used an out-of-commission fire engine to spray 475 gallons of fake blood—made from water colored with food dye—on the Treasury building in Westminster, London, at around 10am.
On their website, they named those involved in the protest as: Phil Kingston, 83, a retired lecturer at Bristol University; retired GP Diana Warner, 60; musician Cathy Eastburn, 52; Forest School Leader Árainn Hawker, 48; ex-Buddhist teacher Mark Ovland, 36; and Liam Norton, 34, an electrician from south London.
Four of the protesters stood on top of the fire engine, which displayed a banner saying: "Stop funding climate death." The slogan was also painted onto the walls of the building, the Evening Standard reported. Videos posted on social media showed the activists lost control of the hose at one point and sprayed themselves with the fake blood.
London's Metropolitan Police said officers were called to Horse Guards Road at around 10.20 a.m.
They confirmed no injuries were reported and four people—three men and a woman—were arrested. Local road closures are in place as police deal with the situation, a spokesman added.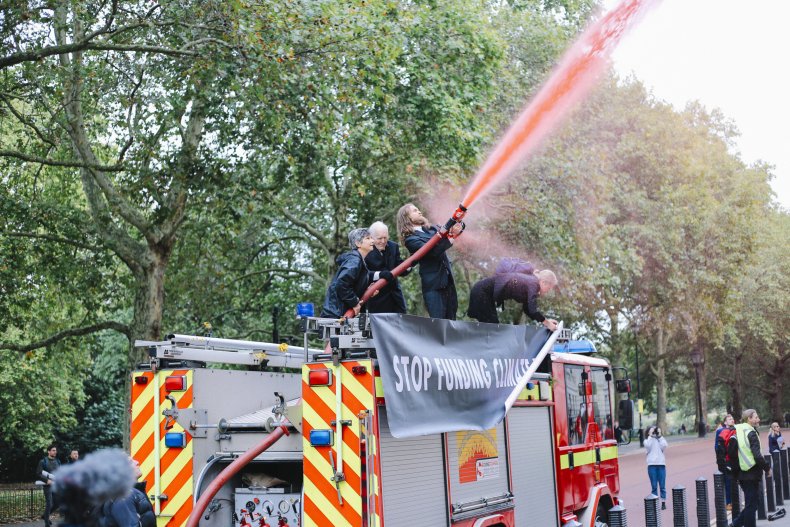 "The Treasury has been frustrating efforts by other government departments to take action against climate change because it cares only about economic growth," one of the activists, Ben, told Reuters.
"It doesn't see that eternal economic growth leads to climate death," he said. "The red symbolises the people dying now in the global south and also the people who are going to start dying from climate change all around the world if we do nothing."
Among the arrested activists was Kingston, a retired lecturer at Bristol University, according to Extinction Rebellion's website. "I fight with all my being for my four grandchildren in this situation of existential danger," he said.
"And I am a Christian who cares for the Earth as God's Creation; and for the world's poorest peoples whose experience of injustice draws a special love from God. I come to the Treasury to challenge these practices and to demand radical change in them."
The protest was held to "highlight the inconsistency between the UK Government's insistence that the UK is a world leader in tackling climate breakdown, while pouring vast sums of money into fossil exploration and carbon-intensive projects," the group said.
Extinction Rebellion aims to stop what it calls a global climate crisis and says it is calling on governments to focus on creating a future "built on respect for one another, all other forms of life, and the planet that sustains us."
The group believes it is a citizen's duty to rebel using "peaceful civil disobedience" when faced with "criminal inactivity" by their government.
Extinction Rebellion disrupted London with 11 days of protests in April. More than 1,000 people were arrested during the protests, which lasted over a week.
Their latest stunt comes days before their "International Rebellion" begins on October 7, when demonstrations are planned for more than 60 cities around the world.