'Climate' Used to Be the C-Word in Republican Politics. Not Anymore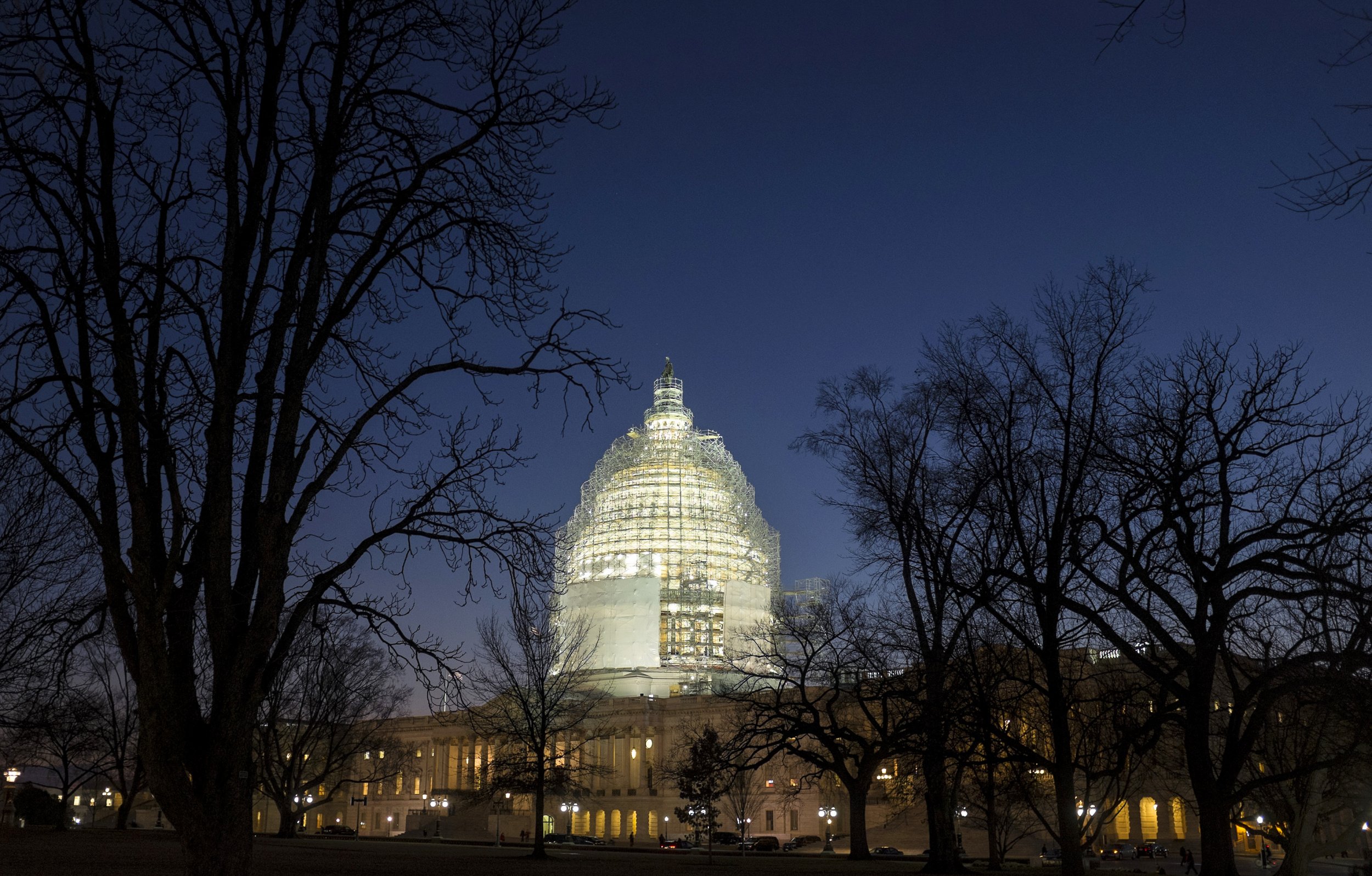 In a historic first, a small group of House Republicans and Democrats will convene Wednesday morning in Washington, D.C., to talk about climate change, as members of the newly formed Bipartisan Climate Solutions Caucus. The moment is notable because climate has long been the C-word of Republican politics.
The caucus, led by two Florida congressmen, Ted Deutch and Carlos Curbelo, has 10 members. On Wednesday, they are scheduled to hear from a representative of Norwegian multinational oil and gas concern Statoil, who will explain why that company supports carbon pricing as a way to mitigate climate change, and the New Zealand minister for climate change issues.
Curbelo, a freshman member of the House, is the first Republican in Congress to take a leadership role in acknowledging climate change as a man-made problem. His hope: that the meeting is a "first step" toward crafting proposals to meet the climate change challenge. "For the first time at least in a long time, this officially makes the climate change issue bipartisan, unifying issues in the house," Curbelo tells Newsweek. "For many years, the rhetoric has been so negative and really kept people from both sides from coming together. We have a long way to go, but the ultimate goal of bipartisanship is good policy, not just good communication."
Curbelo is among a small group of Miami lawmakers and local leaders who have grown increasingly concerned about the effects of man-caused climate change as rising sea levels inundate the South Florida area with growing regularity. Curbelo says he decided to act after a meeting with the National Oceanic and Atmospheric Administration, which has been developing climate predictions that sea level rise will flood coastal cities like Miami and New York by the end of the century. "I saw the data," Curbelo says. "I think the solution is a two-pronged approach: We help reduce human influence on the environment, and we build the infrastructure to prepare for rising sea levels."
In recent decades, climate change legislation has been a deeply partisan issue. Democrats have brought proposals that Republicans have defeated or refused to consider, and most Republican elected officials in Washington and elsewhere have officially denied it exists. The last time Congress considered a significant piece of climate change legislation was 2009, when Representatives Henry Waxman, a California Democrat, and Ed Markey, a Massachusetts Democrat, proposed the American Clean Energy and Security Act. The bill marked the first time Congress considered legislation aimed at curbing climate change–related emissions, primarily carbon dioxide, and it would have capped the amount of greenhouse gases allowed nationally. Regulated companies would have been enabled to trade allowances for emissions, hence the nickname "cap and trade" legislation. The industrialized nations in Europe already have a similar system in place. The bill squeaked out of the House; the Senate never considered it.
Climate change activists hailed President Barack Obama's 2015 Clean Power Plan, capping the amount of greenhouse gases power plants—the greatest contributors of carbon into the atmosphere—may emit, aiming to reduce total carbon levels 32 percent by 2030. Opponents almost immediately challenged the plan in the courts, and earlier this year the Supreme Court stopped the government from implementing it, pending a lower court's ruling.
Climate change was almost never discussed at any of the Republican presidential primary debates. The GOP's leading contenders—Donald Trump and Senator Ted Cruz—are on record dismissing it or saying they don't believe in it. But for years, scientists have been releasing dire predictions about the effects of record world temperatures and melting ice sheets in Greenland and the Antarctic on sea level.
Jay Butera, a lobbyist for Citizens' Climate Lobby, which promotes action on climate change, has been trying for several years to involve Republican lawmakers in climate issues. He hails the creation of the Bipartisan Climate Solutions Caucus as a hopeful sign that the partisan, frozen Congress of recent years might be thawing along with the polar ice caps. "With both parties at the table, we have a better chance of solving this challenge," Butera says. "I also hope we will see spinoff effects of this caucus in other aspects of Congress. If we can get Republicans and Democrats to work productively at the same table in this, who knows what we can do to break some of the other gridlock in Congress?"