Ruffed lemurs, along with Madagascar's eastern rainforest where they live, will likely disappear within the next 50 thanks to climate change and deforestation, experts have warned.
A scientist who worked on a paper published in the journal Nature Climate Change told Newsweek the projections probably reflect the best-case scenario.
An international team of investigators used existing data from three decades of research to model how Madagascar's eastern tropical rainforest and its lemurs will be impacted by climate change, deforestation and a combination of both. They also identified areas of intact forest that should be prioritized for protection. The paper data included on 5,977 sightings of lemurs between 1989 and 2017.
The Indian Ocean island around 250 miles off the coast of East Africa hosts 5 percent of the world's species, 90 percent of which live only there. Much of its inhabitants are considered threatened with extinction, including 96 percent of its 101 lemur species. Madagascar is faced with threats including climate change, invasive species, overharvesting, and habitat loss, but as a country in the bottom 15 percent of the United Nations Human Development Index, resources for conservation are limited, the experts said.
Climate change will compound the pressures of "extensive" deforestation and overharvesting on Madagascar—including the ruffed lemur, the scientists wrote. The loss of forest as well as climate change could wipe out the lemur's habitat by 38 to 93 percent by 2070, the team found. Alone, deforestation could reduce their habitat by 29 to 59 percent, and climate change by 14 to 75 percent.
"Combined, climate change and deforestation will dramatically reduce suitable habitat," they said. Out of climate change and deforestation, the latter "appears to be the more pressing threat," they said, "as even under a hypothetical scenario with 'optimistic' rates of forest loss, the eastern rainforest effectively suffers complete loss before 2080."
The team expects "dramatic declines" in rainforest coverage in the coming decades. In a scenario where deforestation happens both inside and outside of protected areas, only 16 percent will remain in 2070, compared with 2014. If the minimum rate of deforestation between 2000 and 2014 is repeated, "the entire eastern rainforest is predicted to be lost before 2080," they warned.
But if deforestation only occurred outside of protected areas, then 65 percent of the forest would be gone by 2050, and 51 percent by 2070. If strict protection was followed, the interior forest would increase to 83 percent of total cover by 2050, dropping to 75 percent by 2070.
Climate change, meanwhile, could make it harder for local people to grow and access foods, meaning they may be forced to turn to protected areas of forest to survive, the study envisions.
Co-author Andrea L. Baden, a primate behaviorist and assistant professor at Hunter College, told Newsweek: "What I find most striking, and alarming, about our results, is the sheer scale of change our models project.
"We read all the time about how species may not exist by the time our kids are old enough to experience them for themselves. But it always feels so distant. So alarmist. So to be involved in generating projections like this firsthand, it somehow makes it more real."
She continued: "Madagascar's eastern rainforest habitat will likely disappear within the next 50 years—and that ruffed lemurs will likely disappear in that time, too—that's frightening.
Baden, who is one of a handful of researchers studying the behavior and evolution of ruffed lemurs, noticed their habitats vanishing over the past 15 years, partly due to human activity. As ruffed lemurs are highly sensitive to habitat disturbance, they are an excellent indicator of rainforest health, explained Baden.
As with any study, the work had its limitations, including that models didn't consider the interactions between forest loss and climate change, said Baden. "That is, we assume that the incentives driving deforestation do not respond to climate change. Realistically, this is probably not the case. If climate change alters local people's ability to produce and secure food, they may be forced to further encroach on protected areas for their survival.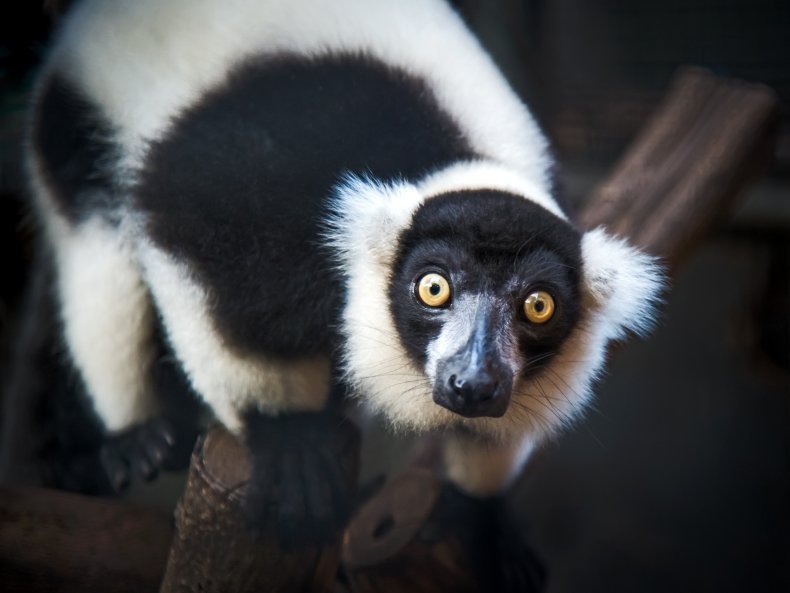 "It's only going to exacerbate people's reliance on forest products," she said. "A recent global analysis ranked Madagascar as the country most likely to have future civil conflicts arise from tensions between food security and biodiversity conservation. So it's very likely that our projections represent a best-case scenario."
Addressing the interplay between climate change and deforestation, she commented: "There is so much emphasis on climate change these days, largely owing to its trajectory and its global reach. Our study is important because it reminds us that, while the threat of climate change is important and must be addressed, we can't forget about more immediate threats to species persistence. In our study, protected areas are what will matter most in the short-term when it comes to protecting species."
Baden said the study can help to guide efforts to "re-green" Madagascar.
"I hope that readers take away from this that extinction threats are real, they are immediate, and they are totally preventable," she said.
"There is existence value to these plants and animals, despite whether we have the opportunity to interact with them ourselves. I hope this story encourages readers to think globally, and act locally. Some of the biggest impact we can have as individuals is to be conscientious consumers and to make small changes to our daily habits," she said, adding: "every little bit helps."