CNN Climate Town Hall: What Experts Want to See 2020 Democrats Talk About
Climate change has become a top tier issue for Democratic voters and 2020 hopefuls will have the opportunity to lay out their approach to the crisis in a series of climate-focused events this month.
Ten Democratic presidential candidates will take the stage on Wednesday, September 4 for a climate change town hall hosted by CNN. Only the candidates who qualified for the third Democratic debate were invited to participate in the event.
Julián Castro will kick off the town hall, followed by Andrew Yang, Kamala Harris, Amy Klobuchar, Joe Biden, Bernie Sanders, Elizabeth Warren, Pete Buttigieg, Beto O'Rourke and Cory Booker.
The live event will start at 5 p.m. eastern time and is expected to last at least seven hours as candidates appear in back-to-back interviews. Each candidate will have about 40 minutes to answer questions from CNN reporters and a studio audience.
MSNBC, Georgetown University and Our Daily Planet is planning a similar event in Washington D.C. on September 19 and 20. All of the presidential candidates, Democrat and Republican, have been invited to attend the climate forum.
Most of the 2020 Democrats have released their own policy proposals to address climate change, though some are more ambitious than others. They have all pledged to rejoin the Paris Climate Agreement, a global effort to combat global warming. Seven of the 10 candidates who are also members of Congress have supported Green New Deal legislation.
A CNN poll conducted earlier this year showed that 96 percent of Democrats said it was important that a presidential candidate support aggressive action on climate change. In several other surveys, climate change has been cited as one of the top three issues in the upcoming election.
"We face a lot of challenges in this country right now but in a lot of ways climate change is going to make 2019 look easy," said Erika Spanger-Siegried, an expert from the Union of Concerned Scientists.
"2019 doesn't feel easy, right? But what will candidates do to restore and really build a new commitment across our society to take care of each other in the face of these threats is a question worth asking," she added.
Newsweek spoke to three climate change experts about what they want to see candidates talk about during CNN's climate change town hall.
What do you hope moderators ask each of the candidates?
Nathaniel Keohane (Senior Vice President for Environmental Defense Action Fund): Climate change touches on every issue that is going to be of key importance to the American people and in the debates in the months ahead, including the economy, foreign policy and national security. I think we should be asking candidates how they would position the U.S. to take advantage of an enormous clean energy market and put the U.S. on the path to 100 percent clean economy. How would the candidates restore American leadership on climate and how do they articulate the benefits to us here at home? How do they talk about how climate change is affecting people in their communities and states?
Erika Spanger-Siegried (Senior analyst in the Climate and Energy Program at the Union of Concerned Scientists): My main hope is that they ask really direct questions about specific policy solutions both on the adaptation and the mitigation side, and that those questions include getting at specific proposals for where we would be by 2030. Everyone on stage agrees with the latest science, now we need to go beyond vague notions of how to solve the problem and get down the details.
Michael Svoboda (Former director of sustainability minor at George Washington University and a regular contributor to Yale Climate Connections): There are some big differences between the conditions under which we are living now and the conditions under which the three most common historical analogies for action on climate change took place. The New Deal is one of those historical analogies, along with the World War II scale effort and the moon shot. Those all appeared at a time when trust in government was at least three times higher than it is now, taxes were much higher and you had a more unified government where you could have compromise within parties and across parties. So, the question is whether any of those things can be done now when we have a really divided media, when trust in government is so low and when Americans have gotten used to paying much lower taxes.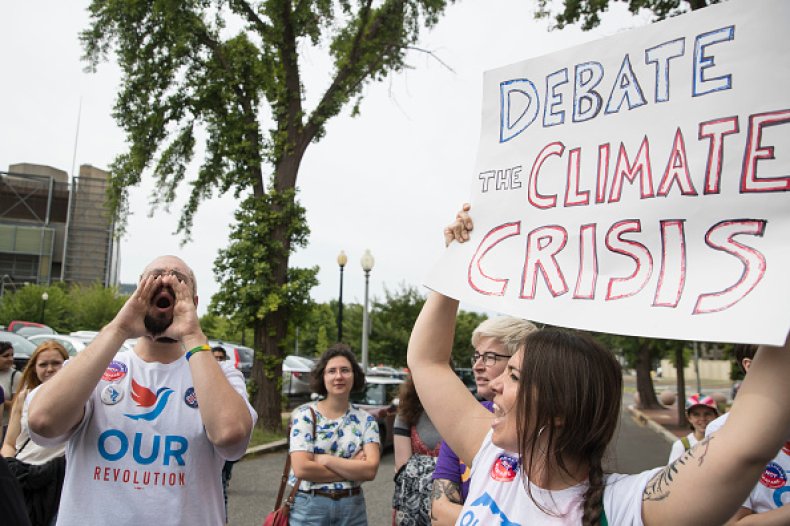 What are 2020 Democrats not talking about enough when it comes to climate change?
Keohane: Frankly, I'd like to see them talking about it with that level of urgency and immediacy. If I had my wish it would be more discussion generally of climate and how it feeds into all those other critical issues around the economy, foreign policy and national security.
Spanger-Siegried: There's a lot of talk about the price tag of solutions but without context and without discussion of the benefits of investing in solutions, those numbers can look daunting. And by contrast, we're not really talking about the costs of inaction. The bill that we will face if we do not begin tackling this problem aggressively is not one we can pay.
Svoboda: There's a danger that the entire problem is being framed as a one-time emergency when, in fact, it's a long-term adjustment. This is being called a climate crisis and yeah we've got to get moving, but we're not going to solve climate change. We're going to learn how to live with it.
What do candidates need to address in their climate change platforms?
Keohane: One measuring stick we're looking at is a comprehensive, whole economy approach to putting the U.S. on a path to 100 percent clean energy no later than 2050. Plus, doing that in a way that ensures fairness and equity across the economy that brings all communities along.
Spanger-Siegried: We're enthusiastic about proposals that really do lead to deep emissions reductions by 2030. We want to hear people putting a price on carbon, we want to hear about national clean energy standards. We're facing regulatory rollbacks right now that are sending us in the opposite direction, so we also want to hear policies on how to combat those.
Svoboda: I think they need to deal with issues of environmental justice: Who is going to suffer the most and who should cover the costs? I personally favor a carbon tax, so I am kind of disappointed that proponents of the Green New Deal are reluctant to talk about that. I think that is the quickest way to spur innovation. One question that isn't asked that needs to be asked is how do you streamline regulatory and permitting procedures so that you can take the dramatic action that needs to be taken?
Correction (9/4/2019, 3:00 p.m.): A previous version of this story listed Michael Svoboda as the director of the sustainability minor at GWU. Svoboda is the former director of the program as well as a regular contributor to Yale Climate Connections.