Large Majority of Millennials Say Climate Change is 'Personally Important' but Few Are Taking Political Action
Seventy-three percent of millennials say that global warming is "personally important" to them, but only 37 percent said they were willing to contact government officials about the issue. Just 13 percent said they actually had contacted government officials about the issue in the last year, according to a report released Tuesday by the Yale Program on Climate Change Communication and the George Mason University Center for Climate Change Communication.
Democratic millennials were much more willing to contact representatives, with 58 percent saying they would "definitely or probably" reach out to elected officials. Eighteen percent of Republican millennials said they would "definitely or probably" contact lawmakers, Anthony Leiserowitz, the director of the Yale Program on Climate Change Communication, told Newsweek.
"It's not surprising that relatively few people in any generation report having contacted government officials in the past 12 months. Most Americans have no experience doing that, no one has ever asked them to, and many don't know how," Leiserowitz said in an email.
"The fact that 37 percent of Millennials are willing to contact government officials is an indicator of a potentially politically active public—those that might if asked, if taught what to say, if taught how, etc. But again, most have never been asked to."
The report, which used data polled in five waves between May 2017 and April 2019, found that younger Republicans are more likely to believe climate science than older ones. While 19 percent of Republicans in the Silent Generation, born between 1925 and 1945, said they believed that global warming was caused by humans, 42 percent of Millennial Republicans said the same. Similarly, 28 percent of Republicans in the Silent Generation said that they were worried about global warming, while 45 percent of Millennial Republicans expressed concern. Republican Gen X-ers were more concerned than Republican Baby Boomers, who were more worried than those in the Silent Generation.
While Republicans in older age generations expressed less concern than younger ones, Democratic respondents did not show the same patterns. Democrats in the Silent Generation were the most convinced that global warming is occurring.
Democrats indicated significantly higher levels of concern about—and belief in the evidence of—global warming than Republicans did.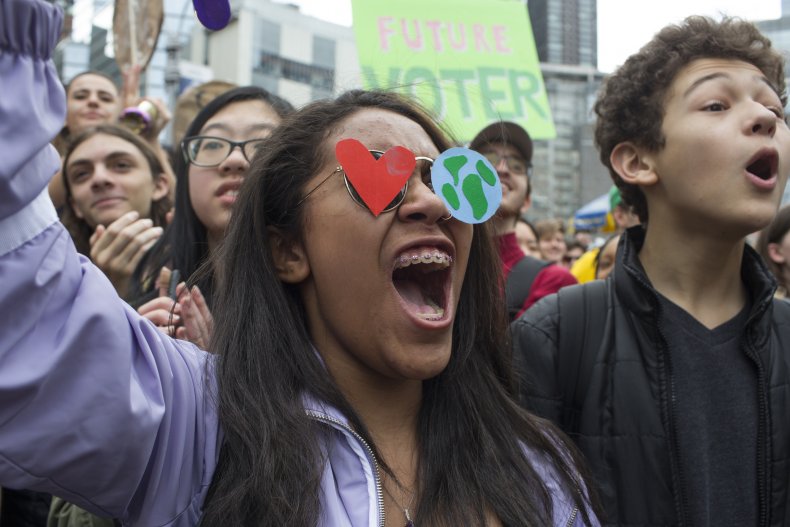 While the survey showed that many Republicans still did not believe in the overwhelming body of climate science, global warming has emerged as a central topic among Democratic contenders for president.
"We must treat climate change like the existential security challenge it is," South Bend, Indiana, Mayor Pete Buttigieg said while giving a policy speech on Tuesday. "As traditionally conservative sectors, from the business community led by the insurance industry to our own military leaders repeatedly remind us, climate instability is a threat multiplier. It can accelerate the spread of pandemics, food insecurity and mass migration."
His comments on global warming came after a number of individuals running for president, including those receiving the most public support, unveiled progressive plans to address climate change.
Last week, former vice president Joe Biden revealed a plan to ensure the country had net zero carbon emissions by 2050 and spend $1.7 trillion to address climate change. Senator Elizabeth Warren also unveiled a plan last week calling for the U.S. to invest $2 trillion on "green manufacturing."
Despite the increased focus on climate change compared to prior elections, voters still do not view it as one of the top issues that they want to see candidates address. Millennials polled for the Yale and George Mason survey said that they ranked global warming as the ninth most important topic influencing their vote in the 2020 election. All other age groupings said that global warming was less important in determining their vote.